Picking the best graphics card on a budget to play your favorite games is a really hard task. Where the prices of GPUs are touching the sky, it takes a lot of time to find a gaming GPU for $300. In the month of August, prices of high-end GPUs from Nvidia & AMD have significantly dropped down to their MSRP level. This has enabled the low-mid range graphics card to fall under the tight budget range of every gamer.
Now if you want to play your favorite AAA game at low to medium settings, it is possible without putting a hole in your wallet. So we've rounded up some of the best graphics cards under $300 that can let you play hit titles like GTA V, Call of Duty WWII, and Fornite at high settings.
The Best Graphics Cards Under $300 on the List
Here are some of the low-budget graphics cards that pack good value in PC gaming:
Sapphire Pulse Radeon RX 580 – The Overall Best GPU to Get Under $300
Reasons to Consider
It's one of the best budgets AMD graphics cards with 8GB of memory and higher clock speed. You can even play some advanced titles like Red Dead Redemption 2 & Resident Evil: Village at lower settings.
Specifications
8GB GDDR5 Memory
1366 MHz Clock Speed
2304 Stream Processors
256-bit Interface
450 PSU Requirement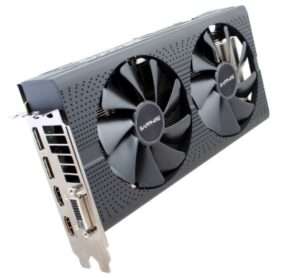 ---
RX 580 is one of the best cards out there that lies on a sweet spot between price and performance. Although this graphics card uses outdated GDDR5 memory to fuel your games, it still gives a tough time to other modern cards in gaming.
With 8GB of GDDR5 memory, 256-bit interface, and 2304 stream processors, this graphics card would be good enough to handle games like PUBG and Fortnite at 1080p settings.
Also, this card uses less power as compared to other graphics cards in the AMD RX line-up. It consumes less than 225W of power, so you won't need a high-end power supply to power this beast.
One of the eye-catching features of this GPU is the LiquidVR that lets you play games in virtual reality without any glitches or lags. Also, this chip holds the power of AMD's FreeSync technology to boost the performance of games by promoting higher frame rates.
If you really need a good performance in gaming at an affordable price, this Sapphire RX 580 might be your final bet.
MSI Gaming GeForce GTX 1660 – Best Nvidia GPU for Entry-Level Gaming
Reasons to Consider
One of the best value graphics cards from Nvidia for low-budget gaming rigs. The GTX 1660 comes with dual fans for efficient cooling. Good enough to play most games at 720p or even 1080p settings if you hold a powerful CPU in your gaming rig.
Specifications
6GB GDDR5 Memory
1830 MHz Clock Speed
192-bit Memory Interface
1408 CUDA Cores
450W PSU Requirement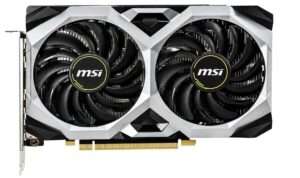 ---
The MSI GTX 1660 is one of the best budget Nvidia graphics cards in the market for gaming. This is one of those under $300 video cards that can easily let you play the most demanding PC games at 1080p settings.
The GTX 1660 features 6GB of GDDR5 memory on a 192-bit interface for an ideal gaming experience. Also, it has 1408 Cuda Cores and a clock speed up to 1830 MHz for faster computing. The MSI GTX 1660 uses Nvidia's Pascal architecture for power efficiency and faster data transfer.
When we compared the gaming performance of GTX 1660 with AMD RX 580, there wasn't much difference in that. However, the GTX 1660 showed higher frame rates in some games like GTA V and Fortnite as compared to the RX 580. Also, the MSI gives you a choice to overclock this GPU with the help of MSI AfterBurner for added performance.
MSI has put great effort into modifying the GTX 1660 at this point. The two TORX 3.0 fans help inefficient heat dissipation while maintaining the aesthetical looks of the GPU.
As soon as you take this card out of the box, it doesn't feel as if you are holding a cheaper video card in your hands. Also, this graphics card comes with RGB lights to add more colors to your gaming case. All in all, it's a reliable low-budget GPU for gamers who don't want to push to higher resolutions.
MSI Gaming Radeon RX 5500 XT – Most Reliable AMD GPU Under $300
Reasons to Consider
The MSI RX 5500 XT is ideal for entry-level gaming and video editing in Adobe-based programs. It comes with GDDR6 video memory, AMD's RDNA architecture, and twin TORX 3.0 fans at the lowest price point.
Specifications
8GB GDDR6 Memory
Clock speed up to 1845 MHz
128-bit Interface
2560 Stream Processors
400W PSU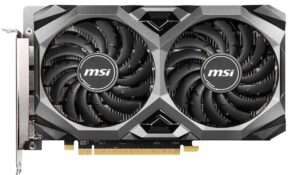 ---
The RX 5500 XT is an ideal option for those who need a graphics card that is good at video editing as well as gaming. And this GPU perfectly sits in that equation as it packs 2560 stream processors and 8GB GDDR6 memory.
Although this video card comes with a 128-bit interface, it easily handles AAA titles up to 1080p resolution due to its higher clock speed.
MSI has packed the same surprises with this card as they had with the MSI GTX 1660. There are two powerful TORX 3.0 fans at the top for efficient cooling.
And if you want to overclock this GPU for more performance, you can easily do that with MSI AfterBurner software. You can easily overclock up to 1845 MHz on MSI RX 5500 XT without any issues. If you really want to get the best bang for your buck, this might be the card you would be looking for.
We managed to play Modern Warfare on this card, and the frame rates were fantastic. Even at 1080p, the temperature of the GPU was stable. Again, thanks to the twin TORX 3.0 fans for keeping the temps minimal as possible.
ASUS GeForce RTX 2060 Overclocked – Low Budget RTX Card
Reasons to Consider
The RTX 2060 is the gateway to Nvidia's ray-tracing world. Although this card is abysmal in that level of ray-tracing capabilities that other high-end RTX cards have, it's an affordable choice to at least get a taste of Nvidia's Turing architecture.
Specifications
6GB GDDR6 Memory
1785 MHz Clock Speed
1920 CUDA cores
192-bits
450W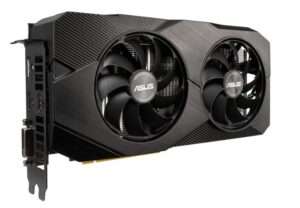 ---
To those who think that Nvidia's RTX cards are meant for extreme gaming, they are wrong. The RTX 2060 sits in the lower range of Nvidia's RTX series with 6GB GDDR6 memory, 192-bit interface, and boost clock speed up to 1785 MHz. At the top sits the ray-tracing feature that puts more life in your gameplay.
Now this low-budget GPU can let you play most games at 1440p settings, but with the ray-tracing off. It is because if you turn on the ray-tracing, it will affect your frame rates. Unless you have a high-end gaming CPU and more ram, going for this GPU just to experience ray-tracing isn't something we recommend you.
The Asus RTX 2060 by default runs at the 1785 MHz clock speed right out of the box. It's one of the best mid-range video cards to play games at 1440p resolution. It comes with two powerful cooling fans at the top to keep the maintained temps at a higher clock speed.
This RTX graphics card offers great value for the money you pay for it. If you are just buying it for ray-tracing, then we don't recommend it. However, if you want to play demanding titles at medium-high or even high settings (depends on your system specs), the RTX 2060 is the right fit for you.
ZOTAC GeForce GTX 1070 Mini – Budget & Performance at Single Spot
Reasons to Consider
A graphics card that lies on a sweet spot between price and performance. The Zotac GTX 1070 Mini fits in the smallest gaming PC cases without any hassle. The Pascal Architecture & 8GB GDDR5 memory makes this video card a perfect fit for mid-range gaming builds.
Specifications
8GB GDDR5 Memory
256-bit Interface
1873 MHz Clock Speed
1920 Cuda Cores
500W PSU Requirement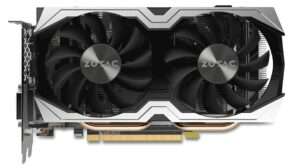 ---
The GTX 1070 is one of the best graphics cards from Nvidia that narrows the difference between budget and performance. But even at an affordable price range, this graphics card does not compromise gaming performance.
The Zotac GTX 1070 Mini comes with 8GB of GDDR5 memory on a 256-bit interface, enough to fuel most graphically intense games at 1080p. The only thing that you need to worry about is the power consumption, GPU needs a minimum of 500W PSU to stay on the safe side.
This is a powerful graphics card for gaming that can fit easily in mid-tower PC cases due to its smart dimensions. It shows somewhat similar performance in gaming when compared with RTX 2060, assuming that you have turned off the ray tracing. And if you take out the fame of ray-tracing from an RTX 2060 GPU, it will perform the same as the GTX 1070.
Conclusion & Recommendation
When you go out to pick the best under $300 graphics card for your gaming rig, choices are limited. So, have to keep in mind your budget and needs before choosing any of those low-budget GPUs. The thing is you really don't need to break your bank account to get a good-performing graphics card for 1080p gaming.
A wallet-friendly graphics card cannot give you a quality gaming experience unless it is paired with a reliable CPU and ram. Make sure you have a powerful processor and more amount of ram installed on your computer if you are going with a budget-friendly graphics card.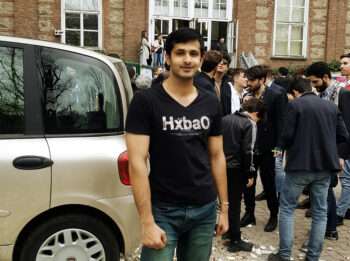 Hi, I'm the author and founder of this blog. I have more than 10 years of experience in the industry. Throughout my journey I've tested and reviewed hundreds of graphics card for custom PC builds. I believe my knowledge and experience will help you choose the card that really falls to your needs and budget.