GPU Republic is reader-supported. We follow a strict editorial process and put hours of research into testing, reviewing, analyzing & comparing the best products that we can find so you can make the most informed decisions. In the event you choose to buy something from one of the links on our site, we may make a commission at no extra cost to you. Whatever products we recommend, it's because we truly believe in them, not because of the small commission we may receive. Please don't buy any of these products unless you actually think that it would fit your needs.
Where GPUs are capable of pushing your gaming experience up to 4K, many still find 1080p as an ideal resolution for gaming. And if you own a 144Hz gaming monitor along with the best 1080p gaming GPU, then it is more than enough to carve your gaming needs. Not only 144Hz 1080p is the most affordable combination to have right now, but it also makes your gaming rig "future-proof" as well.
In this 1080p 144Hz GPU guide, we will review only those graphics cards that you can easily buy without breaking your bank account. As our focus will be to play games on 1080p settings on a 144Hz gaming monitor, we can stick with the mid-range GPUs at this point.
Both, the Nvidia and AMD offer GPUs that show amazing performance on a 144Hz refresh rate monitor. So, lowering the resolution to 1080p on such an HD screen will not only improve the average frame rates but also improve the image quality.
So, to save your time and money, we have tested and reviewed some of the best 1080p gaming GPUs that are compatible with 144Hz monitors.
List of the Best Graphics Cards for 1080p 144Hz Gaming
These graphics cards offer the best performance at 1080p resolution scaled on a 144Hz monitor.
Nvidia RTX 2060 Super | Overall Best GPU for 1080p 144Hz PC Gaming
Specifications:
Base Clock Speed 1470 MHz
Memory 8GB GDDR6
Memory Clock 14Gbps
Bandwidth 448.0 GB/s
256-bit Interface
Requires 500W PSU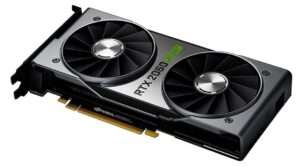 ---
In the last two years, we have seen a huge spike in the prices of GPUs all around the globe due to huge demand in mining. This GPU shortage has plunged the price of Nvidia's RTX series as well. However, the inflated prices have seen a downfall in the last month, and mid-range GPUs like the Nvidia RTX 2060 Super are now in the budget range of gamers.
RTX 2060 is the doorway to Nvidia's ray-tracing world, a feature that has enabled Nvidia to grab its lost legacy back from AMD once again. The RTX 2060 Super comes with a base clock speed of 1470 MHz along with enough CUDA cores to handle the most demanding games in the market.
Moreover, this graphics card holds 8GB of GDDR6 video memory on a 256-bit interface. Also, this video card has a memory bandwidth of 448.0GB/s which affects the frames rates when you game on 1080p, 1440p, or even 4K resolution.
Another reason we have chosen this card is that it packs the DLSS 2.0, a technology that improves your frame rates 1.5x times on higher resolutions. On top of all, you get access to Nvidia's ray-tracing capability that adds stunning image quality and visuals to your gameplay.
We tested this graphics card with a 1080p/144Hz monitor and it showed amazing performance with AAA game titles. At medium-high settings, the RTX 2060 Super was consistent between 60 to 100 fps most of the time. If you play games like Fortnite, Metro, and Witcher at 1080p settings, you should try this GPU.
AMD RX 5700 XT | Best Value AMD Graphics Card for 1080p/144Hz Gaming Monitor
Specifications:
Base Clock Speed 1605 MHz
8GB GDDR6 Video Memory
448 GB/s Memory Bandwidth
256-bit Memory Interface
Needs 500W PSU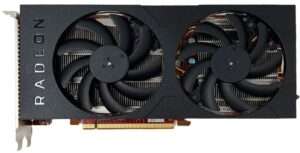 ---
If you are an AMD fan, then you might have heard about the capabilities of the RX 5700 XT in gaming. This is one of those GPUs that has given a tough time to some of the top mid-range GPUs in the market. And if we talk about the graphics cards that show good performance in high FPS gaming, then RX 5700 XT stands out in the list everywhere.
The AMD RX 5700 XT comes with 8GB of GDDR6 memory clocked at 1605 MHz on a 256-bit Interface. Now, this configuration is good enough to meet the requirements of the most demanding PC games on the market. This GPU also has a lower TDP as compared to Nvidia's RTX 2060 Super GPU.
If you are looking for a GPU that gives you the best value for the money and fps over 100, RX 5700 XT is the best option to consider. This GPU shows tremendous performance in games like Fortnite, Red Dead Redemption 2, Overwatch, and GTA V if you pair it with a high-end gaming CPU like the Core i9-9900K.
It would be a worthy upgrade to an RX 5700 XT if you are looking for a 1080p/144Hz graphics card. However, in some games, it would be impossible to enjoy the full benefits of a 144Hz refresh rate. So it is important to know if the game you intend to play is well-optimized for higher refresh rate screens.
But in modern AAA game titles, it isn't difficult to hit over 100 fps with RX 5700 XT. Although in some games, the RX 5700 XGT is defeated by Nvidia's 2070 and 2080 Ti, but not in every game. This might be due to the reason that both the 2070 and 2080Ti hold Nvidia's flagship features like ray-tracing and DLSS 2.0. Other than that, RX 5700 XT is a graphics card that goes 1 on 1 with Nvidia's flagship GPU when it comes to the 1080p 144HZ gaming experience.
MSI Gaming GeForce RTX 2080 Super | A Future-Proof Graphics Card for Gaming at 1080p
Specifications:
Base Clock Speed 1650 MHz
8GB GDDR6 Video Memory
496.0 GB/s Memory Bandwidth
256-bit Memory Interface
Needs 700W PSU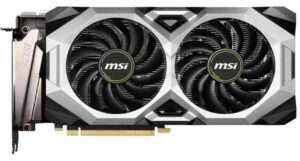 ---
No doubt, Nvidia RTX 2080 Super is one of those graphics cards that are ideal for 4k gaming. And it is possible because this GPU is a lethal combo of high efficiency and power. Not only this graphics card excels in 1080p 144Hz gaming, but it also shows excellent performance in 1440p 144Hz as well.
The RTX 2080 Super performs 8% better than the Nvidia 2060 Super due to its extra CUDA cores count and base clock speed. Now, this GPU holds 8GB GDDR6 memory on a 256-bit interface. Moreover, you get 496.0 GB/s memory bandwidth making it the faster GPU in the RTX-2000 series.
This graphics also holds one of the best cooling solutions that Nvidia has to offer in its RTX series GPUs. You can keep an eye on the rising temperature, thanks to the FrameView software from Nvidia that gives you quick insights on temperatures and power consumption.
Now, there are many reasons we recommend this graphics card to you. The most important one is that this graphics card is highly compatible with 144Hz gaming screens. You can visit any forum on the web, and you will find gamers praising RTX 2080 Super to be the best GPU for even 4K 144Hz gaming.
We played Red Dead Redemption on the ASUS 144Hz gaming monitor at high settings. At 1080p settings, the RTX 2080 Super maintained over 100+fps most of the time. As we switched the settings to 1440p. the fps dropped between 75-85. This graphics card has the best price-to-performance ratio when compared with others on the list.
MSI Gaming Radeon RX 6700 XT | Best Mid-Range Card for True 1080p 144Hz Gaming
Specifications:
Boost Clock Speed 2424 MHz
12GB GDDR6 Video Memory
192-bit Memory Interface
16 Gbps Memory Clock
Needs 650W PSU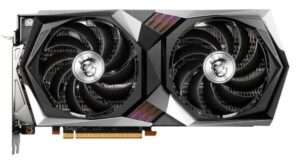 ---
MSI Gaming Radeon RX 6700 XT is one of the best GPUs that deliver serious 1440p gaming performance. With 12GB of GDDR6 memory, this graphics card steals the show if you pair it with a high refresh rate gaming monitor capable of stretching resolution to 1080p or 1440p resolution.
It is one of the prettiest-looking graphics cards on our list bearing a dragon logo on the cooling fans. Apart from its killer looks, this GPU also delivers stunning performance when playing AAA titles on high fps. The reason behind this is 12GB of video memory and a boost clock speed of 2424 MHz.
We connected this GPU with a 1080p 144Hz gaming monitor from Acer to see if it keeps up to its promise. Every game that we tested with this GPU maintained fps over 100 except the RDR2 and Deus Ex: Mankind Divided. Both of these games weren't able to manage fps over 60 with ray-tracing turned on. And we believe that AMD graphics cards are not that good with the ray-tracing kind of thing.
However, with the games like Assasin's Creed Valhalla and Metro Exodus at 1080p settings, this GPU easily hits over 120 fps. No doubt, RX 6700 XT is good for 1080p gaming if you have no interest in ray-tracing. This graphics card can also let you game at 1080p 240Hz setup in some less demanding AAA titles.
Also, this is one of those GPUs that have been over-priced after the great GPU shortage of 2021. Although it sits somewhere under the $1000 price range, still it is an expensive option to go with. In the same price range, you can get more powerful GPUs like 2080 Super or an RX 5700 XT. However, if you are a fan of more video memory and boosted clock speed, this GPU might be the right fit for you.
ZOTAC GTX 1660 Super | Most Economical GPU for with 1080p 144Hz Monitors
Specifications:
Boost Clock Speed 1785 MHz
6GB of GDDR6 Video Memory
192-bit Memory Interface
14 Gbps Memory Clock
Needs 450W PSU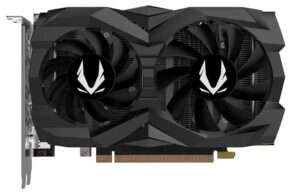 ---
ZOTAC GTX 1660 Super is one of those GPUs that sit on the budget side of 1080p gaming. Now, if you are on a tight budget and seeking a GPU for playing games on a 1080p 144Hz monitor, the GTX 1660 Super might be a good alternative to save a few bucks.
Keeping in view the specs of this GPU, it would be hard to say that it shows good performance in AAA titles. Although it has 6GB of GDDR6 memory and a boost clock speed of 1785 MHz, this GPU has lower bandwidth and memory interface. So, this GPU is ideal for playing esports games but not demanding AAA titles.
Well, you can start a AAA title on this GPU, but you will struggle to go over 60fps even at medium settings. As far as your concern is to play esports games on a 144Hz screen, you are good to go with this GPU. It draws less power and comes at half the price of other GPUs on this list. For casual 1080p gaming, this is the best low-budget that you can get right now.
Benchmark Results on 1080p 144Hz Settings
| | | | |
| --- | --- | --- | --- |
| Graphics Cards | Fortnite (Avg Fps) | GTA V (Avg Fps) | Assassins Creed: Odyssey (Avg Fps) |
| Nvidia RTX 2060 Super | 173 fps | 120+ fps | 62 fps |
| AMD RX 5700 XT | 184 fps | 140+ fps | 60 fps |
| GeForce RTX 2080 Super | 224 fps | 180+ fps | 135 fps |
| MSI Gaming Radeon RX 6700 XT | 216 fps | 201 fps | 126 fps |
| GTX 1660 Super | 157 fps | 142 fps | 82 fps |
Performance Comparison Table
We've used Core i9 9900K and ASUS Z390 motherboard with 16GB DDR4 Corsair (3200 MHz) to test the performance of all of these graphics cards on the list. Moreover, we opted for the Acer Nitro XZ342CK Pbmiiphx gaming monitor with a 144Hz refresh rate.
Things to Consider Before Picking a 144Hz 1080p GPU
FPS (Frames Per Second)
As we would be playing games on a 144Hz refresh rate monitor, it is important to go with a GPU that is capable of delivering frame rates close to 144fps during gameplay. One way to know about this is by benchmarking your GPU or knowing about it through online benchmarking platforms like GPUCheck.
Video Memory (VRAM)
For hitting a higher resolution like 1080p, you'll need a graphics card with at least 6GB of VRAM. Also, the type of VRAM you choose will affect the frame rate of your graphics card. The most common types of VRAM nowadays are GDDR5, GDDR6, and GDDR6X. A graphics card with GDDR6 6GB memory is better than a GPU with GDDR5 8GB memory.
Space inside your PC Case
The dimension of your GPU is very important to fit it inside your PC case. Mid-range to high-end graphics cards swap at least 2 slots on your motherboard. So make sure you have a spacious PC case if you are going with a bulky graphics card.
Cooling
Better the cooling on your GPU, the higher frame rates it will deliver in gameplay. Make sure the GPU you pick comes with an adequate cooling solution to keep the temperature at the lowest. A rule of thumb is to go with a graphics card that has at least two fans for better cooling.
Our Recommendation
Finally, these were some of the best graphics cards for 1080p 144Hz gaming monitors. Now as far as our recommendation is concerned, we highly suggest you go for Nvidia RTX 2080 Super if you want a future-proof and high fps gaming experience. RTX 2080 Super is no doubt the best bang for the buck GPU that is highly compatible with 144Hz and 240Hz gaming screens.
FAQs
Is 1080p good with 144Hz?
Yes, you'll get better 1080p results with a 144H monitor. Also, monitors with a 144Hz refresh rate are highly compatible with most graphics cards in the market.
Can Nvidia GTX 1060 run 1080p 144Hz?
Unfortunately, the GTX 1060 is an entry-level graphics card with fewer CUDA cores and a lower clock speed. However, a way around achieving 1080p 144Hz settings is to lower customized the in-game settings. You'll have to lower the graphics settings if you want to get a better experience with GTX 1660 on a 144Hz monitor.
Can GTX 1050 Ti run 144Hz?
Well, the GTX 1050 Ti can let you achieve higher FPS in some games like GTA V, CS: GO, and Fortnite on a 144Hz monitor. But when it comes to graphically intense game titles, then the lower amount of VRAM and clock speed on GTX 1050 Ti might limit its capacity to hit 144 FPS at 1080p settings.
Does GTX 1650 support 144Hz?
Yes, the Nvidia GTX 1650 will work fine in a 1080p 144Hz combo as long as you are playing less intensive games. However, getting into competitive AAA titles may limit the GTX 1650 from delivering more than 60fps at 1080p settings.
Can a GT 1030 run 144Hz?
No, it won't because the maximum resolution this card can support is up to 7680×4320@60 Hz. So, trying to connect GT 1030 to a 144Hz display screen will limit it to stand not more than 60Hz refresh rate.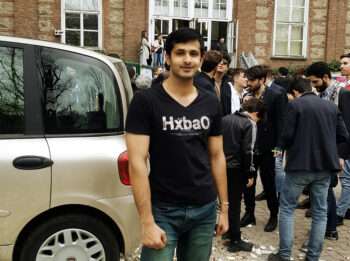 Hi, I'm the author and founder of this blog. I have more than 10 years of experience in the industry. Throughout my journey I've tested and reviewed hundreds of graphics card for custom PC builds. I believe my knowledge and experience will help you choose the card that really falls to your needs and budget.