Modern video editing software takes advantage of GPU for faster encoding and rendering. And if you want to edit videos at 4K resolution, you need to have a powerful graphics card on your computer. In the market, there are two reliable brands to go for, either Nvidia or AMD. Nvidia has a little edge over AMD in video editing due to its Cuda acceleration. In this guide, we will list GPUs from both brands to let you decide which one falls to your budget and needs.
A few years back, video editing applications were highly dependant on the power of your CPU. Modern-day video editing programs rely heavily on graphics cards for faster video rendering. Especially, when it comes to lowering down the export time of an HD video, you need to have a powerful GPU. Latest video editing applications like DaVinci Resolve are highly dependant on GPU for optimal performance.
Best-Rated Graphics Cards for 4K Video Editing and Rendering
Here are some of our top considerations when it comes to retouching your videos at higher resolution:
EVGA GeForce RTX 3080 Ti | The Ultimate GPU for Video Editing at 4K Resolution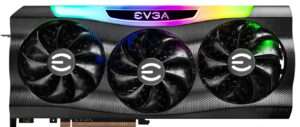 Key Specs:
12GB GDDR6X Memory
1800 MHz Boost Clock Speed
10240 CUDA Cores
iCX3 Technology
384 bit Interface
PCIe 4.0
DirectX 12
---
The RTX 3080 Ti is indeed one of the most powerful GPUs out there in the market. It wouldn't be wrong to say this GPU is "the beast" when it comes to excellent performance in gaming. And when it comes to 4K video editing, this GPU shows ideal performance in video export time if compared with other GPUs in the RTX family.
Although Nvidia cards are more optimized with Adobe-based applications, this particular card shows way better performance with Davinci Resolve. It might be the fact that the Davinci Resolve takes more advantage of the hardware when rendering videos. Another fact might be the 12GB of GDDR6 memory that is good enough to edit videos even at 8K resolution.
Furthermore, the RTX 3080 comes with 760GB/s memory bandwidth and 1800 MHz boost clock speed to faster the video rendering process. iCX3 technology helps your graphics card to stay cool under stressful conditions.
The RTX 3080 Ti is an expensive GPU for video editing. But it is worth each penny when you test its performance while editing your video projects. Also, it needs a 320W power supply to run, so if you have an older power supply in your computer, it's time to replace it with a new one.
GeForce RTX 2070 Super | The Overall Best Graphics Card for 4K Content Editing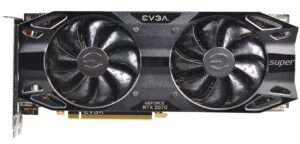 Key Specs:
8GB GDDR6 Video Memory
1770 MHz Boost Clock Speed
Noiseless Dual HDB Fans for Efficient Cooling
PCIe 3.0
DirectX 12
256-bit Interface
---
No doubt, the RTX Series GPUs are not only good at gaming but also show excellent performance in video editing. And when it comes to faster video rendering times, there isn't a better option than the RTX 2070 Super. Like this graphics card is a beast in itself when it comes to retouching videos at higher resolutions.
Thanks to Nvidia's Turing architecture, a technology that makes this GPU work x6 faster than other GPUs when it comes to editing videos or creating animated content. On top of all, the 1770 MHz boost speed and 8GB of GDDR6 memory make this card ideal for smooth 4K video playback.
The RTX 2070 Super comes with 14Gbps memory speed to take care of large files for faster rendering. We tested this graphics card with Adobe Premiere Pro to see how faster it is when it comes to editing a 3 minutes 4K clip. And the overall rendering time was much quicker than we thought it would be.
This GPU sits in the budget range of most video content creators. No doubt, RTX 2070 Super is a solid mid-range GPU for video editing as it has powerful processing power. This card is truly meant for 4K video editing in Adobe Premiere Pro, however, for higher resolutions like 6K or 8K, this isn't the right candidate.
AMD Radeon RX 5700XT | Best Value GPU for 4K Video Creation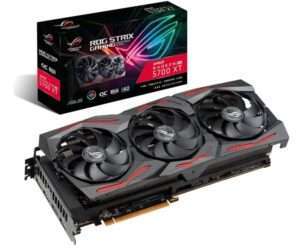 Key Specs:
8GB GDDR6 Memory
2035 MHz Boost Clock Speed
2560 Stream Processors
PCIe 4. 0
DirectX 12
ASUS FanConnect II for Optimal Cooling
Supports 4K H264 decoding and encoding
---
It wouldn't be wrong to say that AMD RX 5700 XT is one of those graphics cards that have behind the curtain many powerful GPUs from Nvidia. Whether it's about gaming or content editing, this GPU has got you covered in every aspect.
AMD RX 5700 XT comes with 8GB of GDDR6 memory with a boost clock speed of 2035 MHz. Well, the overclocking speed might be a bit overwhelming at this point. But this graphics card performs way better even if you don't push it to higher clock speeds.
Another great feature of this card is that it supports PCIe 4.0 slot. Now this gives you double the amount of power than that of a PCIe 3.0 compatible GPU. Moreover, the ASUS FanConnect II technology keeps the GPU cool when rendering large video files at higher resolution. PCIe cards are backward compatible, so you can install this GPU on an older PCIe 3.0 slot as well.
We at GPURepublic are fans of AMD's RDNA architecture that enhances the overall image quality when you play videos at 4K resolution. The 5700 XT comes with 40 compute units grafted on a 7nm RDNA architecture to reduce latency in 4K video editing. In simple words, it means that you will see faster video rendering times with this GPU.
Nvidia GeForce RTX 2080 Founders Edition | Highly Recommended GPU for 4K & 8K Video Editing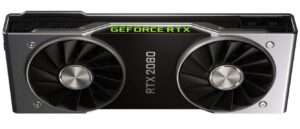 Key Specs:
8GB GDDR6 Memory
2944 CUDA cores
256-bit bandwidth
1800MHz Boost Clock Speed
DLSS 2.0
DirectX 12
PCIe 3.0
---
If you are a YouTuber or a professional video editor, then retouching your videos at 4K resolution would be a lot easier if you own an RTX 2080 Founders Edition. This is one of those graphics cards that famous video creators recommend for 4K and 8K video editing.
RTX 2080 Founders Edition is a powerful video editing GPU with 8GB of GDDR6 memory, 2944 CUDA cores, and 1800 MHz boost clock speed. You can easily play or edit videos at HD resolutions without any lag or delay. 2080 Founders Edition packs DLSS 2.0 which isn't something you need for video editing. But if you are a gamer who records videos of gameplay, this feature might come in handy for you.
If we talk about the performance of RTX 2080 Founders Edition in 4K video editing, it's phenomenal. It comes with multiple display ports so that you can connect multiple monitors to this graphics card in your studio.
It is one of the best graphics cards if you want to edit 4K or even 8K videos. It's reasonably priced and shows better performance than the RTX 2070 Super that struggles to create videos over 4K resolution. We edited many large video files on this GPU and it was super fast in rendering 3D animations, visual effects, and playback.
ASUS GeForce RTX 2060 | A Low Budget GPU for 4K Video Editing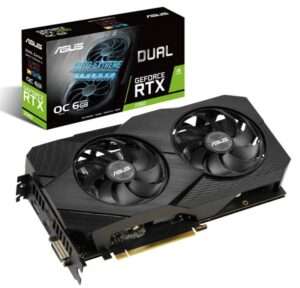 Key Specs:
6GB GDDR6 Memory
1785 MHz Boost Clock
1920 CUDA cores
Wing-Blade Fans
192-bits Interface
DirectX 12

---
Here's RTX 2060, a GPU that lies on a sweet spot between price and performance. And if you looking for a low-budget graphics card that can let you edit 4K videos, then this might be your last bet to go for. It holds all those features that really matter in a video editing GPU.
The RTX 2060 holds 6GB of GDDR6 memory with 1785 MHz boost clock speed. But what really makes this GPU shines in video editing are the 1920 Cuda cores. The GPU is equipped with dual axial tech fans for efficient cooling.
Not only this GPU brings powerful processing to the table but also the glory of Nvidia's Ray Tracing in an affordable price range. This means you can play games or edit videos at 4K settings without any problem. But the rendering power of this GPU is somewhat less than that of all the other GPUs on our list.
This graphics card is also cheaper than its siblings in the RTX family. The RTX 2060 gives you a taste of Nvidia's ray-tracing if you love gaming. But ray-tracing is something that we really don't care about when choosing graphics cards for video editing.
Video Exporting Score in Adobe Premiere Pro at H.264 Format
| | |
| --- | --- |
| Graphics Cards | Overall Video Export Score |
| EVGA GeForce RTX 3080 Ti | 1414 |
| GeForce RTX 2070 Super | 787 |
| AMD Radeon RX 5700XT | 829 |
| Nvidia GeForce RTX 2080 Founders Edition | 901 |
| ASUS GeForce RTX 2060 | 883 |
Performance Comparison of all GPUs
Things to Know Before Picking a Graphics Cards for 4K Video Editing
There are some important things that you need to keep in mind before choosing a GPU for your video editing projects.
Space
Modern GPUs, especially the ones meant for high-performance cover more space inside a PC case. All the GPUs that we have listed in our guide are ideal for ATX tower PC cases. If you own a small form factor PC case, you need to upgrade to a spacious PC case to install a GPU that is 2 or 3 slots in width.
Good Power Supply
Make sure you have a branded power supply for your new graphics card. High-end GPUs especially the ones from RTX-Series need at least 500W of PSU. AMD graphics cards draw more power as compared to Nvidia cards. So, you might need 750W PSU if you own a power-hungry card like AMD RX 5700 XT.
Bulky graphics cards need a reliable power supply source to avoid any system crashes at peak load. The good thing is, modern-day graphics cards use less power as compared to older generation cards. For example, RTX 3060 Ti needs 200W power and could easily run with a 500W power supply. At the same time, high-end GPUs from AMD consume a bit more power and need a high-wattage PSU.
Also, some graphics cards need 6-pin, 8-pin, or both power connectors from your power supply to work properly. Modern PSUs are generally come with all of these important connectors to fuel your GPU.
Compatible Motherboard
Motherboard slot compatibility is another factor that you need to determine before buying a GPU. All modern GPUs make use of PCI Express x16 slot for connection. If you have an old motherboard that does not have a PCI Express x16 slot, it's time for a motherboard upgrade.
Recommendations
Finally, these were some of the best-rated GPUs for 4K video editing on PC. Now, the question is which one you should go for? Well, it entirely depends upon your budget and needs. The RTX 3080 is no doubt one of the top-rated GPUs, it is expensive as well. So if your budget allows you to go for it, then do it. RTX 3080 would be good enough to meet your video editing needs for the next couple of years. And if you are tight on budget, then RTX 2060 is an ideal graphics card that costs less than $800 and delivers good performance in 4K video editing and playback.
Thanks to Puget Systems for providing the most reliable video encoding stats for all the graphics cards in our guide.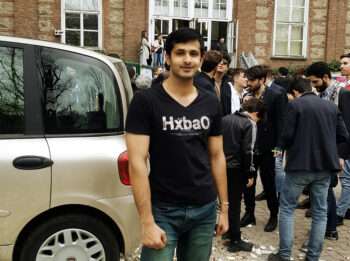 Hi, I'm the author and founder of this blog. I have more than 10 years of experience in the industry. Throughout my journey I've tested and reviewed hundreds of graphics card for custom PC builds. I believe my knowledge and experience will help you choose the card that really falls to your needs and budget.