Designing your imagination and looking at it in real-time was not possible in the past. However, we now have advanced 3D modelling and rendering applications to put life into your graphical projects. V-Ray is one of those powerful rendering engines that can turn your SketchUp designs into real-life scenes. In order to build complex graphical scenes and 3D models, V-Ray for SketchUp depends upon a dedicated graphics card with DirectX 11 or 12 and Shader Model 5.0.
So, which type of graphics card would be ideal to handle the V-Ray rendering engine, Nvidia or AMD? Well, Nvidia offers the best value for a workstation-based PC as compared to AMD. Nvidia has its own dedicated line of workstation chips, the "Quadro Series" for this purpose. Another reason to go with Nvidia is the "Ray-Tracing" – a much-needed feature for adding more life to your 3D projects.
Certain factors like higher VRAM, memory bandwidth, and clock speed play an important role in GPU rendering. Therefore, you have to keep in mind these factors before making your purchase.
System Requirements of V-Ray
CPU: Intel or AMD Multi-Core CPU SSE4.2 support (x64)
RAM: 8GB Minimum / 16GB Recommended
Storage: 12GB Recommended
Operating System: Windows 8, 10, 11
SketchUp Version: SketchUp 2021
GPU: Minimum Maxwell or Pascal-based Nvidia Cards / Recommended Turing or Ampere Architecture Nvidia Cards / Shader Model 5.0 or Better / DirectX 11 or Higher
Reviews of the Best GPU for V-Ray for SketchUp
Here are the top considerations from our side:
PNY NVIDIA Quadro RTX 8000 – Overall Best GPU for Rendering in SketchUp
Video Memory: 48GB GDDR6 | Memory Bandwidth: 672 GB/s | Boost Clock Speed: 1770 MHz | RT Cores: 72 | CUDA Cores: 4608 | Video Outputs: 4x DisplayPort 1.4 | PSU Requirement: 650W
Reasons to Consider:
A workstation GPU with up to 48GB of video memory and 672 GB/s memory bandwidth to tackle complex rendering workloads. If you are a professional who constantly deals with 3D rendering projects, then this card would be enough to last for several years.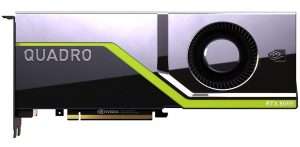 ---
The PNY Quadro RTX 8000 video card holds double the amount of video memory you'll find on most graphics cards. It's filled up with all the ingredients to deliver you a smooth and faster rendering experience in V-Ray SketchUp.
The Quadro RTX 8000 is built on Nvidia's Turing architecture and has 72 RT cores and 576 Tensor Cores for a photorealistic visual experience. The most noticeable of all features is the 4608 CUDA Cores, 672 GB/s memory bandwidth and Quadro RTX NVLink, which allow you to handle the toughest of 3D intensive models and architectural datasets in a matter of seconds.
Well, most users would think that 48GB of video memory on this video card would be overkill for a rendering workstation, but not at all. Most people want to watch content at 4K, even 8K quality. And this is where more video memory on a GPU comes into play.
For if you want to render content at 8K resolution, then the Nvidia Quadro RTX 8000 offers you plenty of VRAM to do this. At least, you won't feel like running out of VRAM while creating your 3D projects in SketchUp.
In terms of connectivity, there are four DisplayPort 1.4 output ports to connect multiple higher-refresh-rate monitors at a single time. However, there is one thing that must bear in mind before going with this graphics card, the power draw. You'll have to some extra cash in buying a higher-wattage power supply to run this card.
Finally, the Quadro RTX 8000 can chew any complex content creation workload that you'll throw on it. Only go for this card if you have enough cash to throw on the table or if you really need more VRAM for designing higher resolution 3D projects.
EVGA GeForce RTX 3090 – Most Powerful GPU for High-End 3D Workstations
Video Memory: 24GB GDDR6X | Memory Bandwidth: 936 GB/s | Boost Clock Speed: 1800 MHz | RT Cores: 82 | CUDA Cores: 10496 | Video Outputs: 3x DisplayPort 1.4a, x1 HDMI 2.1 | PSU Requirement: 750W
Reasons to Consider:
The RTX 3090 is the powerhouse of performance you'll find in the market. Right now, you won't find any graphics card that can beat the RTX 3090 in 8K rendering and encoding. This graphics card provides the best performance with all versions of V-Ray.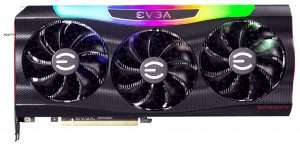 ---
Although, there is a limited supply of RTX 3090's in the market, third-party manufacturers like the EVGA are doing their best to put this card on your table. Even this chip is being sold higher than its MSRP tag, there's a huge demand for this card among 3D content creators.
The EVGA RTX 3090 holds a massive 24GB of GDDR6X video memory, which is one of the fastest graphics memory type on the market. The GDDR6X as compared to GDDR6 delivers higher performance in rendering tasks.
This is reason why the RTX 3090 GDDR6X card performs better than the RTX Quadro 8000 despite the latter one has double the amount of video memory (24GB GDDR6). Furthermore, if we compare the costs of both chip, then the RTX 3090 is almost half the price of RTX Quadro 8000. But, in applications where more VRAM is needed, the RTX Quadro 8000 will win the race.
We've test the EVGA RTX 3090 with V-Ray 5 in SketchUp, Maya, Cinema 4D, and 3ds Max. By connecting monitors to each of the three DisplayPort 1.4a ports on RTX 3090 graphics card, there were issues at all.
However, we performed the 3D rendering test with the Founders Edition version of RTX 3090. So, we hope there would be better performance with EVGA RTX 3090 card as it is pre-tuned for maximum performance.
But if you don't want to spend your hard earned budget on an expensive graphics card like RTX 3090, then you can save a few more bucks on buying an RTX 3080. To be honest, the RTX 3090 perfroms just 20% better than the RTX 3080 graphics card. Moreover, you are paying a premium price to get a 24GB of VRAM which we don't think so you'll ever use in 3D rendering for few more years.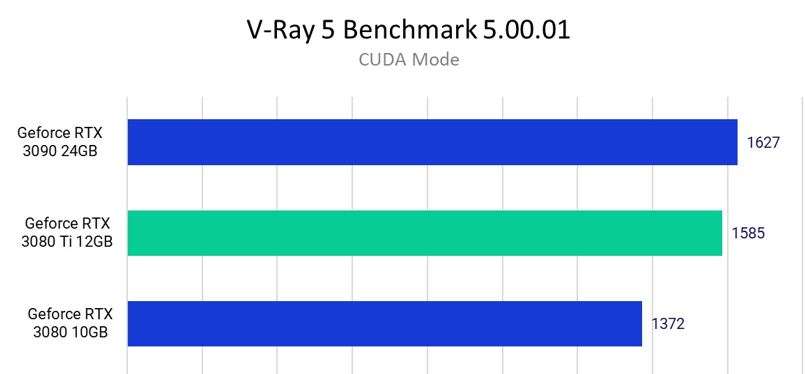 Finally, the EVGA RTX 3090 would be a promising choice to go with if you are dealing with latest version of V-Ray in different 3D rendering applications. It comes with plenty of CUDA cores, clock speed, and bandwidth for faster rendering as compared to other cards.
ZOTAC Gaming GeForce RTX 3060 – A Low-Budget Card for V-Ray
Video Memory: 12GB GDDR6 | Memory Bandwidth: 15 GB/s | Boost Clock Speed: 1807 MHz | RT Cores: 28 | CUDA Cores: 3584 | Video Outputs: 3x DisplayPort 1.4a, x1 HDMI 2.1 | PSU Requirement: 600W
Reasons to Consider:
The RTX 3060 is the most affordable graphics card to render your projects at 4K resolution. It has plenty of VRAM and holds up to four advanced video outputs. If you are building a low-budget 3D workstation, then this graphics card would save you a lot of bucks without compromising on the performance.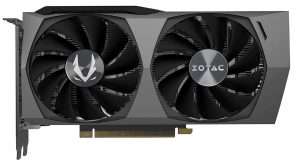 ---
The RTX 3060 is the most economical graphics card in the Nvidia's RTX 3000 family. Without breaking your bank account, you get your hands on a graphics card that is ideal for any 3D rendering application like SketchUp, Maya, Blender, or 3ds Max.
The Zotac RTX 3060 has one unique thing to offer, and that is higher VRAM for a lower price. Where most low-budget graphics cards are packed with not more than 4 to 6 Gigs of video memory, the RTX 3060 breaks this trend by offering you 12GB of GDDR6 VRAM on a tight budget.
When it comes to test the performance of Zotac RTX 3060 in V-Ray SketchUp, then is scores way less than RTX 3090 and Quadro RTX 8000. Although, this graphics cards has more than recommended video memory for running professional 3D rendering application, there are other entry-level specs that make the Zotac RTX 3060 sit at the bottom.
Firstly, the memory bandwidth on this graphics card is way less than we've on RTX 3090 and Quadro RTX 8000. Secondly, the CUDA cores on this card are less than higher-end chips in the Nvidia's Ampere family.
However, this doesn't means that you cannot expect a good performance from this card in 3D rendering. The Zotac RTX 3060 still wins 3D rendering battle if you put in side by side with other entry-level chips in the RTX family.
Test System
Below are the specs of system we've used for testing these graphics cards:
| | |
| --- | --- |
| CPU | Core i9 9900K 3.6 GHz |
| Motherboard | GIGABYTE Z390 |
| RAM | Corsair 32GB DDR4 |
| CPU Cooler | HYPER 212 EVO Air CPU Cooler |
| Power Supply | Seasonic 850W |
Final Verdict
We hope you'll get most value from these graphics card while rendering your 3D projects in V-Ray SketchUp. If we had to pick from one of these cards, then it would be the EVGA RTX 3090. Not only this graphics card gives you the most bang for your buck, but it'll make your 3D workstation future-proof as well. If you get your hand on an RTX 3090, just go for it rightaway.
At the same time, if you are learning 3D rendering in SketchUp, then RTX 3060 would be a great deal. Without putting a hole in your wallet, you can learn and create complex 3D architectures with RTX 3060 in any application.
FAQs
Can V-Ray render with GPU?
Yes, you can render your projects using a graphics card in V-Ray. The RTX Series graphics card offer powerful performance in 3D rendering.
Is V-Ray GPU fast?
As a graphics card has more CUDA/Stream cores compared to graphics card. Therefore, V-Ray rendering on a GPU is faster as compared to a CPU. Furthermore, GPUs are well-optimized for graphical computing as compared to CPUs.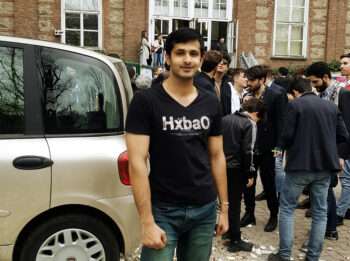 Hi, I'm the author and founder of this blog. I have more than 10 years of experience in the industry. Throughout my journey I've tested and reviewed hundreds of graphics card for custom PC builds. I believe my knowledge and experience will help you choose the card that really falls to your needs and budget.