With Nvidia and AMD competing with one another to bring the best graphics cards in the market, it is really hard to find a decent GPU that offers the best value for the money.
Where in the year 2021 most high-end cards have surpassed the budget cap of PC gamers, some mid-range graphics cards still lie on a sweet spot between price and performance.
We have curated a list of the best mid-range GPUs on the market that are great for gaming, and you really don't need to break your bank account to buy them.
Moreover, we have tested these cards with some demanding titles like Cyberpunk 2077, Red Dead Redemption 2, and Resident Evil Village. The graphics quality was stunning as well as the frame rates.
Some of these mid-rangers from AMD and Nvidia were even able to push these games up to 4K. However, if you play games at 1080p 60fps, all of these cards would really keep up to your expectations.
The Best Mid-Range Graphics Cards Reviewed
Here are some of the top considerations:
EVGA GEFORCE RTX 3060 XC | The Winning Mid-Range GPU for Gaming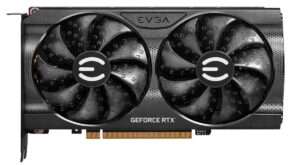 Specifications
1.8 GHz Boost Clock Speed
3584 CUDA Cores
12 GB GDDR6 Memory
192-bit Memory Width Interface
PCIe 4.0 Interface
1x HDMI, 3x DisplayPorts
550W PSU Requirement
---
Reasons to Buy
Best bang for buck GPU
Ray-tracing
Ideal for 1080p and 1440p PC gaming
Can play few titles at 4K also
---
The EVGA Geforce RTX 3060 XC is the gateway to Nvidia's RTX 30-Series where we have more powerful GPUs like RTX 3070 and 3080. While this isn't the cheapest GPU on market, it remains the first priority of many gamers when looking for affordable mid-range video cards.
Now, this isn't a GPU that you should expect to play games at 4K or 8K resolutions. However, the EVGA Geforce RTX 3060 XC still lets you enjoy the most demanding titles like Resident Evil Village and Red Dead Redemption 2 as far as 1440p without dropping the frame rates.
Although we pushed the limits of this card to play games at 4K, and it did, thanks to 12GB GDDR6 memory. But a drop in the average frame rates made us push back to 1440p settings where gameplay was much smooth and lag-free.
This graphics card lets you have a glimpse of ray-tracing and DLSS technology, which is something that you will love for sure. These two features really make this GPU stand out when we compare it with the same-priced AMD cards in the market.
All in all, Geforce RTX 3060 XC is a GPU that is worth considering if you are upgrading from a low-budget graphics card. It holds all those features that a premium video card has like ray-tracing, DLSS, and the ability to play games at 60fps.
Nvidia GeForce RTX 2070 Founders Edition | The Most Affordable Middle Ground Graphics Card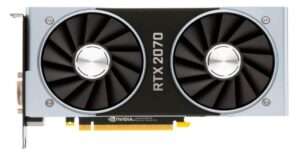 Specifications
1.7 GHz Clock Speed (Boost)
bCuda Cores
8GB GDDR6 Memory
256-Bit Memory Width Interface
DisplayPort, HDMI, USB Type-C , DVI-DL
PCI Express 3.0
550W PSU Requirement
---
Reasons to Buy
Low energy consumption
Ray-tracing
Impressive performance in gaming
---
Where most Nvidia flagship cards are out of the range of many consumers, GPUs like Nvidia RTX 2070 Founders Edition sits on a sweet spot between price and performance. It wouldn't be wrong to say that his mid-range video cards hold more value when compared to their price.
The RTX 2070 knocks off a higher price tag while offering premium features like ray-tracing and DLSS. Honestly, it is one of the affordable Nvidia graphics cards that you can buy right now.
And if you have been a fan of late GTX-Series GPUs, you will see a huge difference in performance when you upgrade to this graphics card. In comparison to GeForce GTX 1070 Ti and GTX 1080, the RTX 2070 Founders Edition has a lower texture unit and stream processor count.
The GPU also has ray-tracing and AI-powered tensor cores, however, these are fewer as compared to the RTX 30-Series Turing graphics cards. But during the benchmark tests, there wasn't much of a difference in the ray-tracing performance between the Turing GPU lineup.
While testing, we were a bit surprised by the performance of this GPU while playing games at 4K. Although this GPU isn't a champion when it comes to playing games at 4K, it did handle some titles pretty well, but not all of them. While playing Destiny 2 at 4K settings, average frame rates were around 40 to 70 most of the time.
No doubt, the Nvidia RTX 2070 Founders Edition is a great mid-range graphics card that puts a 4K gaming experience on your desk. It comes with ray-tracing and DLSS capability as well. And, it consumes less power as compared to other Turing GPUs from Nvidia.
The only thing to be concerned about is the lack of enough VRAM. Although this graphics card comes with 8GB of video memory, some AAA games are now pushing beyond this bare minimum VRAM standard. Still, you can play most of those games by sacrificing a bit on texture qualiy with this card. Also, there isn't much of a difference to tell when you are playing games between "High" and "Ultra-High" settings.
MSI Gaming GeForce RTX 2080 Super | A Powerful Mid-Tier Graphics Card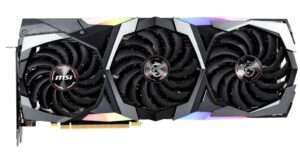 Specifications
Boost Clock at 1.8 GHz
3072 Cuda Cores
8GB GDDR6
256-bit Memory Interface
PCIe 3.0
DisplayPort x 3 (V1.4)/ HDMI 2.0B x 1
550W PSU Recommended
---
Reasons to Buy
Excellent for 1440p Gaming
Reliable Ray-Tracing Performance
Cutting-Edge Price
3 Cooling Fans
---
The RTX 2080 Super has covered a lot of flaws that the older 2070 had a year ago. This graphics card comes with improved ray-tracing performance and the ability to play games up to 4K resolution. Apart from its stock shortage, the RTX 2080 Super remains the foremost choice of every gamer.
Also, we have the RTX 2080 Super 10% faster than the RTX 2070, and about 5% more powerful than the RTX 2080 Ti. However, this GPU isn't that much different from its predecessors when we talk about the price range.
This mid-ranger GPU is no doubt the best one that we have seen in the RTX lineup. It doesn't really make you feel as if you need a more powerful graphics card on your PC. We end up playing the most demanding titles on RTX 2080 Super, and it didn't betray us at all.
If you are a fan of GPU overclocking, then this card is meant for you. Although it has enough memory bandwidth and clock speed to keep your hands off the overclocking software, it's really up to you to test its limit if you want. The RTX Super holds 3 powerful fans making it an ideal choice for overclockers to get the best performance in gaming.
We were amazed by the performance of this GPU at 1440p resolution. And hit over 60fps at 1440p settings even with the most graphically demanding PC games.
We did manage to jump resolution to 4K as well, the performance was not too impressive, but it was way better than an RTX 2070 GPU. At least the games were playable without any lag at 4K settings.
Finally, this is one of the best mid-range graphics cards for 4K gaming or 4K video editing considering the price and features it offers.
By paying less money, you can enjoy the benefits of having a high-end GPU in your gaming rig. Also, this is one of the best GPU to pair with a 1080p 144Hz gaming monitor to achieve over 100 fps in AAA titles.
AMD RADEON RX 570 RS Black Edition | A Mid-Range Budget Friendly Card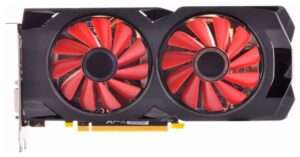 Specifications
1.3 GHz Clock Speed
8GB GDDR5 Memory
256-bit Memory Interface
PCI Express 3.0
HDMI x1, DisplayPort x3
550W PSU Requirement
---
Reasons to Buy
Best for 1080p Gaming
Low budget GPU
Power-efficient
---
Although the RX 570 isn't the very best graphics card out there, it still is one of the best mid-range AMD graphics cards considering its lower price and good performance in 1080p gaming. Even there is a much better RX 580 card in the market, RX 570 still is the first choice of many budget geeks out there.
The XFX Radeon RX 570 RS Black Edition packs more power than the normal RX 570 card. It has more memory bandwidth and clock speed to handle modern PC games at 1080p settings. Yes, we cannot expect this card to go over these settings, at least not with a GDDR5 interface.
Obviously, at a lower price, you will have to compromise on some features. With the 8GB GDDR5 memory and 1.3 GHz it would be hard to scale the resolution up to 4K, but playing at 1080p wouldn't be a problem at all. If you really need to push this card over to 1440p, it might get there as well, but in some titles only.
Overall, installing RX 570 Black Edition on your PC will give you a slight edge in playing demanding games. If you really want to excel in gaming, we recommend you to go with an RX 580 GPU which costs a few more bucks.
Specs of the PC Used in Testing
Here are the main specifications of our gaming PC, the one we've used for testing these mid-level GPUs.
Core i9 9900K
GIGABYTE Z390 Motherboard
16GB DDR4 Corsair Ram clocked at 3200 MHz
850W Cooler Master PSU
1TB Crucial SSD Storage
Average Frame Rates While Testing These GPUs
Here are the average fps we got while playing Cyberpunk 2077, Red Dead Redemption 2, and Resident Evil: Village on these mid-tier graphics cards.
| | | | |
| --- | --- | --- | --- |
| Graphics Cards | Cyberpunk 2077 | Red Dead Redemption 2 | Resident Evil: Village |
| EVGA GEFORCE RTX 3060 XC | 62fps | 56fps | 75fps |
| Nvidia GeForce RTX 2070 Founders Edition | 72fps | 61fps | 85fps |
| MSI Gaming GeForce RTX 2080 Super | 82fps | 89fps | 98fps |
| AMD RADEON RX 570 RS Black Edition | 61fps | 55fps | 61fps |
(1920×1080), Windows 10, DirectX12 (Ultra Quality)
Useful Shopping Tips
Whenever buying a mid-range graphics card, consider the following factors:
PSU: Most mid-range chips do not need you to have a high-end PSU, however, make sure your GPU has enough juice to power a graphics card that comes with 6 or 8-pin power connector. Nvidia recommends having at least 550W PSU for Ampere Series GPUs.
Video Memory: Well, you can play games on a 4GB video card as well. But as we've said earlier, the upcoming games need you to have a 6GB or 8GB GPU for better performance. For a mid-range GPU, we highly recommed to go with either 8GB or 12GB graphics card if you want to maxed out the graphical settings.
G-Sync or Free-Sync: Both of these features are noteworthy if you want to play games on higher refresh screens. G-Sync work perfect with Nvidia products whereas Free-Sync makes you gaming experience way better if you have an AMD card with you.
DLSS/Ray-Tracing: The latest GPUs in the Nvidia line-up are equipped with ray-tracing and DLSS 2.0 for better visuals and higher frame rates in gaming. However, both of these features belong to RTX-Series graphics cards that need you to throw more cash on the table. We are still looking forward to AMD to introduce these premium features in their future flagships. At the moment, AMD uses FSR to render frame rates in gaming.
Recommendations
So these were some of the good mid-range graphics cards that we've rounded up in our guide. Now, if you really rely on a tight budget, there isn't a better option than RX 570, which surely is the cheapest GPU on our list.
But if you pay a bit more, it's worth going for an RTX 2070 that packs more value and features at a very affordable price.
Like it has all those features that you expect from a good-performing mid-range GPU. Features like Ray-Tracing and DLSS are trending in the gaming world right now, and RTX 2070 holds both of these just under the $1000 price range.
Finally, if you really don't care about cash and need a powerful GPU, the RTX 3060 XC would be a great consideration for unparalleled performance.
RTX 3060 XC is a graphics card that beats many high-end GPUs in terms of price and performance. You can play many hit gaming titles at 4K resolution with this graphics card.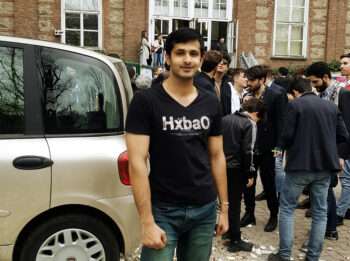 Hi, I'm the author and founder of this blog. I have more than 10 years of experience in the industry. Throughout my journey I've tested and reviewed hundreds of graphics card for custom PC builds. I believe my knowledge and experience will help you choose the card that really falls to your needs and budget.