If you want to push your graphics card performance to the next level, then our long-standing advice would be to opt for water cooling. Putting your graphics card under liquid cooling yields better results as compared to air cooling. Stripping a water block to your GPU means that your chip will spit heat into a substance that can hold more heat as compared to the aluminum heat sink.
For efficient performance, the water blocks make use of large radiator fans to dissipate the heat absorbed by the liquid. Moreover, the water block attached to a graphics card takes less space leaving enough room for other parts.
Most often you will need a liquid-cooled graphics card if you are an extreme overclocker. Overclocking your chip will surely improve its performance, but it will generate more heat as well. To take care of that enormous amount of heat, you will need a reliable cooling solution.
Even if you don't overclock your chip to higher clock speeds, some high-end GPUs tend to generate more heat as you scale the game resolution up to 1080p or 4K.
So, we've curated the list of the best water-cooled GPUs that efficiently dissipate heat with their powerful liquid cooling hardware.
Advantages of Having a Liquid Cooled GPU
Best for overclocking
Super silent even under heavy loads
Efficient cooling
Low power consumption
More heat absorbing capacity
Types of Water Cooled GPUs
Generally, there are two types of liquid cooler graphics cards in the market, i-e Hybrid or water block cooling graphics cards.
The hybrid cooling GPUs use a radiator or fan attached to a cooling kit whereas graphics cards with water blocks have direct contact with the cooling reservoir for efficient cooling.
Reviews of the Best Water Cooled Graphics Cards for Every Budget Range
Below are some of the most efficient liquid cooling GPUs on the market:
EVGA GTX 1070 Ti Hybrid – The Overall Best GPU with Liquid Cooling
Specifications
Base Clock Speed 1607 MHz
Boost Clock Speed 1683 MHz
256-Bit Memory Interface
1920 CUDA Cores
8GB GDDR5 Video Memory
DirectX 12
450W PSU Needed
Reason to Consider
The GTX 1070 Ti Hybrid is meant for true gaming performance. It is equipped with a high-quality water cooling kit to keep your chip 30 degrees cooler as compared to a normal air cooling kit.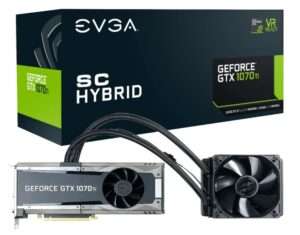 ---
Nvidia's Pascal Architecture has been great at handling AAA titles like no one else. And with the Nvidia GTX 1070 Ti, you can scale your gaming experience to a new level. It comes with 120mm radiator fans and a reliable liquid cooling solution for overclocking. Moreover, the RGB lights on this card add a more aesthetical look to your gaming rig.
With 8GB of GDDR5 video memory, you can scale your gaming resolution up to 1080p or 1440p. This version of GTX 1070 Ti comes overclocked right out of the box, so don't need to manually tune it for higher performance.
With a TDP of 170W, the GTX 1070 Ti stands out as the power-efficient card for hardcore gaming. On top of all, the powerful 120mm radiator operates silently to cool down the chip. We managed to play advanced games on this GPU like the Red Dead Redemption 2, The Division 2, and Resident Evil: Village, most of the time the temperatures were below 40 Degrees.
All in all, it's a reliable graphics card with hybrid cooling to install in a mid-tier gaming rig.

Sapphire Radeon PRO Duo HBM – The Best AMD Graphics Card with Closed Loop Water Block
Specifications
Base Clock Speed 1000 MHz
8GB GDDR3
8192 Stream Processors
1x HDMI, 3x DisplayPort
DirectX 12
600W PSU Needed
Reasons to Consider
The Saphire Radeon Pro DUO is high-end water cooled GPU for achieving higher clock speeds. Though it is built on an older GDDR3 interface, it packs some serious power due to its higher bandwidth (HBM). If you are not limited to a budget, then this chip is would be a great deal for you.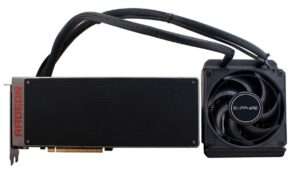 ---
Although the interface on which the Saphire Radeon Pro Duo is built has no comparison with the advanced gaming chips of today, still it beats most GDDR5 holder GPUs in gaming. The thing that gives this card edge in games is the higher bandwidth and 8GB of VRAM.
Moreover, the Saphire Radeon Pro Duo packs an advanced closed-loop water cooling kit for ideal heat dissipation. With even a base clock speed of 1000 MHz, you can still rely on this GPU to play some advanced game titles on low-medium settings. However, to max out the performance, you can overclock it using MSI Afterburner or ASUS GPU Tweak software.
To be honest, this is power-hungry with a TDP of 350W. On top of that, it's way expensive as compared to the latest AMD GPUs like the RX 6800 XT.
It's not wise to spend money on a chip that has a little more bandwidth but an older architecture. For this much money, you can buy a high-end GPU with better cooling and low power consumption. But if your intentions are just to overclock a GPU through liquid cooling, then this might be the right option to do your experiment.
EVGA GeForce RTX 2080 Ti FTW3 Ultra Hybrid – A High-End Water Cooled Card for Extreme Gaming
Specifications
Boost Clock Speed 1755 MHz
12GB GDDR6 Video Memory
352-Bit Memory Interface
4352 CUDA Cores
Adjustable RGB Lights
DirectX 12
600W PSU Needed
Reasons to Consider
Wrapped in the power of Nvidia's Turing architecture, the RTX 2080 Ti holds the power of real-time ray tracing and DLSS 2.0 to add more colors to your gaming experience. The advanced EVGA water block keeps the chip incredibly cool at higher clock speeds. If you really need the most bang for your buck, this is the GPU you should invest in.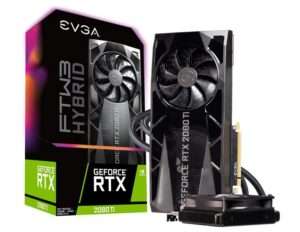 ---
The EVGA RTX 2080 Ti comes with a high-quality water cooling block to dissipate a tremendous amount of heat in real-time. No doubt, the RTX 2080 Ti is a powerful mid-tier graphics card to play AAA titles at 1440p settings.
By using the EVGA Precision software, you can easily overclock this chip to achieve higher frame rates in gaming. The hybrid water cooling block works endlessly to take care of extra heat resulting from overclocking.
The RTX 2080 Ti Hybrid is a solid-built graphics card with 12GB of GDDR6 memory and a clock speed up to 1755 MHz. Moreover, the RGB lights on this GPU really give it a
We managed to play GTA V and Witcher 3 on this graphics card at 4K settings, and it maintained the temperatures well below 55 Degrees Celsius most of the time. However, with Metro Exodus, the temps went up to 65 Celsius because the game itself has demanding textures and visuals.
If you really need a high-end liquid-cooled video card, then the RTX 2080 Ti holds a serious amount of power and specs. It comes with RGB lights that you can control with the Precision Software to add more looks to your gaming rig.
However, this is an expensive card to get as compared to other RTX 2000 cards. But if we see its performance, it gives you stable frame rates at 1440p and 4K resolution when playing modern AAA titles. And with features like ray-tracing and DLSS, you can enhance your gaming experience to the next level.
The cooling performance of this graphics card is incredible apart from the water pump that comes with it. The Asetek water pump used in this card is a bit noisy and you cannot tweak the RPMs of the pump using EVGA Precision software.
Overall, it's one of the best graphics cards with water block technology that you can get at the moment.
EVGA GeForce GTX 1080 Ti FTW3 HYBRID – Most Efficient Liquid Cooled GPU
Specifications
Boost Clock Speed 1683 MHz
11GB GDDR5X Video Memory
3584 CUDA Cores
352-Bit Memory Interface
Adjustable RGB Lights
600W PSU Needed
Reasons to Consider
The GTX 1080 Ti is favored by the most advanced iCX technology for interactive cooling. Moreover, this GPU is paired with an award-winning hybrid cooling solution. With the right kind of cooling ingredients, you can overclock this GPU over 2000 MHz.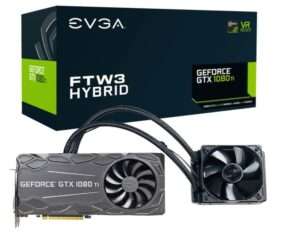 ---
If there is any GTX Series graphics card that can compete with the entry-level cards in the RTX-Series, then it would be GTX 1080 Ti. In terms of performance, it packs the same amount of power as an RTX 2070 does. However, this version of GTX 1080 Ti comes with an AIO advanced water cooling kit for ideal performance at higher clock speeds.
Just like other cards on our list, this one is equipped with RGB lights to match blend with your current gaming rig. With 11GB of GDDR5X memory and 1683 MHz clock speed, this chip can let you any demanding AAA title at higher settings.
Now, the GTX 1080 Ti doesn't hold the crown of ray-tracing, which makes it a no-go card for some gamers. But if your intentions are to improve your gameplay by tweaking the clock speed of your GPU, then this might be the right graphics card for you.
Conclusion
Finally, these were some of the best water cooled graphics cards to consider at the moment. And if you want to overclock your GPU to get the most out of it, then you can go for any of these according to your budget. Our recommendation would be to go for RTX 2080 Ti Hybrid that is a little bit expensive but holds more performance and cooling power to make your gaming machine future-proof. If you have any confusion in mind, leave us a comment below and we will get back to you.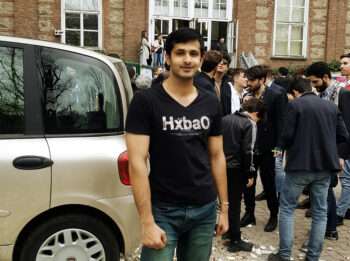 Hi, I'm the author and founder of this blog. I have more than 10 years of experience in the industry. Throughout my journey I've tested and reviewed hundreds of graphics card for custom PC builds. I believe my knowledge and experience will help you choose the card that really falls to your needs and budget.