GPU Republic is reader-supported. We follow a strict editorial process and put hours of research into testing, reviewing, analyzing & comparing the best products that we can find so you can make the most informed decisions. In the event you choose to buy something from one of the links on our site, we may make a commission at no extra cost to you. Whatever products we recommend, it's because we truly believe in them, not because of the small commission we may receive. Please don't buy any of these products unless you actually think that it would fit your needs.
When it comes it comes to retouch your photos on a PC, then most of the job is done by your CPU and Ram. You really don't need to rely on a powerful graphics card to edit your photos. However, if you are editing photos on a 4K display, you need to have the best 4K graphics card for editing your photos on such a high resolution.
Here in this guide we've compared and reviewed some of the top-rated photo editing video cards on the market. All of these deliver smooth performance when it comes to scale your resolution up to 4K and edit your photo or video projects.
Top 4K Video Cards for Photo Editing for Every Budget
Here are some of the best considerations from our side:
ZOTAC GeForce GTX 1650 – Overall Best Graphics Card for Editing Photos
Core Clock: 1485 MHz | Video Memory: 4GB GDDR5 | Memory Clock: 8 Gbps | Memory Interface: 128-bit | Video Output: DisplayPort, DVI, HDMI3
Reasons to Buy:
No Power Connector Needed
Affordable
Great Cooling
Fits easily in small PC cases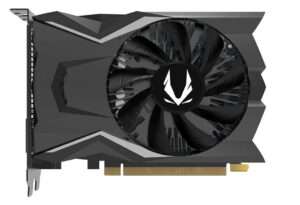 ---
The ZOTAC GeForce GTX 1650 is an entry-level photo editing graphics card in the market. This is an ideal GPU for Adobe Photoshop to improve your photo editing skills. Especially, if you own a small form factor PC, this card could easily fit in your tight space PC case without any problem.
The GeForce GTX 1650 is backed by Nvidia Turing TU117 architecture making it the right choice for entry-level gaming and content editing.
It's one of the highly recommended GPUs to enter the world of photo editing. It has enough clock speed and ram to give you a smooth content editing experience on your PC. Moreover, the GTX 1650 is a low TDP card, that is it uses less power to operate. So, there is no need to have a high-end power supply and an external connector to run this graphics card.
For high-end rendering, this is an affordable card to go with. At least, this GPU can easily let you edit photos at 1080p or 1440p. However, to purely edit content at 4K resolution, you have to rely on powerful cards from Nvidia RTX or AMD RX Series.

MSI NVIDIA GeForce GTX 1660 Ti – Best Value Video Card for Adobe Lightroom
Core Clock: 1500 MHz | Video Memory: 6GB GDDR6 | Memory Clock: 12 Gbps | Memory Interface: 192-bit | Video Output: x1 HDMI, x3 DisplayPort
Reasons to Buy:
Two powerful fans for cooling
Can be overclocked for more performance
Multiple display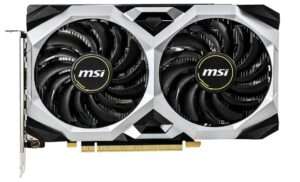 ---
The MSI GTX 1660 Ti wins over the previous GPUs in the Nvidia GTX family when it comes to content editing. Though this GPU uses an older TU 116 architecture, it holds more video ram and clock speed to shorten the rendering times in photo or video editing.
One of the good things about this GPU is you can easily overclock it up to 1800 MHz. On to handle the enormous amount of heat at a higher clock speed, there are two power TWIN FORZR 7 fans to dissipate the heat.
To be honest, you don't need to overclock this GPU and edit your content. And if you are into GPU overclocking, it's better to go for a water-cooled graphics card that comes with an advanced cooling kit. So as far as you are just editing photos at 4K resolution, a 6GB GDDR6 memory and a clock speed of 1500 MHz would be enough.
It's one of the best mid-range video cards to meet your photo editing needs while staying within budget.
Sapphire Radeon RX 5600 XT – Highly Rated Video Card for 4K Content Editing
Core Clock: 1615 MHz | Video Memory: 6GB GDDR6 | Memory Clock: 14 Gbps | Memory Interface: 192-bit | Video Output: 3 x DisplayPort, 1 x HDMI
Reasons to Buy
Packed with high-end specs
Efficient cooling mechanics
High base clock speed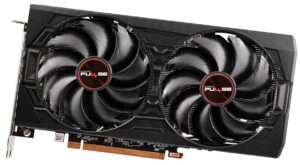 ---
Chips from AMD like the RX 5600 XT deliver a smooth photo editing experience when connected with 4K monitors. The RX 5600 XT comes with 6GB GDD6 memory (on a 192-bit interface) clocked at 1615 MHz for faster rendering in photo editing applications.
Packed with Navi 10 architecture and high-end specs, the RX 5600 XT is a great performer in productivity tasks. If we compare the video editing performance of RX 5600 XT with the RTX 2070 Super, then there's a minute difference overall.
The Sapphire Radeon RX 5600 XT stands out as a great mid-range graphics card in the market. You can edit your content at 4K quality on this chip without any hassle.
Although, it lacks the hidden sauce that most Nvidia RTX GPUs are holding right now, the ray-tracing. Still, it's a reliable chip for professional photo and video editors if doesn't have any ray-tracing capabilities at all.
MSI GeForce RTX 2070 Super – A Powerful Choice for Professional 4K Photo Editing
Core Clock: 1785 MHz | Video Memory: 8GB GDDR6 | Memory Clock: 14 Gbps | Memory Interface: 256-bit | Video Output: 3 x DisplayPort (1.4), 1 x HDMI 2. 0b
Reasons to Buy
Latest Turing Architecture
Overclocking
Ray-Tracing Technology
RGB Lights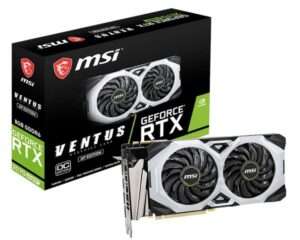 ---
Although. the RTX 2070 Super is highly favored by gamers for 1080p gaming, its power cannot be ruled out in content editing as well. The MSI RTX 2070 Super comes with 2560 CUDA cores, 8GB GDDR6 video memory, and a clock speed of 1785 MHz to give you a smooth photo and video editing experience at 4K resolution.
If you are involved in photo and video editing at the same time, then this might be the best graphics card to have in your content editing rig. Well, in video editing, you can take benefit from the ray-tracing capabilities of this video card.
No matter, whatever photo editing workload you through on this card, it can easily handle it without compromising on the performance.
We highly recommend going with this GPU if you have tons of content editing workload to deal with. Especially, if you are dealing with photo or video editing applications that need input from the GPU side. Just purchasing an RTX 2070 Super for Adobe Photoshop or Lightroom isn't worth it. However, if you want to add aesthetics to your content editing studio, then this GPU has got some cool RGB lighting to it.
No doubt, the RTX 2070 Super is one of the fastest GPUs to edit projects in Photoshop, but it's just 8% faster than the GTX Series cards as tested by Pugetsystems.
Gigabyte Radeon RX 580 – Economical Video Card for Content Editing at Higher Resolution
Core Clock: 1355 MHz | Video Memory: 8GB GDDR5 | Memory Clock: 7 Gbps | Memory Interface: 256-bit | Video Output: 3 x DisplayPort (1.4), 1 x HDMI 2. 0b, 1 x DVI-D DL
Reason to Buy
Stable chip to edit content
Affordable price
Factory overclocked for high performance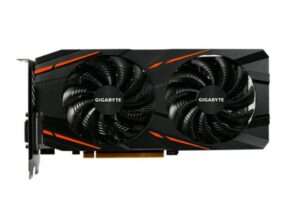 ---
The RX 580 is backed by AMD's Polaris architecture to deliver ideal performance in parallel computing tasks like photo and video editing. It's one of the best 4k video cards for photo and content editing on your PC.
If you are after 1080p photo and video editing along with casual gaming, then RX 580 is the most suitable choice to have in your studio PC. It comes with 8GB of GDDR5 video memory and a clock speed of 1355 MHz to deliver the best editing experience. If you are using editing applications that depend on GPU for rendering, then this might be the chip you need.
If we compare the RX 580 with the AMD RX 5500 XT, there isn't much of a difference in both of these cards. The GPU also supports RGB Fusion technology to match it with your current PC setup. It delivers the right performance for the money you pay for it.
Choosing the Best Video Card for Photo Editing
Here are some important factors to keep in mind before making your first purchase:
Memory
Video memory is a crucial factor when picking the best graphics card for editing photos at a higher resolution (4K). The minimum amount that you need depends upon the nature of the application that you use for rendering photos. At the moment, intense photo editing programs need you to have at least 2GB of VRAM for uninterrupted rendering.
Also Checkout: Amount of VRAM you need for different types of workloads.
However, when you scale the resolution up to 4K, your GPU swaps more memory. In that case, you should have a video card with 6GB of memory.
Thermal Design
Almost every modern graphics card comes with a 90mm or 120mm fan for efficient cooling. And the need for cooling gets more when you push the resolution of a GPU up to 4K. Make sure you opt for a GPU that has at least two cooling fans. Also, the more power a GPU needs, the more heat it will produce when under heavy graphical load.
Clock Speed
The GPU clock speed is similar to that of a CPU clock speed. The higher the clock speed, the better would be the performance. Typically, there are two types of GPU clock speed to consider, the base clock speed and boost clock speed. By default, all the GPUs run at a base clock speed as set by the manufacturer. However, you can overclock a GPU up to the boost clock speed specified by the manufacturer.
For photo or video editing, there is no need to overclock your GPU as the base clock speed is enough to meet your editing needs.
Recommendations
Finally, these were some of the best 4K video cards for photo editing on PC. You can pick any of these according to your budget and needs until your concerns are just to edit content. As we've said earlier, GPU isn't something that can totally change your photo editing experience. You will need a high-end CPU and ram to shorten encoding and rendering times.
You can pick any of these chips, there won't be much of a difference in rendering times. A GTX 1650 could deliver almost the same value in photo editing as an RX 5600 XT does. If you really want to increase the gap in performance, then you must consider RTX series chips that are much powerful and faster in rendering.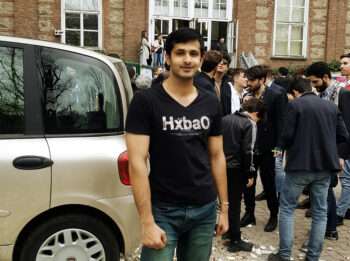 Hi, I'm the author and founder of this blog. I have more than 10 years of experience in the industry. Throughout my journey I've tested and reviewed hundreds of graphics card for custom PC builds. I believe my knowledge and experience will help you choose the card that really falls to your needs and budget.