When it comes to editing your photos on the computer, there isn't a better tool than Adobe Photoshop. Moreover, Photoshop is one of those programs that doesn't need you to have extremely powerful components in your computer. Even a low-budget graphics card could be enough to retouch your projects in Adobe-based applications.
But when it comes to adding special rendering effects to your photos, you need a reliable graphics card to get your work done. Special effects like Perspective Warp, Lens Blur, Select & Mask, Birds Eye View, Flick Planning, etc depend upon your GPU.
When you build a Photoshop workstation, GPU has its place after the CPU and RAM. However, in the last 2 to 3 years, editing pictures using video card acceleration has become common. But like we've said earlier, only a few tasks in Photoshop are blessed with video card benefits.
To display true 10-bit colors in Photoshop, you'll need a reliable graphics card without putting a hole in your wallet. Therefore, choosing the most suitable GPU for Photoshop gets a bit tricky. There are a lot of factors to keep in mind like price, reliability, core count, clock speed, and power draw before making any purchase.
Official System Requirements of Adobe Photoshop
| | | |
| --- | --- | --- |
| | Minimum | Recommended |
| Processor | Intel or AMD Dual-Core | Quad-Core Intel or AMD |
| Graphics Card | Nvidia or AMD 2GB | 4GB Nvidia or AMD Graphics Card with Support for 4K display |
| Ram | 8GB | 16GB |
| Resolution | 1280 x 800 | 1920 x 1080 or greater display |
| Operating System | 4GB | 4GB |
Retouching your photos on Adobe Photoshop could be done on any GPU, Nvidia, or AMD. However, Adobe-based applications are highly compatible with Nvidia chips. But this doesn't mean that you cannot use an AMD GPU to edit your projects.
List of the Best GPU for Photoshop Work
Below are the top picks from our side:
Gigabyte GeForce GTX 1650 Super – The Overall Best GPU for Photoshop
Key Specs:
Video Memory: 4GB GDDR5 | Cuda Cores: 1280 | Memory Interface: 128-bit | Boost Clock Speed: 1755 MHz | Video Output: 1 x HDMI, 1 x DisplayPort | PSU Needed: 350W
Reasons to Buy:
Affordable price
Low power consumption
Price to performance ratio
Supports Higher Resolution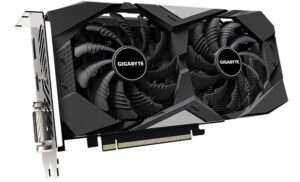 ---
The GTX 1650 Super sits perfectly inside the recommended system requirements of Adobe Photoshop. Although it's an entry-level graphics card, it packs enough power to render GPU accelerated effects in any third-party photo editing software.
Gigabyte GeForce GTX 1650 Super comes with 4GB of GDDR5 VRAM and 1280 CUDA Cores for faster computing. Also, under heavy graphical load, this video card can easily overclock up to 1755 MHz to avoid any stuttering or lags. On top of all, this card consumes less power and can run easily with a 350W power supply.
We managed to edit a lot of pictures on Photoshop using GTX 1650 Super. To be honest, there isn't much of a difference in the performance of a normal GTX 1650 and GTX 1650 Super. However, the 1650 Super shows a slight improvement over its sibling in rendering times.
However, if you jump from an old generation graphics card like GTX 690, you'll surely feel a lot of improvement in GTX 1650 Super. There are two powerful fans installed on this GPU that works silently to keep it cool under a heavy workload.
Nor the GTX 1650 Super is good at handling photo editing, but it also proves its worth in video editing as well. This is the right graphics card for someone who is low on budget and wants to improve his skills in Photoshop.
ZOTAC Gaming GeForce GTX 1660 Super – Best Value Graphics Card for Photoshop CC & Lightroom
Key Specs:
Video Memory: 6GB GDDR6 | Cuda Cores: 1408 | Memory Interface: 192-bit | Boost Clock Speed: 1785 MHz | Video Output: 3 x DisplayPort 1.4, 1 x HDMI 2.0b | PSU Needed: 450W
Reasons to Buy:
Nvidia G-Sync Compatible
Higher memory bandwidth
VR-Ready
Turing Architecture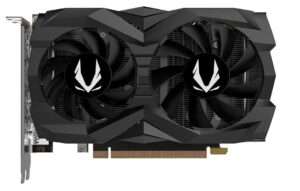 ---
The Nvidia GTX 1660 Super is x1.5 times powerful than the normal GTX 1660 in complex workloads. Backed by Nvidia's Turing architecture, the GTX 1660 Super brings an ideal photo and video editing performance to your desk. The Super version looks like if Nvidia has taken a GTX 1660 and booted it up with the latest architecture, Cuda Cores, and clock speed.
If you are a professional photographer who deals with a lot of filters and large-size images on Adobe CC or Lightroom to edit photos, you can get the most out of this graphics card. The 6GB GDDR6 VRAM onboard is enough to edit photos or videos at 4K quality.
The GTX 1660 Super holds a memory clock speed of 14Gbps and 1408 Cuda Cores to shorten the overall time of photo rendering. Moreover, this is one of those graphics cards that we can be compared when 1 on 1 with an AMD RX 590 card.
You can easily rely on GTX 1660 Super to add high-quality effects to your photos in Lightroom and Photoshop without slowing down your computer. Also, dealing with large-sized photos at 4K resolution isn't a big deal for this chip.
Zotac GTX 1660 Super delivers optimal performance in photo editing without putting a hole in your wallet. It's a reliable video card to go with if you want to prove your skills in Photoshop.
AMD Radeon RX 580 – The Best AMD Chip For Photo Rendering
Key Specs:
Video Memory: 8GB GDDR5 | Stream Processors: 2304 | Memory Interface: 256-bit | Boost Clock Speed: 2000 MHz | Video Output: 1x HDMI, 3x Display Port | PSU Needed: 500W
Reasons to Buy:
VR Ready
Mutiple Monitor Support
Higher Boost Clock Speed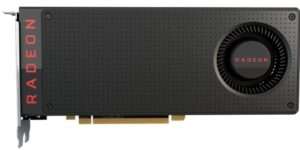 ---
The AMD RX 580 is an old graphics card from the AMD but it still catches up with the photo editing needs of many Photoshop professionals. The 8GB GDDR5 memory and a boost clock speed of 2000 MHz make this super fast in content creation applications.
If you are jumping from an old RX 570 4GB card to an RX 580 8GB, you will feel a huge difference in the performance. If you want to add demanding effects and shorten the rendering times in Photoshop, this might be the right AMD card to go with.
At least, this video card can let you edit videos at 1080p without any hassle. Even if you scale the resolution up to 1440p, photo rendering is achievable. However, scaling way up to 4K can increase the rendering time.
The RX 580 8GB delivers almost the same performance as that of an Nvidia RTX 2060. But the RTX 2060 outranks the RX 580 due to its ray-tracing and DLSS feature. But these two features are more accountable if we talk about video editing. As far as the photoshop work is concerned, both the RX 580 and RTX 2060 score the same.
EVGA GeForce RTX 2070 XC – A Powerful GPU for Adobe Applications
Key Specs:
Video Memory: 8GB GDDR6 | Cuda Cores: 2304 | Memory Interface: 256-bit | Boost Clock Speed: 1725 MHz | Video Output: DisplayPort 1.4, HDMI 2.0b | PSU Needed: 550W
Reasons to Buy:
Turing arhitecture, 4K & ray tracing
Dual HDB fans for efficient cooling
RGB aesthetics
448GB/s bandwidth
3 Years warranty
---
When it comes to unparalleled performance, the RTX Series cards shine out on the list. The RTX 2070 XC is one of those video cards that can let you edit photos at 4K resolution. Especially, if we go with the price to performance ratio, then this graphics card sits perfectly into that equation.
You cannot expect this GPU to perform better than an RTX 2080 or 2080 Ti, but it comes close enough to both of these chips when rendering pictures in Adobe Photoshop CS5 and CC at stunning quality. And with top-notch features like ray-tracing, you can introduce life-like features into your pictures and animations.
The RTX 2070 XC is armored with 8Gb GDDR6 memory, 2304 CUDA cores, and a boost clock speed up to 1725 MHz for unbeatable performance in photoshop workloads. Especially, if you are heavily relying on GPU accelerated effects like Perspective Warp, Gaussian Blur, Alpha Adjust, etc.
By paying a few more bucks, you can get the Black Edition of this card, but there won't be any performance boost in photo rendering. The RTX 2070 CX Ultra shows 30% improved performance over the RTX 2070 Founders Edition.
The EVGA has introduced dual HDB (Hydrodynamic bearing fans) on this graphics card for improved airflow and reduced noise under heavy workloads. Moreover, EVGA gives you enough room to customize the RGB lights on this card with the help of Precision X1software. From a transparent PC case, the RGB lights give your case a stunning look.
The RTX 2070 XC is one of the best graphics cards for Photoshop editing. It gives you the freedom to edit pictures at the highest resolution possible without slowing down your PC. Anything better than this would be an Nvidia RTX 2080 Ti, well only if your budget allows you to go that far.
Nvidia GeForce RTX 2080 Ti Founders Edition – A Future-Proof GPU for Adobe Photoshop, Premiere, CC
Key Specs:
Video Memory: 11GB GDDR6 | Cuda Cores: 4352 | Memory Interface: 352-bit | Boost Clock Speed: 1635 MHz | Video Output: DisplayPort 1.4, HDMI 2.0b | PSU Needed: 650W
Reasons to Buy:
Powerful ray-tracing & DLSS performance
Ideal for 8K photo editing
Aura Sync RGB Lighting
Supports up to 4 Monitors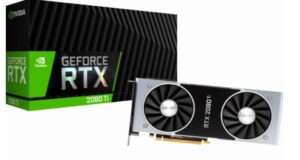 ---
For someone who is new to Adobe Photoshop, the RTX 2080 Ti would be overkill. You must not consider this expensive graphics card unless you are a professional who depends upon the GPU-accelerated filters for editing photos at 8K resolution.
No doubt, the RTX 2080 Ti Founders Edition is the best-rated graphics card in the market to deal with complex workloads. Gaming, photo, or video editing, whatever you throw on this GPU it will handle that without any hassle.
On the board, you get 11GB GDDR6 video memory on a 356-bit interface and a boost clock speed up to 1635 MHz. Right out of the box you get a card that is overclocked and ready to handle the most demanding tasks right away.
Furthermore, the RTX 2080 Ti Founders Edition is equipped with 544 Tensor cores that deliver x8 times more performance than the older Pascal architecture chips. Moreover, you'll find the NV Link on this GPU that allows you to connect it to an 8K monitor for HD photo editing.
If you constantly work on projects that involve 8K rendering or10-bit color technology, then this might be the right GPU to have in your studio PC. Though it's an expensive graphics card to go with, it surely makes your computer future-proof for a few more years.
Keeping your budget at one side will give you access to high-end features like ray-tracing and DLSS, though these are less often used in Photoshop for now. However, Adobe is constantly improving its support for GPU accelerated effects in Photoshop. And we hope in the future you can benefit from the true powers of RTX 2080 Ti while editing your photos.
How to Turn on GPU.Accelerated Rendering in Photoshop
By default, Photoshop is using CPU acceleration for rendering the photos. To make full use of your graphics card to render pictures, you need to turn on the GPU rendering in the settings of Photoshop.
Follow the steps below:
Go to the Settings
Then select "Project Settings"
Now turn on the Mercury GPU Acceleration
Done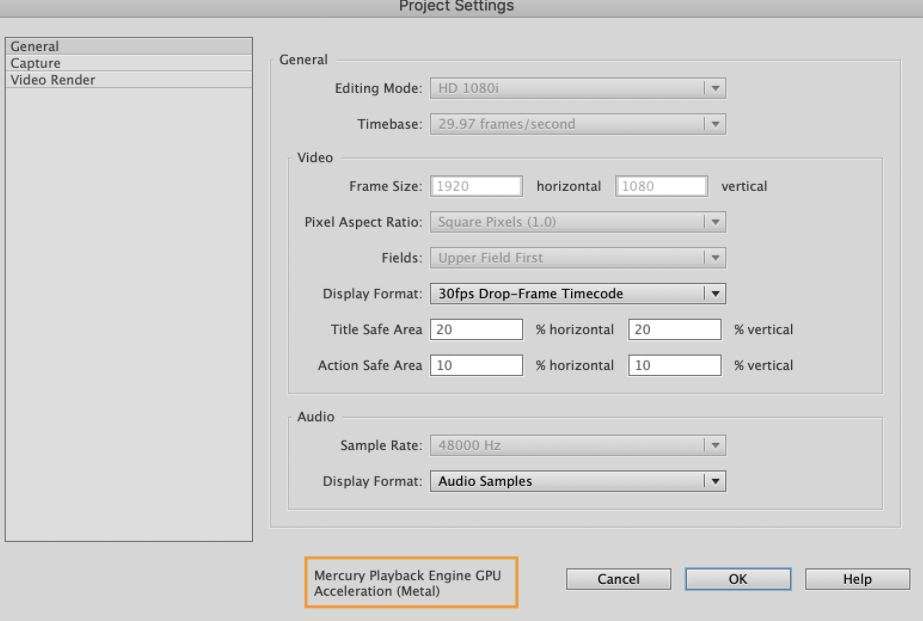 Final Lines
Hopefully, you now have a better idea of which graphics cards are highly compatible with the Adobe Photoshop workload. It's up to you to pick the one that falls under your needs and budget. If you are a beginner, then go with a GTX 1650 or 1660 as both are affordable and tackle any photo rendering task easily. If you are a professional who needs high-performance out of a graphics card in Adobe, then the RTX 2080 Ti is the one for you.
FAQs
Does Photoshop use a GPU?
Yes, the latest versions of Photoshop allow the use of video cards for better performance. However, make sure the GPU that you choose for Photoshop meets the minimum requirements set by Adobe. You should have a video card with at least 2GB of VRAM if you opt for GPU rendering.
Is GTX 1650 good for Photoshop?
Yes, the Nvidia GTX 1650 is equipped with more features than needed for the latest version of Photoshop. You can edit your projects in Photoshop at 4K quality with a GTX 1650.
Is Intel HD Graphics 4000 good for Photoshop?
Well, it depends upon the type of video memory shared with the HD Graphics 4000. If the shared memory is between 1-2GB, then HD Graphics 4000 will complete any photo editing task that you throw on it. But make sure your HD 4000 drivers are up to date, this will make photo rendering much faster.
Which is better for photo editing, RTX or GTX?
To be honest, there isn't much of a difference between the performance of a mid-range RTX and a GTX card in photo editing. The RTX GPUs, however, are built on the latest architecture and have more clock speed. But these are features that count more towards the video editing applications of Adobe. In Photo editing, it's hard to tell if an RTX is better than a GTX.
Are Quadro cards good for Photoshop?
Well, if you are looking for workstation GPUs for Photoshop, then Nvidia Quadro would definitely give you an edge up to 4% better performance as compared to AMD Radeon Pro chips. But this is just a small increment in performance, and you will hardly notice it while editing your projects in Photoshop.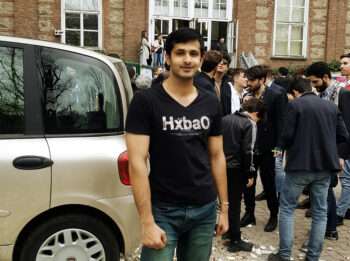 Hi, I'm the author and founder of this blog. I have more than 10 years of experience in the industry. Throughout my journey I've tested and reviewed hundreds of graphics card for custom PC builds. I believe my knowledge and experience will help you choose the card that really falls to your needs and budget.