A 240W power supply is the fate of many small form factor PCs. And if you are into PC gaming, you definitely know that a low wattage power supply cannot fuel a graphics card that comes with higher TDP. In this case, you'll need a power-efficient graphics card that can easily run with a 240W power supply.
Thanks to Nvidia and AMD that GPUs are now packed with more performance and need less power to run. Obviously, a GPU that consumes less energy cannot perform equal to that of a GPU that draws more power. However, gaming on a low TDP graphics card is still possible if you compromise with the game settings.
Gaming PCs with 240W PSU are equipped with power-efficient components inside. In this case, a GPU that draws less than 100W would be enough to satisfy your gaming hunger and other general computing needs. Obviously, we will not talk about Nvidia's Ampere Architecture chips due to their high-wattage requirement. But we will stick to older generation chips that still deliver decent performance while eating less Watts.
It's not only the power draw that matters here but also the size of the GPU as well. As there is little space in small form factor PCs, you have to consider the graphics card to be a low profile one as well.
We've tested some graphics cards with SFF builds from HP and Dell that are equipped with a 240W to 300W PSU. And here's what we've found along with the results.
A Quick Comparison
| | | | |
| --- | --- | --- | --- |
| Graphics Card | Video Memory | Boost Clock Speed | TDP |
| MSI GTX 1050 TI 4GT LP | 4GB GDDR5 | 1290 MHz | 75W |
| XFX R7 250 | 2GB DDR3 | 1050 MHz | 65W |
| EVGA GT 710 | 2GB DDR3 | 900 MHz | 19W |
| ZOTAC GAMING GeForce GTX 1650 LP | 4GB GDDR5 | 1665 MHz | 75W |
Comparison Table of All GPUs on the List with TDP Rating
List of the Best Graphics Card for 240W Power Supply Units
We've tested a bunch of them and these are the top GPUs for small form factor builds with a lower-end power supply.
MSI GTX 1050 TI 4GT LP – Overall Best Low Profile Graphics Card for 240W PSUs
Key Specs:
TDP: 75W | Boost Clock Speed: 1290 MHz | Video Memory: 4GB GDDR5 | Memory Interface: 128-bit | Video Outputs: 1 x DL-DVI-D, 1 x HDMI 2.0, 1 x DisplayPort 1.4
Reasons to Consider:
Low profile
Advanced display outputs
Affordable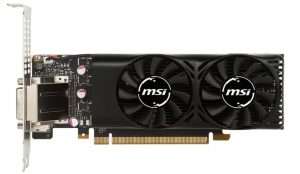 ---
The GTX 1050 TI 4GT sits at the top of our list and shows up as the most ideal choice for small form factors desktops. This graphics card is shorter in dimensions as compared to the normal GTX 1050 Ti. With a 4GB of GDDR5 memory and a boost clock speed up to 1290 MHz, this low profile version of GTX 1050 Ti delivers smooth performance in entry-level games and video editing workloads.
But we will talk about the most highlighting feature of this GPU here, and that is the power it consumes. Overall, this is a 75W TDP graphics card, so a 240W to 300W power supply would be more than enough to power this chip.
For instance, you are looking for an energy-efficient GPU that you can connect with a higher refresh rate screen, then this chip is equipped with an advanced DVI-D, HDMI, and DisplayPort 1.4 output port to scale up the resolution as well.
Also, with features like DirectX 12 and Nvidia Shield, you can expect these graphics to deliver better performance in AAA games. It's a good entry-level graphics card for playing modern games at the lowest settings without putting a hole in your wallet.
If you are upgrading from a GPU like GTX 960 to this one, then you'll see decent fps gain in games like Battlefield 4. We managed to play Battlefield 4 on this graphics card at 1080p 60fps settings without any lag or stuttering. You can also play other less intensive AAA and Esports games on this chip at low-medium settings.
Overall, it's a good SFF GPU for builds with lower wattage PSUs. On top of all, it's cost-effective and fits in tight PC cases without any issue.
XFX R7 250 – Best Value GPU for 250W Power Supply
Key Specs:
TDP: 65W | Boost Clock Speed: 1050 MHz | Video Memory: 2GB DDR3 | Memory Interface: 128-bit | Video Outputs: 1 x DVI, 1 x HDMI, 1 x VGA
Reasons to Consider:
Draws very low power
Cheaper
Supports old VGA monitors as well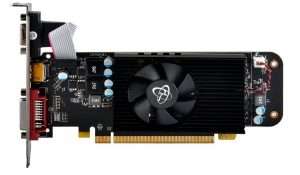 ---
The XFX R7 250 is equipped with 2GB DDR3 video memory on a 128-bit memory interface. It's a simple-looking graphics card with a small fan on the top and a pre-installed low-profile bracket. XFX R7 250 is built on GCN 1.0 AMD Architecture and has smaller footprints to be fit inside SFF or HTPC cases.
This graphics card has a total TDP of 65W, therefore, even a 220W power supply can easily handle this graphics card without any issue.
If we compare XFX R7 250 with the previous GTX 1050 TI 4GT GPU on our list, then the latter one has more powerful specs as compared to this one. But, the GTX 1050 Ti 4GT was short of the VGA video output, which XFX R7 250 already has on board.
But there are some specs that make restrict this GPU to general computing workloads only. The XFX R7 250 comes with a DDR3 video memory type which is an outdated thing to consider now. So you cannot expect this GPU to be as good at handling modern games as GDDR5 chips do.
Secondly, 2GB of video memory does not allow you to scale the resolution up for better image quality. So for high-end gaming, this GPU is definitely a no-go.
We tested Skyrim and World of Warcraft on this graphics card at 720p settings and it was playable. You can overclock this graphics card with AMD Tune as well, but there won't be any fps gains here as well.
At the same time, this is the cheapest GPU that you can get to tackle your general computing needs. You can watch movies and deal with office-related workloads with this graphics card, and it will work just fine.
All in all, this graphics card easily fits in ultra-small form factor PCs like Dell 960 Quad or HP Prodesk 600 G1 and has a very low power draw making it a great deal for limited power supply units.
EVGA GT 710 – Cheapest Graphics Card with Extreme Low Power Consumption
Key Specs:
TDP: 19W | Boost Clock Speed: 900 MHz | Video Memory: 2GB DDR3 | Memory Interface: 64-bit | Video Outputs: 1 x DVI, 1 x HDMI, 1 x VGA
Reasons to Consider:
Cheapest price
Suitable for 240W or below PSUs
Smaller footprint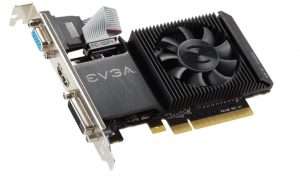 ---
The EVGA GT 710 is the right candidate for ultra-small form factor desktops where there is no space for bulky GPUs. This graphics card consumes the lowest power as compared to all other GPUs on our list. The GT 710 is not a gaming card, not something meant for AAA games. The only edge that you can expect from this GPU is better performance than your integrated graphics card.
This GPU draws a maximum of 19W of your PSU, this means you can rely on the lowest Watt PSU to run this card. If you are thinking to upgrade your HTPC or ultra-SFF computer, then surely it's a great option to go with.
With just 2GB of DDR3 memory and a clock speed of 900 MHz, the EVGA GT 710 surely isn't a match for high-end gaming. However, you can still play 15 years old titles on this graphics card without any problem. We played GTA III, Far Cry 2, and some other classic game titles on this card at the highest settings possible, and it wasn't an issue at all.
The EVGA GT 710 shows more of a graphics card that has an HDMI output to connect it with a high-end monitor. If it's about just watching movies of higher quality on your desktop, then EVGA 710 is for you.
Overall, it's a super-compact graphics card that uses not more than one slot on your motherboard. Moreover, it's a super cheap option for an old PC with an irreplaceable power supply if don't want to spend extra money on buying a high-wattage power supply.
It's a worthy upgrade over your integrated mobo graphics card and the MSI GT 610 GPU. The only thing to worry about is the driver support from Nvidia, as this is an older chip, it would be hard to find the latest drivers for it.
ZOTAC GAMING GeForce GTX 1650 LP – Fastest Low Profile Graphics Card for Under 300W PSUs
Key Specs:
TDP: 75W | Boost Clock Speed: 1665 MHz | Video Memory: 4GB GDDR5 | Memory Interface: 128-bit | Video Outputs: DisplayPort 1.4, HDMI 2.0b, DL-DVI-D
Reasons to Consider:
Better price to performance ratio
Power-efficient
Better cooling
Multiple video outputs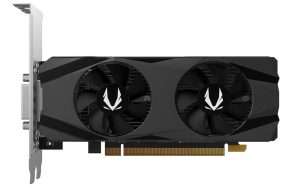 ---
No doubt, the graphics cards in the Nvidia Turing Architecture have been the most reliable ones so far. And we cannot rule out the ideal performance of the GTX 1650 in notebooks and small form factor computers this year. The GTX 1650 LP is one the best 240W compatible GPU with decent performance in gaming.
This graphics shows huge performance gain over the older graphics card like the GTX 1050 Ti. Packed with 4GB of GDDR5 memory and an amazing boost clock speed of 1666 MHz, this graphics card delivers superb performance in AAA games at 1080p settings.
This LP version of GTX 1650 is ready to be installed inside a PC case where there is less space and a lower wattage power supply. It has a TDP rating of 75W, the same as the GTX 1050 Ti LP version. However, due to higher clock speed and advanced Turing Architecture, it shows great performance when it comes to gaming or video editing tasks.
You can play modern games on this graphics card at 1080p 60fps settings. We installed this GPU inside Alienware Desktop PC that has a limited power supply and played GTA V, Fortnite, PUBG, Resident Evil Village (on medium-high settings) on this GPU and haven't faced any lags or slower performance throughout the gameplay.
As this GPU only uses 75W of power, you really don't need any extra power connector from your PSU to run this graphics card. Rounding off, this GPU will work fine with any 240W power supply even at peak load.
Furthermore, this GPU comes with the most advanced video outputs like the DisplayPort 1.4 and the HDMI 2.0b for connecting it with higher refresh scale display screens. But when you switch to a low-profile bracket, you cannot use all the video outputs at the same time.
Finally, if you are coming from a slower or older graphics card, then you'll witness a lot of boost in your gaming performance. This is a reliable small form factor graphics card that comes at a cutting-edge and delivers almost similar performance to that of a GTX 1660.
Quick Shopping Tips
Make sure you have these points in mind while buying a graphics card meant for 240W PSU.
Dimensions
The graphics cards that consume low power typically have smaller dimensions as compared to standard graphics cards. Generally, in PC cases that have a low wattage PSU like 240W or 220W, there's isn't enough clearance for a bulky GPU to fit in.
The only option you are left with in this case is going with a single-slot graphics card with smaller footprints that easily fit inside a tight PC case.
Typically, low-profile cards have a maximum height of up to 2.563 inches and their maximum length cannot exceed more than 6.674 inches.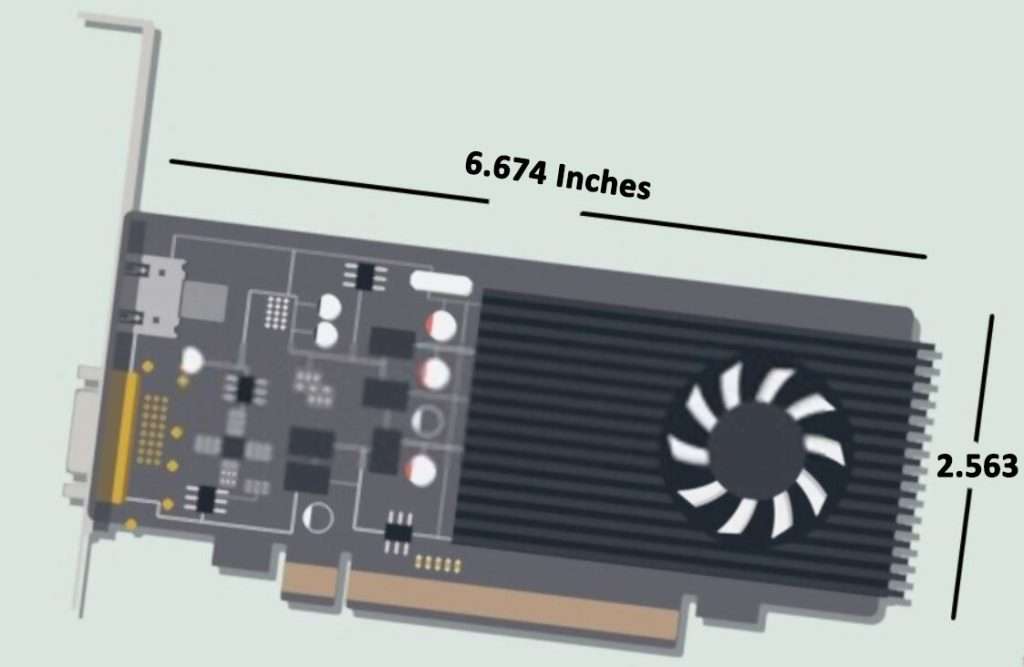 TDP
This is the most important factor to consider when picking a power-efficient graphics card. Generally, if you have a lower-end PSU in your computer or if you have an SFF or HTPC desktop, then look for a GPU that has a TDP of less than 100W.
No Extra Power Connection
Power supplies that are installed in small form factor PCs usually don't have any extra PCIe 6-pin or 8-pin connector like the third-party PSUs. Therefore, it's better to go with a GPU that does not need any external power connection other than the PCIe x16 slot alone.
Low Profile Bracket
If a graphics card has smaller dimensions and doesn't come with a low profile bracket, it means it won't be possible to fit that card in a small form factor PC. Make sure the graphics card comes with a low-profile bracket or is compatible with one to sit inside a tight PC case.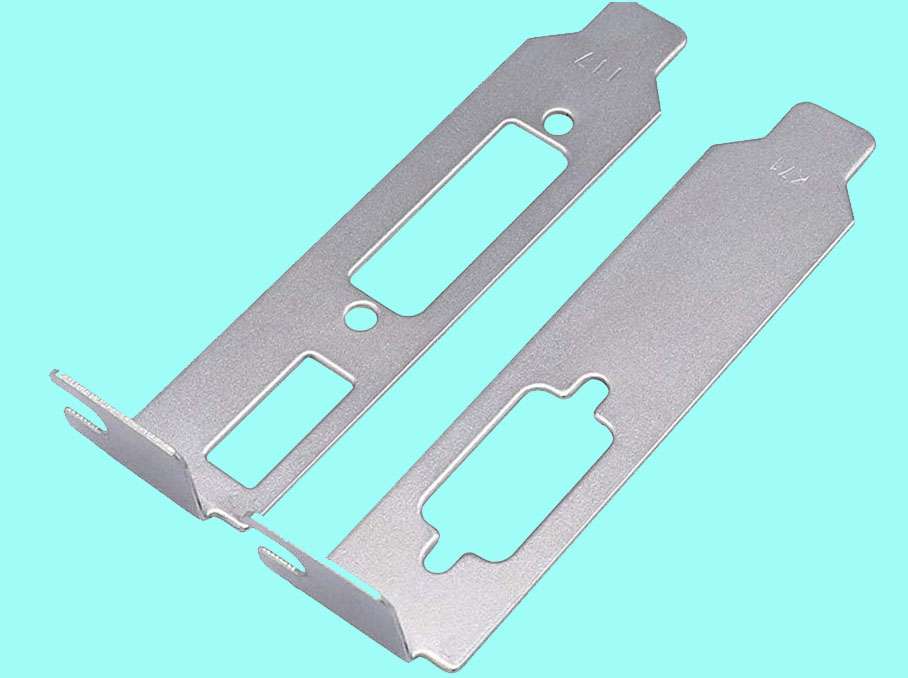 Typically, desktops with 240W or 250W power supply fall in the SFF category. For such PCs, you'll need to change the bracket of your graphics card from standard to low-profile.
Bottom Line & Our Verdict
Finally, we've tested and reviewed the best graphics card for 240W PSUs in this guide. We highly recommend you to go with either a GTX 1050 Ti LP or GTX 1660 LP depending upon your budget and needs. The GTX 1660 has a slight edge over the GTX 1050 Ti LP due to its higher boost clock speed and latest video outputs.
FAQs
Is 240W PSU good for gaming?
A PSU as low as 240W is good enough to fuel energy-efficient hardware inside your computer. When it comes to gaming, GPU draws the most power out of a power supply. A 240W is perfect for gaming graphics cards that have a low TDP rating.
Also, you have to keep in mind the TDP rating of your CPU as well. A lower TDP rating is better, however, make sure the TDP rating of your CPU is not more than 95W.
Is the 240W power supply enough for GTX 1650?
For a GTX 1650 LP (Low-Profile) version with a TDP of 75W, a 240W PSU could be more than enough. However, if you have a normal version of GTX 1650, the one with bigger fans and dimensions, then you may need to upgrade your power supply, a 300W PSU will do the job.
Can you run GT 1030 with a 240W PSU?
Yes, the GT 1030 is a very power-efficient graphics card with a maximum TDP of 30W. Also, GT 1030 does not need any external power connector to run. So, a 240W or even a 220W PSU is enough to run a GT 1030 graphics card.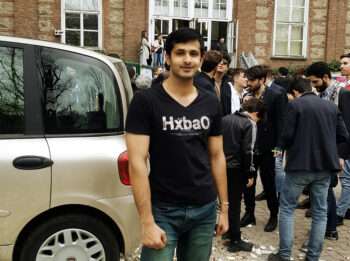 Hi, I'm the author and founder of this blog. I have more than 10 years of experience in the industry. Throughout my journey I've tested and reviewed hundreds of graphics card for custom PC builds. I believe my knowledge and experience will help you choose the card that really falls to your needs and budget.