GPU Republic is reader-supported. We follow a strict editorial process and put hours of research into testing, reviewing, analyzing & comparing the best products that we can find so you can make the most informed decisions. In the event you choose to buy something from one of the links on our site, we may make a commission at no extra cost to you. Whatever products we recommend, it's because we truly believe in them, not because of the small commission we may receive. Please don't buy any of these products unless you actually think that it would fit your needs.
Power-efficient graphics cards really add a lot of value to your small form factor PC. Especially, when we talk about PCs with low-wattage power supply i-e 180W or 220W, then there aren't many graphics cards that give the performance you need. Graphics cards with decent performance need you to replace your old power supply or need more space to fit inside your PC. And desktops that come with a low wattage irreplaceable power supply don't have much clearance for a bulky GPU.
I remember the time I had a Dell Optiplex 280 SFF PC and there wasn't much I could do at that time to install a decent performing GPU. So, I did a lot of research at that time to find out the most suitable graphics cards that could easily sync with my low-wattage power supply.
You have to take into account several factors when looking for an energy-efficient graphics card. However, the most important ones are TDP and dimension. TDP is the total amount of power that a graphics card draws from your power supply under the maximum workload.
Even if you find a low TDP graphics card, the most crucial part is to fit it inside your SFF PC. So, you will need enough clearance inside your PC case to install the new graphics card.
But for the purpose of this guide, we've selected the low-profile graphics card that will easily fit inside in any type of SFF PC case.
So, let's dig in
Reviews of the Best GPU for 180W Power Supply
Here are the top recommendations from our side:
1- EVGA GeForce GT 1030 SC – Best Overall GPU for Low-Wattage PSUs
Key Specs:
Boost Clock Speed: 1544 MHz | Video Memory: 2GB GDDR5 | Memory Interface: 64-bit | TDP: 30W | Video Output: x1-DVI, x1-HDMI | Dimensions: 5.7 x 1.5 x 2.71 inches
Reasons to Buy:
Comes with GDDR5 memory
Higher boost clock speed
Easily fits in a low profile bracket
Good for entry-level 720p gaming
Very low power consumption
---
The EVGA GT 1030 GDDR5 is no doubt the most compact and energy-efficient graphics card for entry-level builds. Another reason for mentioning this GPU here is its price to performance ratio. Moreover, it just uses 30W power at full load, and this makes it a great deal for builds with entry-level PSUs.
This old pal comes with 2GB of GDDR5 memory which looks a bit outdated when we compare it with modern-day entry-level cards. However, the 2GB video memory and higher clock speed of 1544 MHz still make the GT 1030 a great deal for 720p gaming and retouching your projects in Photoshop.
Now when we talk about gaming on GT 1030, then we definitely don't mean playing games like Red Dead Redemption 2 or Resident Evil: Village. The limited VRAM on GT 1030 makes it a no-go GPU for modern AAA titles.
However, the EVGA GT 1030 still shows up as an ideal choice for a few years old game titles like GTA V, Far Cry 3, Tekken 7, and GTA IV at medium-high settings. We've also tested the performance of GT 1030 in this guide to give you a better idea.
To be honest, the EVGA GT 1030 is more of an HTPC or SFF graphics card. If you are looking to upgrade from integrated graphics or a GT 710, then this might be the right bet to improve your graphics performance.
Apart from gaming, the EVGA GT 1030 is good enough for editing photos or watching movies at HD quality. There's an x1 DVI and x1 HDMI port to connect this graphics card with a higher refresh rate monitor. But again, the lower VRAM won't let you take advantage of higher refresh rate screens in gaming.
All in all, the EVGA GT 1030 consumes very low power and shows up as the right contender for SFF builds with 180W to 240W PSUs. You can play games on this card at 720p settings and retouch your photo or video projects as well.
2- VisionTek Radeon 7750 – The Best SFF AMD Graphics Card
Key Specs:
Boost Clock Speed: 1125 MHz | Video Memory: 2GB GDDR5 | Memory Interface: 128-bit | TDP: 55W | Video Output: x2 DisplayPort | Dimensions: 7 x 4.8 x 1 inches
Reasons to Buy:
Native DisplayPort for watching content at 4K resolution
No additional power pin needed
Highly compatible with dual-monitor setup
Energy-efficient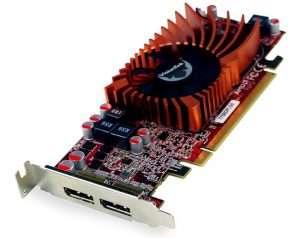 ---
The Radeon 7750 is one of those GPUs that can be directly compared with the Nvidia's GT 1030. It is packed with 2GB of GDDR5 video memory as we have on the GT 1030. However, the boost clock speed on this chip is low as compared to its Nvidia equivalent.
With, a boost clock speed of 1125 MHz, there would be a significant difference in the performance of this chip and GT 1030 which is favored by the higher clock speed up to 1544 MHz. But there's one thing that makes this chip more suitable for entry to mid-range gaming, and that's the 128-bit memory interface.
The feature that makes the VisionTek Radeon 7750 more worthy for our list is the native support for DisplayPort. Now this means you can directly connect a 4K monitor to this card and watch content at its best. But this doesn't mean that you can expect the same amount of performance from this card in gaming.
Well, gaming on HD 7750 is just another side of the story. The lower VRAM and boosted clock speed limit the capability of this chip in AAA gaming. Even if you make use of DisplayPort and buy a higher refresh monitor, you cannot expect HD 7750 to give you more than 20 to 25 fps in AAA titles even at the lowest settings.
Yes, for 720p gaming, this might be the best bang for your buck. But for gaming at 1080p or higher resolution, you have to look for other options. Playing titles GTA 4, Far Cry 3, and even GTA V won't be an issue on this chip as far as you have a quad-core CPU and 8GB of ram in your PC.
Apart from gaming, the Radeon HD 7750 shows up as a valuable option for SFF or HTPCs. We managed to install this graphics card in a Dell Optiplex 9020 SFF. And it was super easy to install this graphics card. Moreover, there was plenty of clearance between the graphics card and power supply to support better airflow.
Finally, the Radeon 7750 is a power-efficient graphics card with a TDP of 55W making it a great deal for 180W PSUs. There are two native DisplayPorts on this graphics card to watch content at its best quality. Also, the Radeon 7750 has a smaller footprint making it the right fit for PC cases with little clearance.
3- ASUS GeForce GT 730 – Most Reliable GPU for 180W or 200W PSU
Key Specs:
Boost Clock Speed: 927 MHz | Video Memory: 2GB GDDR5 | Memory Interface: 64-bit | TDP: 38W | Video Output: x1 HDMI, x1 DVI, x1 VGA | Dimensions: 6.7 x 2.7 x 0.7 inches
Reasons to Buy:
Low power consumption
Affordable price
Super silent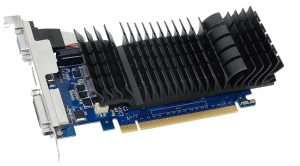 ---
The ASUS GT 730 is the most silent graphics card that you can get right now, it is because there is no fan on the top of this chip. Rather than a fan, you are welcomed by a massive heatsink at the top to take care of cooling.
The GT 730 has the same amount of VRAM as compared to its successor, the GT 1030. However, the lower clock speed makes this chip less capable of doing things that a GT 1030 could do. With 927 MHz clock speed and just 2GB of GDDR5 ram, you cannot expect this card to let you tackle high-end games.
But this doesn't mean that you cannot play games on this GPU at all. You can play DOTA 2 and CS: GO on this card at low-medium settings.
To be honest, the GT 730 looks more like a multimedia graphics card rather than a gaming one. There's no sense in buying this graphics card for just the sake of gaming. Its compact dimensions and specs make it the right deal for multimedia or HTPCs where all you need is an upgrade over the integrated chipset.
Furthermore, there are up to 3 display options that come with this card. However, using multiple displays at a single time is only possible if you are using a standard ATX PC case. For installing this card in an SFF PC case, you'll have to replace the standard bracket with a low profile bracket, and this will limit your options to a single or dual video out at a time.
All in all, the GT 730 is the best option for a home theatre PC with a power supply ranging between 180W to 240W. For hardcore gamers, this might not be the right choice to go with.
4- AMD Radeon HD 5450 – The Cheapest You Can Get
Key Specs:
Boost Clock Speed: 650 MHz | Video Memory: 1GB GDDR3 | Memory Interface: 64-bit | TDP: 19W | Video Output: x1 HDMI, x1 DVI, x1 VGA | Dimensions: 6 x 1.2 x 4 inches
Reasons to Buy:
Ultra-low power consumption (19W)
Cheapest to get right now
Dual monitor support
Easily fits inside small form factor desktops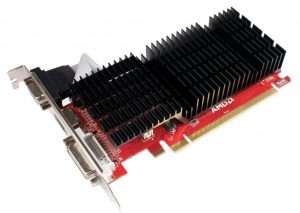 ---
The AMD Radeon HD 5450 is a no-go option for hardcore gaming due to its outdated specs. However, it still comes up as a good option if you want to get rid of your integrated graphics chip. It's a worthy GPU to get if you are dealing with light video and photo editing on your workstation.
With just 1GB of DDR3, you cannot expect the HD 5450 to be super fast in graphical demanding applications. But at least you can witness smooth performance while watching videos on YouTube or Netflix.
Just like the ASUS GT 730, the HD 5450 is deprived of the cooling fan at the top. It uses a wide heat spreader at the top for passive cooling. And with a graphics card that has just 19W TDP, there's no sense in having a cooling fan at the top. So, even if you push this card to its limit, there won't be any noise at all.
Concluding all, the HD 5450 is one of the best GPUs for a 180W power supply unit as it draws just a fraction of power. Also, the compact dimensions of this graphics card let it easily fit inside tight PC cases. Right in the box, you get two different types of low-profile brackets to install this card easily.
Important Factors to Know Before Buying GPU for a 180W PSU
Before getting your hands on a particular graphics card, it's worth knowing about the factors that will help in improving your buying decision:
TDP
As we've discussed earlier, TDP is the total amount of power that a graphics card draws out of your power supply under a full workload. If you are using a high-wattage PSU, then you don't have to think much about the TDP rating of a GPU.
On other hand, if you have a low wattage PSU like 180W, 220W, or even 240W on your desktop, then you have to be careful in choosing a particular graphics card based on its TDP rating.
It's not about the TDP rating of your graphics card at this point. Obviously, the second most power-consuming component in your PC would be your processor. So you have to take into account the TDP rating of your current processor before picking a graphics card.
For example, you have an SFF desktop with 180W of PSU along with a CPU with a maximum TDP of 75W. With a rough estimate, let's say all the other components within your PC (ram, storage, DVD, etc) are using around 15W of power. Now, there's only 90W of power left behind that you can draw out of your power supply. It's better to calculate your power requirements before making your purchase.
So, you have to choose a graphics card that has a TDP less than the remaining power left in your power supply. In this case, we will go with the graphics card that uses half the amount of power out of 90W just to be on the safe side.
Dimensions
It's better to pick a low-profile or single-slot graphics card to pair with a low-wattage power supply. In desktops that come with lower-end or irreplaceable PSUs, there isn't enough space for bulky or dual-slot graphics cards to fit in.
Some graphics cards come with convertible low-profile brackets that allow you to remove the standard bracket and replace it with a short one to easily mount your graphics card inside an SFF PC case.
Budget
When you are going after energy-efficient graphics cards, it's better to opt for the ones that are priced well under $150. It's not worth spending too much to get one of these cards as you won't get any higher performance benefit out of them. Maybe if you don't get a reasonable quote on Amazon, it's better to look for a used one on eBay.
Final Verdict
Finally, you now have enough knowledge about some of the most reliable graphics cards to pair with a 180W or higher wattage PSU. All of these graphics cards that we've reviewed here pack some sort of value for end-users.
But if we had to choose from one of these graphics cards, then it would be the EVGA GT 1030. This is the card that falls in between the price to performance ratio graph. You can play most of your favorite games on this card in low-medium settings. Another great thing about this card is that it fits easily in any type of mini-ITX PC case without any issue while consuming as low as 30W power.
At last, the choice is all yours. After all, it's all about your needs and budget when picking the right graphics card.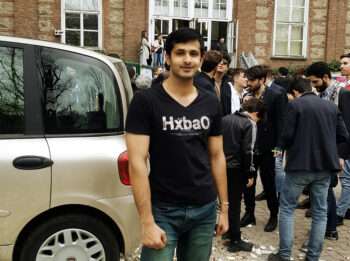 Hi, I'm the author and founder of this blog. I have more than 10 years of experience in the industry. Throughout my journey I've tested and reviewed hundreds of graphics card for custom PC builds. I believe my knowledge and experience will help you choose the card that really falls to your needs and budget.