Where the GPU market is flooded by 1080p gaming cards, it's a bit hard to find the one that sits right under your budget range. If you take a look at the gaming market you'll find the higher-end 4K chips ruling everywhere. No doubt, the 4K cards are the future of gaming rigs, still playing games at 1920 x 1080 a.k.a 1080p is the sweet spot for many gamers.
One reason behind this might be that the monitors that support the 1080p resolution are cheaper to get. In addition to this, you can pair a mid-tier graphics card with a 1920 x 1080 gaming monitor and get an incredible gaming experience. Moreover, gaming at 1080p is still an inexpensive way to achieve higher frame rates without spending too much on your hardware.
According to research carried out by Steam, the 1080p still remains the native gaming resolution all over the world. Until the 4K chips and monitors become cheap enough to be part of every gaming setup, we'll see 1080p as the default gaming resolution in most builds.
Therefore, we've curated a list of the best budget 1080p graphics cards for a smooth gaming experience. At least, these 1080 chips will make your build future-proof for a few more years.
List of the Best Budget Graphics Card for 1080p PC Gaming
Here are some top considerations on our list:

EVGA GeForce RTX 3050 XC Gaming – A Cheaper Ray-Tracing 1080 GPU
Specifications
8GB GDDR6 Video Memory
1845 MHz Boost Clock Speed
128-bit Interface
1x HDMI, 3 X DisplayPort
Needs 550W PSU
Reasons to Consider:
The only reason we have added this card to our list is because of second-generation ray tracing and DLSS 2.0. The RTX 3050 is ideal for someone looking to turn on ray-tracing effects while playing games at 1080p settings. It's an affordable GPU to step into the RTX 3000 family.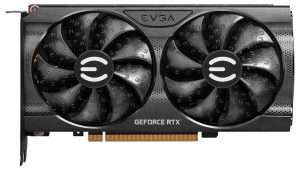 ---
The EVGA RTX 3050 is an entry-level card despite making its place in the flagship RTX 3000 Series from Nvidia. And if we compare the RTX 3050 with some of the late GTX series graphics cards like the GTX 1650 or GTX 1660, then this one shows much better performance in 1080p gaming.
To be honest, the RTX 3050 looks like an upgrade over the GTX 1600 Series, and the only thing that distinguishes the RTX 3050 from the GTX 1600 Series card is the ray-tracing, DLSS 2.0, and more VRAM.
RTX 3050 comes with 8GB of GDDR6 ram, second-gen ray-tracing, and the DLSS 2.0 for dynamically improving the frame rates in demanding game titles.
So, if we compare this GPU with the GTX 1650, then technically this ones got twice the amount of VRAM that we had on GTX 1650. And for better performance, EVGA has set the boost clock speed up to 1845 MHz as well.
But technically, it doesn't make any sense to compare such an advanced generation card with an older card in the GTX 1600 Series. We'll try to compare RTX 3050 with much-advanced GTX 1600 Series cards in the future.
We managed to test RTX 3050 side by side with GTX 1660 and there wasn't much difference in the performance of both these cards. The RTX 3050 though managed to perform a bit better due to faster boost clock speed and more CUDA cores.
In Metro Exodus (Ultra-settings, 1080p, RTX & DLSS turned off), the RTX 3050 went with 47 fps most of the time. With the same settings and game, the GTX 1660 managed to deliver around 44 fps.
If you are just planning to get RTX 3050 for the sake of ray-tracing or DLSS 2.0, then surely it would be a waste of money. With ray-tracing turned on, you won't be able to play most games at 60fps or above.
However, if you have no taste for ray-tracing, then surely the RTX 3050 would be the right option for a memorable 1080p gaming experience.
ZOTAC Gaming GeForce GTX 1660 – The Best Nvidia 1080p Card
Specifications
6GB GDDR5 Video Memory
1785 MHz Boost Clock Speed
192-Bit Interface
3 x DisplayPort 1.4
1 x HDMI 2.0b
Needs 300W PSU
Reasons to Consider
It's one of the best value 1080p cards for the money. Also, it's a low TDP chip and doesn't need any external power connector. Moreover, the GTX 1660 has enough VRAM to scale your game graphics at 1920 x 1080 resolution without losing frame rates. On top of all, it easily fits inside mini-ITX cases without any problem.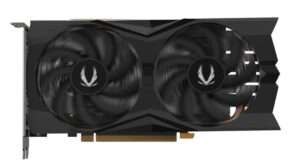 ---
The Zotac GTX 1660 is one of the best budget graphics cards from Nvidia to have in your gaming PC. It comes with enough video memory to play AAA titles at 1080p resolution.
The GTX 1660 holds fame for using Nvidia's latest Turing architecture, the one that flagship RTX cards are wrapped with. The latest interface and boost clock speed up to 1785 MHz make this GPU the right option for HD gaming.
Though this card is built on the famous Turing architecture, it lacks ray-tracing and DLSS. But it is understandable when considering the lower price point of this card. This is a great chip to have if you upgrade from an old card like the GTX 650 and GTX 1060 6GB version.
There are two powerful fans to keep this card cooler even under heavy load. Although the fan noise is audible when you put more workload on this chip, it won't disturb you at all while gaming.
If you are low on budget and want to play demanding games at 1080p, this might be the card that you need. It's quiet, compact and easily fits in small PC cases without any hassle.
EVGA GeForce GTX 1060 – A Wallet-Friendly Chip to Game at 1080p Settings
Specifications
6GB GDDR5 Video Memory
1708 MHz Boost Clock Speed
192-Bit Interface
HDMI 2.0b. Dual-Link DVI, and DisplayPort 1.4
450W PSU Needed
Reasons to Consider
The EVGA GTX 1060 is a powerful graphics card to play games at HD resolution. There are multiple display ports to connect your preferred monitor with this card. On top of all, this card is equipped with two large fans for ideal heat dissipation.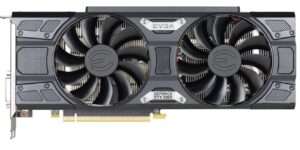 ---
The GTX 1060 is an entry-level gaming card from Nvidia with more VRAM. This is one of those cards that break Nvidia's tradition of allocating lower VRAM to its entry-level chips. With 6GB of GDDR5 memory onboard, the GTX 1060 tends to perform better in HD gaming.
However, the AMD's equivalent of this card is the RX 580 that gains an edge over this chip due to more VRAM. But in the price to performance ratio, the GTX 1060 remains at the top delivering the right performance for the money you pay for it.
We managed to play Fortnite on this graphics card at 1080 settings. Throughout the gameplay, the average frame rates were above 60fps, which is surprising when looking at a cheap gaming card like this one. However, to get the most juice out of this card, you need to have a high-end CPU and plenty of ram.
The only downside with this GPU is the need for an external 6-pin power connector. The way this GPU gains the clock speed up to 1708 MHz and has two powerful fans to cool down the heat, there rises the need for more power. So you will need a good-quality power supply to run this card.
ASRock AMD Radeon RX5600XT – Best Value AMD Graphics Card for HD Gaming
Specifications
6GB GDDR6 Video Memory
1750 MHz Boost Clock Speed
192-Bit Interface
HDMI 2.0b & DisplayPort 1.4
400W PSU Needed
Reasons to Consider
An ideal card if you want the get the best of all 1080p gaming performance. It has the latest GDDR6 memory and PCIe x16 4.0 interface to deliver incredible graphical performance. Also, it's powerful yet power-efficient graphics hip to consider for a low-budget gaming rig.
---
Although the Radeon RX 5600 XT is an ancient GPU to compare with GTX Nvidia chips on the list, it packs more value due to its powerful specs. You might be surprised to note that this cost-effective 1080p gaming card knocks off some of the lower-end RTX chips in gaming, thanks to the RDNA architecture.
The ASRock RX 5600 XT packs an enormous amount of power to deliver an ideal 1080p gaming experience. Especially, if you want to game at 1080p 144Hz, you can rely on the decent specs of this card.
If we compare this GPU with Nvidia's GTX 1070 Ti, then there's a slight difference in the performance of both. However, the GTX 1070 Ti manages to win due to its more VRAM despite using the GDDR5 interface.
The RX 5600 XT is a reliable 1080p graphics card to get the most bang for your buck. It holds the latest RDNA architecture, advanced GDDR6 ram, and uses less power to deliver an amazing gaming experience.
XFX Radeon RX 580 GTS – The Most Popular Graphics Card for 1080p 60fps Gaming
Specifications
8GB GDDR5 Video Memory
1386 MHz Boost Clock Speed
256-Bit Interface
DisplayPort 1.4 & HDMI 2.0b
500W PSU Needed
Reasons to Consider
The XFX RX 580 is a great improvement over the RX 480. It's a solid and well-built graphics card for HD gaming. Moreover, its power-efficient and has the right type of ingredients for hardcore 1080p gaming.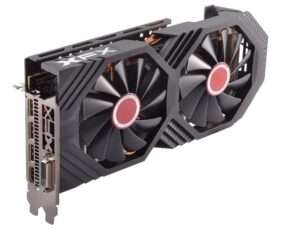 ---
You will feel a lot of difference in your gameplay if you jump from an RX 480 4GB to an RX 580 8GB. The XFX RX 580 knock off the most high-end gaming cards when it comes to playing games like Skyrim and Deus Ex at 1920 x 1080 resolution.
Even though the RX 580 uses an older GDDR5 memory, it stands out in performance when compared with GTX 1660 and 1060 from Nvidia. Especially, when it comes to scaling the resolution up to 1440p, the RX 580 holds still on the ground whereas the GTX 1600 Series GPUs want you to compromise on your frame rates.
If you pair the RX 580 with a high-end CPU, you can easily surpass the 60fps limit in AAA games without any hardware upgrade. Also, if you want to squeeze more juice out of this card, you can overclock it using XFX True Clock software.
The XFX RX 580 comes with super silent yet powerful fans for effective cooling. Unless the temps hit over 60 degrees Celsius, you won't hear the fans spinning at all. Although it is an energy-efficient gaming GPU, it needs an external 8-pin connector to power up. Other than this, there isn't anything that makes this card a no-go.
Things to Look For in a 1080p Graphics Card
Before you buy any of the 1080p gaming graphics cards, it's worth knowing the factors that can make your buying decision easier.
Video Memory
This is the most deciding factor when choosing a 1080p GPU. When it comes to video memory, we follow the "The More, The Better" formula. Without enough memory, your GPU cannot perform to its full potential. To be honest, when going for the 1080p gaming cards, 4GB is the minimum standard keeping in mind the requirements of AAA titles.
There are graphics cards under $300 that hold 6GB of video memory to play games at 1080p resolution. But there isn't that much of a difference in performance between them and 4GB graphics card.
However, if you go for a graphics card with 8GB of VRAM, there's more edge in gaming. Especially, if you want to hit the resolution up to 1440p, GPUs with 8GB of memory would be enough. But in order to game on 1920 x 1080 resolution, 4GB or 6GB chips could be enough.
Display Port
Almost every good 1080p gaming GPU comes with HDMI, VGA, and DVI ports. And if your main concern is to game on 1920 x 1080 display monitors, you don't need to be picky in the case of a display port. However, just make sure that the graphics card that you choose should have a display port that matches your gaming monitor.
If your concern is to play games at a higher refresh rate, you should look for DisplayPort 1.4 or HDMI 2.0 ports in a GPU.
Budget
The prices of GPUs are surging up and down in the market right now. It's a bit difficult to set a specific budget until the prices become more stable. However, you can expect to spend anywhere between $300 to $500 for buying a mainstream card that plays games at 1080p resolution.
AMD or Nvidia
Both the Nvidia and AMD offer solid chips to game at 1920 x 1080 resolution. But if you want to get the price to performance ratio, Nvidia would be our first choice. However, when you compare AMD and Nvidia 1080p cards one by one, it's hard to figure out which one is the best.
Moving down to the supporting software, the Nvidia GeForce Experience lets you record your gameplay and keeps your drivers updated for better performance. AMD on other hand gives you the same kind of experience to tweak your GPU performance.
Also, it's worth considering Nvidia's G-Sync and AMD's FreeSync as well. If you own a gaming monitor that supports any of these technologies, then it makes sense to prefer one chip manufacturer over another. If you want to fix screen tearing in your gameplay, then it's highly recommended to go for a card that supports G-Sync or FreeSync features.
Overclocked or Stock Speed
Both the Nvidia and AMD manufacturer cards for a safe clock speed keeping in mind the cooling mechanism. Afterward, these chips are handed over to aftermarket partners like MSI, Gigabyte, Asus, etc. Now it's up to the partner to sell those cards at reference (stock clock speed) or customize them to perform at a higher clock speed.
To squeeze more juice out of a graphics card, these partners often equip the chips with powerful fans, larger heatsinks, and high-quality MOSFETS. And once a GPU is stuffed with high-end parts, it costs more than its MSRP price. Unless you really care about the aesthetical touch on a graphics card and its RGB lights shrouding out of your PC case, it's better to stick with the stock version. Also, overclocking on an air-cooled GPU is not that much effective as it is on a water-cooled GPU.
The Final Verdict
All in all, these were the best 1080p gaming graphics card for every budget to consider this year. All of these chips pack some sort of value in relation to your gaming needs. If you stretch your budget a little more, we recommend you to go for XFX RX 580. It is because this GPU has more than recommended VRAM for playing games at 1080p resolution. Also, the RX 580 knocks out some of the high-end chips when it's about hitting frame rates over 60fps.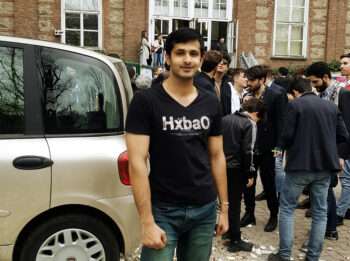 Hi, I'm the author and founder of this blog. I have more than 10 years of experience in the industry. Throughout my journey I've tested and reviewed hundreds of graphics card for custom PC builds. I believe my knowledge and experience will help you choose the card that really falls to your needs and budget.