GPU Republic is reader-supported. We follow a strict editorial process and put hours of research into testing, reviewing, analyzing & comparing the best products that we can find so you can make the most informed decisions. In the event you choose to buy something from one of the links on our site, we may make a commission at no extra cost to you. Whatever products we recommend, it's because we truly believe in them, not because of the small commission we may receive. Please don't buy any of these products unless you actually think that it would fit your needs.
Not every graphics card in the market is capable of handling higher refresh rate monitors. And when it comes to games on a 4K 144Hz display, you have to be careful in choosing the right GPU for it. Monitors with a higher refresh rate demand more power from your graphics card.
So we've curated the list of the best GPUs for 4K 144Hz monitors along with the reason to buy them.
Graphics cards that are highly compatible with 144Hz monitors need you to get out of your budget range.
So, you have to stay away from the entry-level graphics cards in this case. Moreover, it's difficult for low-budget cards to keep up with the pace of a higher refresh rate monitor.
Modern cards from Nvidia and AMD easily sync with 4K 144Hz monitors to deliver the best gaming experience.
No doubt, graphics cards in Nvidia's RTX Series and AMD's RX Series show optimal performance with higher refresh rate gaming monitors.
Especially, it's worth mentioning the Nvidia RTX 3000 Series cards that offer a great 4K gaming experience without putting a hole in your wallet.
List of the the Best GPU For 4K 144Hz Monitors
Here are the top picks to consider:
EVGA RTX 3080 – The Overall Best 4K 144Hz Compatible GPU
Key Specs:
Video Memory: 10GB GDDR6X | Boost Clock Speed: 1800 MHz | CUDA Cores: 8704 | Memory Interface: 352-bits | Memory Bandwidth: 760 Gbps | PSU Needed: 750W | Video Output: x1 HDMI , x3 DisplayPort | Max Resolution: 7680×4320
Reasons to Consider:
Extreme performance in every task
iCX3 Cooling Technology
Third Generation Tensor Cores
Real-time ray tracing and DLSS 2.0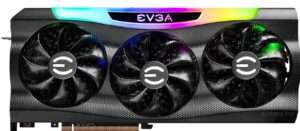 ---
The EVGA RTX 3080 is the second most powerful graphics card after the RTX 3090. No matter, whatever workload you throw at this graphics card, it will never let you down.
And this is due to Nvidia's latest Ampere architecture that delivers tremendous power for gaming and content creation tasks.
The RTX 3080 packs great improvement over the previous generations. It now has enough Tensor cores and 10GB of GDDR6X VRAM to support 8K UHD resolution without any stuttering or lags. So gaming with this graphics card on a 4K 144Hz gaming monitor isn't a big deal.
Along with support for high-end gaming monitors, you'll find improved ray-tracing and DLSS in RTX 3080. The ray-tracing enhances your gaming experience by introducing real-life visuals whereas with DLSS you can expect improved frame rates.
To test the performance of RTX 3080, we connected this graphics card with Acer's 27-inch Nitro XV273K 4K 144Hz gaming monitor.
We managed to play a few demanding games like Call of Duty: Warzone and Shadow of the Tomb Raider at 4K settings.
In both of these games, the average frame rate was above 70fps. However, in some scenes, the frame rates fell below 60fps, but that was rare.
All in all, the EVGA RTX 3080 would be ideal for you if you are upgrading from an older GPU like the GTX 1070 or 1080 just to play games at 4K settings on the best gaming monitor out there.
With this graphics card, you'll make your PC future-proof for some years if not many. The only thing to keep in mind is its power consumption, this card consumes a lot of power. So, it's better to have at least a 750W power supply in your PC before you go for RTX 3080.
Nvidia RTX 3090 – A Reliable 4K Gaming Card
Key Specs:
Video Memory: 8GB GDDR6 | Boost Clock Speed: 1730 MHz | CUDA Cores: 5888 | Memory Interface: 256-bits | Memory Bandwidth: 448 Gbps | PSU Needed: 650W | Video Output: x1 HDMI , x3 DisplayPort | Max Resolution: 7680×4320
Reasons to Consider:
Price to Performance ratio
Great at 1440p and 4K playback
Consumes less power as compared to RTX 3080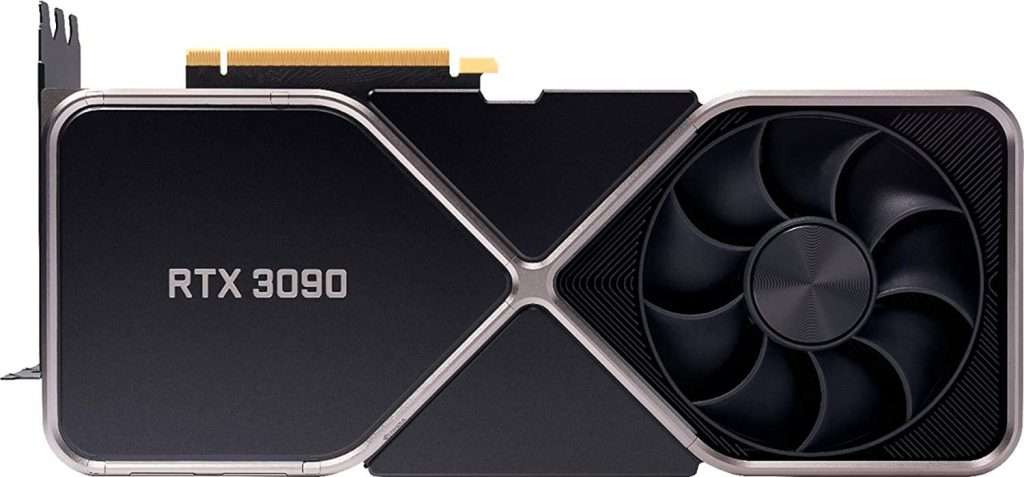 ---
The Nvidia RTX 3090 Founders Edition costs more than that of an RTX 3080, but still shows up as a good deal for 4K gaming.
With this graphics card, Nvidia has made 4K gaming more affordable for tight-budget geeks like us. But with this GPU, you have to compromise with the lower or medium graphics settings while playing demanding AAA games.
So, the RTX 3090 FE comes holds 24GB of DDR6 VRAM and an amazing boost clock speed of 16950 MHz. Obviously, these specs are better than the RTX 3080, which means you can expect this graphics card to exceed the performance of a 3080.
However, it's built on the same 2nd-gen Ampere architecture and has improved Tensor and RT cores as compared to previous flagships. And with the rest of the powerful specs, the RTX 3070 FE shows improved performance over the RTX 2080 and 2080 Ti that it replaced.
Just like all the previous cards in the RTX Series, the RTX 3090 also take advantage of real-time ray tracing and DLSS to boost your gameplay experience.
We tested the RTX 3090 for 4K performance the same as we did the RTX 3080. However, this time we hooked this GPU with the famous Asus ROG Swift PG279Q 4K 165Hz monitor.
Also, this is one of those monitors that support Nvidia's G-Sync, so RTX 3090 was the right candidate for running the test.
We managed to play the same games, the Shadow of Tomb Raider and Call of Duty: Warzone. This time, the Shadow of Tomb Raider gave a tough time to RTX 3070 that was unable to manage above 40fps. However, Fortnite and Call of Duty: Warzone, both scored above 60fps at 4K settings.
It's an ideal graphics card for playing Fortnite, PUBG, and other open sandbox games at 4K settings. With DLSS turned on, you can enhance the frame rates, but again in less demanding games.
RTX 2080 Ti Founders Edition – Highly Rated 144Hz Gaming Graphics Card
Key Specs:
Video Memory: 11GB GDDR6 | Boost Clock Speed: 1635 MHz | CUDA Cores: 4352 | Memory Interface: 352-bits | Memory Bandwidth: 616 Gbps | PSU Needed: 650W | Video Output: x1 HDMI , x3 DisplayPort, x1 USB Type-C | Max Resolution: 7680×4320
Reasons to Consider:
Great for 144Hz gaming experience
Headroom for overclocking
Silent operation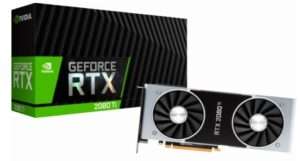 ---
There's one graphics card from the RTX 2000 series that is still the choice of many hardcore gamers, the RTX 2080 Ti. Even though we now have more powerful graphics cards to deal with 144Hz gaming, this still remains the preferred choice of many.
If you are upgrading from a GTX 1080 Ti to an RTX 2080 Ti, then you won't feel much of a difference unless you turn on the ray-tracing and DLSS.
And if the RTX 2080 Ti didn't have the blessings of ray-tracing and DLSS, it would have been beaten by the mid-range AMD RX 5000 series cards as well.
However, the RTX 2080 Ti isn't that bad as you might think. Especially, if we consider its 144Hz gaming performance with other similar range chips from AMD, the RTX 2080 Ti shines out.
This graphics card shows an incredible performance when paired with 4K 144Hz gaming monitors. The normal RTX 2080 wasn't capable of handling games at 4K 60 fps. However, the 2080 ti shows great improvement over the normal RTX 2080 and handles most games at 60fps at 4K settings.
Obviously, the 11GB GDDR6 memory, 352-bits interface, 616 Gbps bandwidth, and higher boost clock speed all together make this GPU a great deal for 4K gaming.
To test the gaming performance of RTX 2080 ti, we hooked it up with the older Acer's 27-inch Nitro XV273K monitor (we didn't have any other at that time) and played a few games.
Well, first we set the resolution at 1440p 144Hz to see how it goes with it. Average frame rates were above 60fps and there were no lags at all.
However, as soon as we switched the resolution at 4K, the RTX 2080 Ti did surprise us. Playing games like Far Cry 5, PUBG, Destiny 2 at 4K settings on 2080 Ti is possible. In all of these games, you can expect over 60fps.
The RTX 2080 Ti Founders Edition's performance in 4K gaming is acceptable. It's not something that of an RTX 3080 or 3090, but you can expect this card to play most games at a higher resolution and refresh rate.
Sapphire Nitro+ Radeon RX 5700 XT – Best Budget GPU for 4K 144Hz Screens
Key Specs:
Video Memory: 8GB GDDR6 | Boost Clock Speed: 2035 MHz | Stream Processors: 2560 | Memory Interface: 256-bits | Memory Bandwidth: 448 Gbps | PSU Needed: 550W | Video Output: x2 HDMI , x2 DisplayPort, | Max Resolution: 7680×4320
Reasons to Consider:
Best Value

RDNA architecture

Higher boost clock speed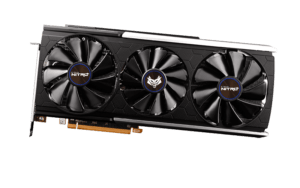 ---
If you are an AMD fan and looking for the right type of GPU to pair with a 240Hz monitor, there you have the Sapphire Nitro+ Radeon RX 5700 XT. This version of RX 5700 XT has got something exciting to offer, that is the higher boost clock speed of 2035 MHz.
Sapphire has put a lot of effort into boosting the performance of RX 5700 XT. It packs 3 powerful fans to dissipate an enormous amount of heat at higher clock speeds.
Just like other versions of RX 5700 XT, the Sapphire Nitro+ version also uses the Navi-10 architecture along with 2560 stream processors and 8GB of GDDR6 memory.
The thing is, this GPU doesn't have ray-tracing and DLSS capabilities to compete with the higher-end RTX models.
Still, in 1440 gaming, the Sapphire NITRO+ RX 5700 XT gives a tough time to mid-tier video cards from Nvidia like the RTX 2060 and 2070. In many games, the Sapphire NITRO+ RX 5700 XT performs better than RTX 2000 Series cards (with ray tracing/DLSS turned off).
In terms of display, this GPU comes with x2 DisplayPort 1.4 and x2 HDMI 2.0b to support 4K at 240Hz and 8K at 60Hz.
On top of all, the Sapphire Nitro+ Radeon RX 5700 XT combines high-end performance with top-notch cooling to hit higher frame rates on 1080p 144Hz or 1440p 144Hz setup.
But in terms of 4K performance, this card gets down to its knees leaving a little room for hitting 60fps. It struggles to achieve over 60fps in demanding AAA title at 4K settings.
However, if you are playing PUBG or Fortnite on a 144Hz monitor at 4K settings, it's doable with this GPU.
Picking a Realible Graphics Card for 144Hz Gaming Monitor
A 1440p or 4K gaming monitor with a 144Hz refresh rate needs you to have a faster graphics card. Therefore, the GPU that you choose for your high-end gaming monitor must be capable of achieving up to 144 frames per second.
A graphics card that cannot hit over 60fps at 4K settings is worthless for a 144Hz display. Make sure the GPU you choose has at least 6GB of VRAM and a higher clock speed.
Our Test Machine for 4K 144Hz GPU Benchmarking
| | |
| --- | --- |
| Processor | Core i9 9900K clocked at 3.6 GHz |
| Motherboard | Gigabyte Z490 |
| Ram | 32GB DDR4 Thermaltake |
| Storage | Samsung 970 EVO 1TB |
| Power Supply | Thermaltake 850W |
Table with our system specs
The Bottom Line
Finally, these are the most compatible graphics cards for 4K 144Hz monitors. And if we have to pick from the pool, then our first choice would be the RTX 3080. Not only this GPU packs the right ingredients to handle a 4K higher refresh rate display screen but it also makes your PC future-proof.
On top of all, the RTX 3080 gives you the ideal price to performance ratio than any other card in the market. It's less expensive than the RTX 3090, but it packs enough power to maintain higher frame rates as well.
And if you are a fan of AMD cards, then the Sapphire Nitro+ Radeon RX 5700 XT is one of those GPUs that can easily handle 144Hz monitors without any hassle. However, you have to sacrifice premium features like ray-tracing and DLSS 2.0 if you go with this graphics card.
FAQs
Does 144Hz require more gpu power?
Well, it depends upon the resolution that you push on a 144Hz display screen. At a 1080p 144Hz screen, a GPU won't have to do a lot of work as compared to a 4K 144Hz screen.
Do I need 144Hz for 144fps?
A 144Hz screen alone cannot help you achieve 144fps unless you have a powerful graphics card. You have to pair a 144Hz with the right type of graphics card if you want to hit 144fps.
Can a GTX 1660 Super run 144Hz?
GTX 1660 is a reliable graphics card to use with a 144Hz display. It can easily handle resolution up to 1440p on a 144Hz display screen. However, for resolution up to 4K, this isn't the right choice to go with.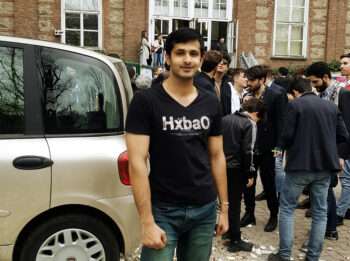 Hi, I'm the author and founder of this blog. I have more than 10 years of experience in the industry. Throughout my journey I've tested and reviewed hundreds of graphics card for custom PC builds. I believe my knowledge and experience will help you choose the card that really falls to your needs and budget.