The AMD RX 580 Mobile is the laptop version of the normal RX 580 desktop GPU. It's built on a 14nm process and is backed Polaris 20 chip, which is the successor to the Polaris 10 chip that we had on the RX 480 graphics card. The Polaris 20 allows the RX 580 mobile version to achieve higher clock speed while improving its power efficiency. 
You'll find the RX 580 Mobile chipset in most gaming laptops from different brands. The desktop version of RX 580 was no doubt one of the best GPUs for 1080p gaming. But does the RX 580 Mobile get the same sort of performance juice flowing through it? 
In this review, we'll talk about some gaming tests and benchmarks carried out on AMD RX 580 Mobile chipset. Furthermore, we'll also discuss whom this chip is right for and what machines use this chip at the moment.
AMD RX 580 Mobile Review
The mobile version of RX 580 was first introduced in laptops/notebooks around 2017. At that time, the desktop version of RX 580 was rolling down every Nvidia card. So, Red Team's idea of introducing RX 580 in a thinner format for gaming laptops was a great step. 
AMD has introduced 8GB GDDR5 video memory on this chip. It's the same VRAM that we have on the standard desktop version of this card. 
Maybe this chip was a response by AMD to Nvidia's GTX 1080 Max-Q that was launched in the same year. But Nvidia still was in the game as the GTX 1080 Max-Q packed more clock speed and CUDA Cores for hitting more FPS in gaming. 
The standard RX 580 was a power-hungry card, but the Mobile version has been trimmed down to consume less power. And the way Red Team has enabled it to consume less power is by reducing its clock speed. 
Yes, with less clock speed, you can expect this GPU to perform up to 20% less than that of its normal version. But this performance gap isn't noticeable unless you are a hardcore gamer who keeps eye on every single detail happening during the gameplay. 
Specifications of RTX 580 Mobile
| | |
| --- | --- |
| Architecture | GCN 4.0 |
| Video Memory (VRAM) | 8GB |
| Memory Type | GDDR5 |
| Cores | 2304 |
| Base Clock Speed | 1000 MHz |
| Boost Clock Speed | 1077 MHz |
| Memory Bus | 256-bit |
| Memory Bandwidth | 256.0 Gbps |
| Bus Interface | MXB-B (3.0) |
| TDP | 100W |
| DirectX | 12 |
Even when you go through the specs, it's evident that RX 580 Mobile is not too powerful as other mobile chips found in gaming laptops/notebooks. AMD has cut down the clock speed to reduce power consumption, and this ultimately results in less performance as well. 
Architecture
The AMD RX 580 is built of the GCN 4.0 aka Polaris architecture which shows significant improvements like hardware scheduler, improved shader efficiency, color, and memory compression. 
Above all the improvements made by AMD in GCN 4.0 architecture, the most noticeable one is power efficiency. This results in up to 40% reduced power consumption as compared to the competing chips. 
Most of the Polaris chips are produced on the 14 nm FinFET process which is a huge cut down from the previous 28nm process chips. 
Similar to Nvidia's Pascal architecture, the Polaris architecture also supports the DisplayPort 1.4 (ready) and HDMI 2.0b, but that's more of a concern for desktop GPUs. 
If your laptop allows you to connect a secondary monitor to it via HDMI or DisplayPort, then RX 580 Mobile has the guts to handle those higher resolutions and refresh rates. 
Video Memory 
The RX 580 Mobile comes with 8GB of DDR5 VRAM, which easily fits in any type of 1080p workload that you'll throw on it. Nowadays, 6GB VRAM is the least minimum for decent gaming and content creation experience. 
At the time of writing this article, we have laptops that come with GDDR6 and even GDDR6X graphics chips. The advanced GDDR6 version is better as compared to the GDDR5 version. 
But RX 580 Mobile chipset is a few years old now, and it wouldn't be a fair thing to directly compete for this chip with better AMD or Nvidia cards like GTX 1660 Super, RTX 2060, etc. 
8GB is still plenty enough to scale any game up to 1080p or even 1440p (depending upon the game title). On other hand, if you are into content creation, let's say 1080p or 4K video editing, then this chip would add value to your projects. 
Clock Speed
AMD RX 580 Mobile chipset has a base clock speed of 1000 MHz, which is nothing if we compare it even current generation entry-level graphics cards. It looks like AMD to cut down power consumption hasn't taken much care of the clock speed at this point.
Also, there's tight headroom to boost this chip up to 1077 MHz. So, under a heavy workload, there won't be any difference in performance even if it jumps from 1000 MHz to 1077MHz. 
Moreover, there's not much difference in the clock speed of the normal RX 580 and RX 580 laptop versions. The desktop version of this chip only has 185 MHz more clock as compared to the laptop version.
The sweet spot for GPU clock speed is around 1200 MHz to 1400 MHz. And it would have been better if AMD had clocked the processor between these speeds. But, even with 1000 MHz, there won't be any performance issues as long as you have a powerful CPU in your laptop. 
Power Efficiency
The RX 580 Mobile chip draws around 100W of power at full load. This is considerably less as compared to similar Nvidia and AMD chips found in gaming laptops. 
However, some chips in Nvidia's Pascal series consume much less power as compared to the ones in AMD's Polaris Series. 
But if we compare RX 580 Mobile with the normal RX 580 desktop version, then the former consumes 60% less power, which is exceptional. Also, there's not much difference in performance between the two versions. 
So, RX 580 laptop version would enhance the battery life of laptops/notebooks up to some extent.
How much battery time you would get with this chip? There's no definite answer to this question, but because it consumes less power, you can expect around 2 to 3 hours of battery life. 
Performance
There are different ways to test the performance of a graphics card. We prefer stress-testing a GPU with gaming or running benchmarking applications like 3D Mark, FurMark, PassMark, etc. 
But before throwing any intense games or benchmark software on RX 580 Mobile chip, it's better to have a look at the TFLOPS suggested by Techpowerup. 
According to Techpowerup, the RX 580 laptop chip yields 4.963 TFLOPS, which is much lower than Nvidia's GTX 1660 and GTX 1080 Max-Q laptop GPUs. 
But TFLOPS are just numbers that give you an idea about the performance of a GPU without testing it. The real power of a GPU is only known when you put it to stress tests and complex workloads.
So, we thought of throwing some well-known game titles in the way of the RX 580 laptop graphics chip. 
Below are the average frame rates that we encountered at different resolutions when playing games on RX 580 Mobile GPU. 
| | | | |
| --- | --- | --- | --- |
| | At 1080p | At 1440p | At 4K |
| Assassin's Creed: Odyssey | 40 to 45fps | 20fps | Less than 15fps |
| GTA V | 95 to 105fps | 65fps | 20fps |
| Counter-Strike | 190 to 200fps | 120 to 130fps | 80 to 85fps |
| CyberPunk 2077 | 45 to 55fps | 20fps | Less than 10fps |
Assassin's Creed: Odyssey
The Assassin's Creed: Odyssey is one of those games that's difficult to handle for even the beefy graphics card. At 1080p high settings, the RX 580 Mobile delivered around 40-45fps which is much lower than the 60fps milestone. 
At 1080p medium-high in-game settings (shadows/textures set to medium) you may hit around 60fps. But in intense combat scenes, the average frame rate might drop down to 50fps. 
Switching the resolution up to 1440p makes things even worse with average frames moving down to 20fps. 
At 4K settings, the game is unplayable and you'll either crash the game or be stuck at a single scene for months. 
 But we don't have to blame RX 580 chipset for these lower frame rates. In our research, we came across Reddit users who reported that Assassin Creed: Odyssey isn't well optimized for GCN architecture graphics cards.
Here's the screenshot of the conversation below:
There are some effects in AC: Odyssey that don't work well on GCN-based graphics cards like RX 580, RX 480, RX 470, etc. 
GTA V
The GTA V is well optimized for the PC platform and we don't think that a card like RX 580 would have any issues running it even at 1440p settings. 
At 1080p high settings, the RX 580 laptop chip pumped around 95 to 105fps in GTA V. 
Just to let you know that GTA V takes huge advantage of the extra VRAM of your graphics card. With RX 580 we have 8GB of GDDR5 to fuel the GTA V game engine. 
Further pushing the resolution up to 1440p swings down the average fps a little bit, but they remain above 65fps most of the time.
Moving above, at 4K resolution, the average frame rates see a drastic drop down to 20fps. 
Now, this could be due to two reasons, the lower clock speed on RX 580 or its incompatibility with the display size of your laptop/notebook. 
Games like GTA V can easily be scaled up to 4K resolution with playable frame rates, but lower-end specs limit the chip from doing so. 
Counter Striker: Global Offensive
CS: GO is less GPU intensive as there are no heavy textures and shadows found in this game. You can even play this game on entry-level integrated chips found in laptops/notebooks. 
In our gaming tests, we thought of playing CS: GO on RX 580 Mobile to see how many frame rates it will throw over. 
At 1080 ultra-high settings, the RX 580 yields around 190 to 200fps, which is a huge number so far. Scaling the resolution up to 1440p moves down the frame rates to around 120 to 130fps. 
At 4K/2160p resolution, we recorded around 80 to 85fps with RX 580 Mobile chipset. So, this is the only game so far in which you'll get above 60fps at any resolution you switch to. 
CyberPunk 2077
Now, CyperPunk 2077 is the most GPU-intensive game to have on your computer. Even current generation graphics cards struggle to deliver better performance with this game at higher resolutions. 
AMD RX 580, although meets the minimum VRAM requirements of CyperPunk 2077, it struggles to deliver higher fps at 1440p and 4K resolution. 
Even at 1080p low-medium settings, the RX 580 Mobile yields around 45 to 55fps in CyberPunk 2077. 
At 1440p settings, the RX 580 struggles a lot and the average frame rates struggle to climb over 20fps. 
And switching to 4K resolution welcomed us with lags and stutters. Also, this is when both the CPU and GPU usage goes all the way up to 100%.
PassMark's Benchmark Scores of RX 580 Mobile with Competing Cards
Below are the PassMark benchmark scores:
| | |
| --- | --- |
| GPU | Score (Higher is better) |
| GeForce GTX 1080 Max-Q | 15,210 |
| GeForce GTX 1060 Max-Q | 10,024 |
| Radeon RX 580 Mobile | 8,912 |
| Radeon RX 480 Mobile | 7,910 |
| GeForce GTX 1650 | 7,830 |
According to the PassMark benchmark scores, the RX 580 Mobile sits below Nvidia's two most popular laptop GPUs, the GTX 1080 Max-Q and GTX 1060. 
Similar Chipsets Like AMD RX 580 Mobile
Below are the chipsets that deliver performance to that of the RX 580 Mobile chipset:
Nvidia GeForce GTX 1060 Max-Q
Nvidia GeForce GTX 1660 Ti Max-Q
Nvidia GeForce GTX 1060 Mobile
Nvidia GeForce GTX 1650 Mobile
Nvidia GeForce GTX 1070 Mobile
As you can see in the list above, most chips that compete with RX 580 Mobile are from Nvidia. Green Team has thrown more chips in the market to take away the flag from the Red Team. 
We now have notebooks/laptops that are integrated with Nvidia cards rather than AMD. Maybe the gaming brand prefers chips that consume less power and deliver high performance at the same time. 
Machines that Use AMD RX 580 Mobile Chipset
Presently, a few laptops/notebooks are integrated with RX 580 chipset. Some of them are listed below:
ASUS ROG STRIX AMD Gaming Laptop
HP Omen 17T Gaming Machine
HP OMEN 17-AN012DX
ASUS ROG STRIX GL702ZC-WB74
As the RX 580 Mobile is a few years old cards, there are fewer chances to find this chip in the latest gaming laptops. Nvidia has already grabbed the laptop gaming market. Laptops/notebooks that are coming up with Nvidia chips tend to perform better as compared to RX 580 Mobile. 
Who is the RX 580 Mobile Good For?
Through all the specs and gaming benchmarks, we've concluded that laptops/notebooks that come with AMD Radeon RX 580 Mobile chipset are ideal for someone looking to play a few years old titles at 1080p settings. 
This chip struggles to hit the 1080p 60fps milestone with the latest game titles. And a no goes for 4K gaming. The RX 580 Mobile can let you play games at 1080p low-medium settings, but at 1080p ultra settings, you'll struggle to keep up with the frame rates. 
Again at this point, we'll blame AMD for not allocating the clock speed that this card needs to boost up the frame rates. If we had to pick between an AMD RX 580 or an Nvidia-based laptop for 1080p gaming, then we'll stick with the Nvidia one. 
As far as content creation is concerned, the RX 580 Mobile would give you the most value for those tasks. You can edit videos or carry out any GPU-intensive content creation task on this chip without any hassle. 
You can watch movies at 4K resolution on RX 580 Mobile without thinking about lags or stutters. But don't even think about 4K gaming, it's a total mess.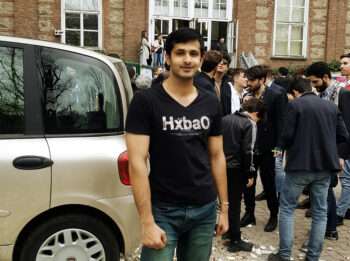 Hi, I'm the author and founder of this blog. I have more than 10 years of experience in the industry. Throughout my journey I've tested and reviewed hundreds of graphics card for custom PC builds. I believe my knowledge and experience will help you choose the card that really falls to your needs and budget.