GPU Republic is reader-supported. We follow a strict editorial process and put hours of research into testing, reviewing, analyzing & comparing the best products that we can find so you can make the most informed decisions. In the event you choose to buy something from one of the links on our site, we may make a commission at no extra cost to you. Whatever products we recommend, it's because we truly believe in them, not because of the small commission we may receive. Please don't buy any of these products unless you actually think that it would fit your needs.
No doubt, Nvidia's Ampere Architecture graphics cards have taken the performance to the next level. On top of all, the latest architecture has put the premium features like ray-tracing and DLSS 2.0 on your gaming desk as well. Graphics cards wrapped in Ampere Architecture are now more powerful and energy-efficient as compared to previous Pascal Architecture chips.
Right now in the market, there's a huge demand for high-end Ampere graphics cards like the RTX 3090 and RTX 3080. Both of these chips are best for handling high-end gaming and complex graphical workloads. However, these are the most expensive graphics cards to get right now.
If you are looking for cheaper options in Ampere Architecture-based graphics cards, then you can find the lower-end RTX 3000 Series cards like the RTX 3060 and 3070 on the list.
List of the Best Nvidia Ampere Graphics Cards
Below are the top considerations:
NVIDIA GeForce RTX 3090 Founders Edition – The Overall Best Ampere GPU
Key Specs:
Boost Clock Speed: 1.7 GHz | Video Memory: 24GB GDDR6X | Memory Interface: 384-bit | CUDA Cores: 10496 | Video Output: HDMI 2.1, 3x DisplayPort 1.4a | PSU Needed: 750W
---
The RTX 3090 is the most powerful and expensive graphics card from Nvidia right now. This chip comes with 24GB of GDDR6X memory, good enough to make your computer future-proof.
Also, it features a second generation of ray-tracing to get the experience of the best visuals in gaming or developing graphical workloads. Moreover, you get DLSS 2.0 with this graphics card to scale up your average frame rates in AAA game titles.
You can throw many types of workload on this graphics card, it won't let you down at all. Whether it's about gaming and streaming at the same time or rendering 4K videos in Premiere Pro, the RTX 3090 has got the guts to deliver unbeatable performance in every task.
The RTX 3090 supports HDMI 2.1 to let you play games at 8K resolution. And this is the only graphics card right now to give your stable frame rates at 4K or 8K resolution in AAA game titles. There are 10496 CUDA cores on this GPU for optimal performance in complex workload scenarios.
Although it comes with a base clock speed of 1.4 GHz, under heavy workload, it boosts the clock speed up to 1.7 GHz for lag-free performance. But if you want more performance out of this GPU, you can overclock it right away.
Overall, the RTX 3090 is the best GPU you can get right now. The only downside is it's expensive. Also, it needs you to have a high-end power supply (750W) in your computer as well. If you are low on budget, this isn't something meant for you.
There are many other graphics cards that give you the same sort of value in gaming and other tasks at a less price. For example, the RTX 3080 performs almost similar to an RTX 3090 in most AAA games with a much lower price tag. It's not wise to pay for higher VRAM and extra CUDA cores if you are not making use of them.
MSI Gaming GeForce RTX 3080 – Best Value Ampere-Based Chip
Key Specs:
Boost Clock Speed: 1815 MHz | Video Memory: 10GB GDDR6X | Memory Interface: 320-bit | CUDA Cores: 8704 | Video Output: DisplayPort x 3 (v1.4a) / HDMI 2.1 x 1 | PSU Needed: 750W
---
MSI RTX 3080 is a beefy card with 3 powerful cooling fans for efficient heat dissipation. Also, you'll find RGB aesthetics on this graphics card to add more colours to your gaming rig. Just like the RTX 3090, the RTX 3080 is based on Nvidia's Ampere Architecture and second-generation ray-tracing.
The MSI Gaming RTX 3080 has a higher TDP as compared to the reference model. However, MSI has taken care to cool down this graphics card by installing three fans for higher airflow. The hardware specs on the MSI version of RTX 3080 are similar to that of the FE version.
Right out of the box, you get your hands on 10GB of GDDR6X VRAM built on a 320-bit interface. Also, there are 8704 CUDA cores, a bit less than that of an RTX 3090 FE graphics card. However, with this MSI version, you get a boost clock speed up to 1815 MHz, and there's plenty of RGB lighting at the top.
The video outputs are the same as you'll find in the FE version of RTX 3080. You get x1 HDMI 2.1 output and x3 DisplayPort 1.4a ports. As this is a higher TDP graphics card, you'll need an x3 8-pin power connection from your PSU to run this beast.
If you are not a fan of overclocking, then a 750W PSU would be enough to run this graphics card with a high-end gaming CPU like Core i9-9900K. But if you are an extreme overclocker, then we recommend you to have a 1000W PSU before overclocking this graphics card and the rest of your rig.
All in all, the MSI RTX 3080 is way cheaper than an RTX 3090 FE Edition GPU. To be honest, the RTX 3090 is costing higher due to its higher VRAM and a bit more CUDA cores.
There are a few things that are more common in RTX 3080 and RTX 3090, and those are the same generation of Tensor cores and GDDR video memory. Also, there isn't much of a difference between the boost clock speed of RTX 3080 and 3090. If we have to choose between both of these cards, then our first choice would be the RTX 3080.
GIGABYTE AORUS GeForce RTX 3070 Ti – Best Bang for the Buck Ampere GPU
Key Specs:
Boost Clock Speed: 1875 MHz | Video Memory: 8GB GDDR6X | Memory Interface: 256-bit | CUDA Cores: 6144 | Video Output: 3x DisplayPort 1.4a, 2x HDMI 2.1, 1x HDMI | PSU Needed: 750W
---
It's time to say Hello to the GIGABYTE AORUS RTX 3070 Ti on our list of best Ampere graphics cards from Nvidia. The RTX 3070 Ti is a great improvement over the normal RTX 3070 version. However, this version of RTX 3070 Ti takes you a step further and a bit closer to the normal RTX 3080.
The AORUS RTX 3070 Ti packs 6144 CUDA cores as compared to the 5888 CUDA cores of the normal RTX 3070. However, switching to the GDDR6X gives this version 20 to 30% performance gains over the RTX 3070.
The GIGABYTE AORUS RTX 3070 Ti is a beefy graphics card. It consumes more than 3 slots on your motherboard and cannot fit inside a tight PC case. Meanwhile, if you need small form factor graphics cards, you can check out this guide.
There are up to six output ports on this graphics card, out of which you can utilize four at the same time. There are two HDMI 2.1 slots to scale the content up to 8K resolution. Comparing this GPU with the RTX 3090 and RTX 3080, there's more room for connecting multiple monitors.
There are three powerful fans to take care of extra heat. We tested this graphics card in one of our gaming builds, at peak load the fan noise is audible. However, this might be due to the fact that GIGABYTE has optimized these fans to run at full speed for better thermal performance.
The GIGABYTE AORUS RTX 3070 TI is faster than that of an RTX 3070 TI Founders Edition. But with more performance, there comes the need for more energy. To power up this graphics card, you'll need x1 6-pin and two 8-pin power connections from the power supply.
Overall, there's plenty of room on this Ampere Architecture-based GPU for overclocking. There isn't much price difference between the GIGABYTE AORUS RTX 3070 Ti and RTX 3080 Founders Edition. Paying $150 more could get you an RTX 3080 FE that has more VRAM and memory bandwidth. But for extreme overclocking, the GIGABYTE AUORUS 3070 Ti is a worthy investment.
ZOTAC Gaming GeForce RTX 3060 – Cheapest Ampere Graphics Card
Key Specs:
Boost Clock Speed: 1777 MHz | Video Memory: 12GB GDDR6 | Memory Interface: 192-bit | CUDA Cores: 3584 | Video Output: 3 x DisplayPort 1.4a, HDMI 2.1 | PSU Needed: 600W
---
The ZOTAC RTX 3060 is equipped with 2nd generation Ray-Tracing Cores and 3rd generation Tensor Cores to deliver optimal performance in gaming and other graphical workloads.
In the past year, the RTX 3060 has been massively used for mining cryptocurrencies. However, Nvidia has now announced they have limited the hash rate to discourage miners and make this GPU readily available for PC gamers.
Let's start with the main specs of this graphics card. Nvidia has shipped this GPU with 12GB of GDDR6 memory. And if we look at the cheaper price tag, it feels great to get an RTX GPU with higher VRAM at such a price point. Where GPUs like RTX 3070 and RTX 3080 are shipped with 8GB and 10GB of VRAM, you might think you are being blessed with higher VRAM for a less price.
But there's a lot of difference in the performance of GDDR6 and GDDR6X memories. The RTX 3070 and 3080, both are blessed with the "X" at the end, and this means far better performance than the standard silicon GDDR6 memories.
So, even if the RTX 3060 is packed with 12GB of VRAM, it doesn't mean it will outperform the GDDR6X cards with a lower VRAM amount. The only card that takes leads over the RTX 3060 in terms of VRAM is the RTX 3090. Again, the video memory on RTX 3090 is GDDR6X, meaning it's way more powerful than the memory on RTX 3060.
The Zotac RTX 3060 is weaker on the memory interface side as well. With only 192-bits, this card cannot perform better than the rest of the other cards in Nvidia's Ampere family. The only lead that RTX 3060 takes over the cards of the previous generation is by packing more CUDA cores.
If the CUDA count on this graphics card is way more than that of high-end Turing Architecture GPUs. Also, the second-generation RT and third-generation Tensor cores give this GPU a slight edge in performance over the Turing Architecture chips.
This means you can expect a good ray-tracing performance from this graphics card in AAA games. Also, the RTX 3060 takes favour of more VRAM to scale the resolution all the way up to 4K in most games.
Finally, the RTX 3060 shows great improvement over the lower-end graphics cards in the Turing Architecture like the RTX 2060.
If you have a little more budget to spend, we recommend you to go with RTX 3060 Ti which has more memory bandwidth and performance than the normal RTX 3060. Overall, the RTX 3060 is the best mid-tier GPU for someone who needs to taste the flavours of Ampere Architecture.
Things to Know
Some important things that you should know about Ampere Architecture
List of Graphics Cards Using Ampere Architecture
Below are the GPUs from Nvidia that is based on the latest Ampere Architecture:
RTX 3090
RTX 3080 Ti
RTX 3080
RTX 3070 Ti
RTX 3070
RTX 3060 Ti
RTX 3060
RTX 3050
Major Improvements Made in Nvidia's Ampere Architecture
Second Generation RT Cores
Third Generation Tensor Cores
Higher Bandwidth Memory (HBM2)
GDDR6X
Double FP32 Cores
NVLink 3.0 with transfer rate up to 50 Gbit/s
PCI Express 4.0
CUDA Compute Capability 8.6 for RTX 30-Series GPUs
Verdict
Nvidia's Ampere lineup holds more power and features than the generation cards. If we have to pick from any of these cards, then obviously it would be the RTX 3090. Although this is one of the most expensive graphics cards to get right now, it also makes your build future-proof for coming years. There's plenty of VRAM on RTX 3090, which makes it the right choice for any complex workload, no matter if it's gaming or professional level video editing.
FAQs
Is Ampere better than Turing?
Yes, GPUs in the Nvidia Ampere series deliver 1.9X performance per watt as compared to Turing series graphics cards. The most eye-catching feature that the Ampere line-up holds over the Turing line-up is the "ray-tracing" and "DLSS 2.0". If you want to have a better visual experience in AAA gaming, then Nvidia's Ampere series delivers exceptional performance.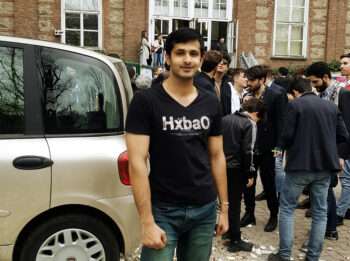 Hi, I'm the author and founder of this blog. I have more than 10 years of experience in the industry. Throughout my journey I've tested and reviewed hundreds of graphics card for custom PC builds. I believe my knowledge and experience will help you choose the card that really falls to your needs and budget.