Online streams are becoming more popular as time passes by. And when it comes to streaming your video at 4K quality, you need to have powerful hardware in your computer. Although streaming is highly dependant on the CPU side, however, it's the graphics card that has to deal with the stunning visual quality. Recently, Nvidia has introduced the NVENC encoder in modern GPUs, a technology that takes a huge workload load off from your CPU and shifts it to GPU for better streaming.
When it comes to streaming a movie clip or game at an HD resolution, you have to rely on a mid-range or high-end GPU. If it's just streaming a movie clip, then you can do that on a low-budget video card as well. However, if you are gaming and streaming at the same time, then you need a powerful chip.
Let say you have just started a new streaming channel on YouTube or Twitch, in this case, it's better to stick with a graphics card that can let you stream at 4K without putting a hole in your wallet. Now there are a lot of video cards in Nvidia and AMD that give you the ideal price to performance ratio in streaming. And in this guide, we will review each of these cards one by one.
List of the Best Graphics Card for Streaming 4K HD Video
Here are the top picks to consider for online HD streaming:
GeForce GTX 1050 Ti – Cheapest Graphics Card for 4K Netflix Streaming
Key Specs:
CUDA Cores: 768 | Video Memory: 4GB GDDR5 | Boost Clock: 1392 MHz | Max Resolution: 7680 x 4320 | Bus-Width: 128-bit | Memory Clock: 7 Gbps | Video Output: 1 x DVI-D, 1 x HDMI 2.0, 1 x DisplayPort | PSU Needed: 300W
Reasons to Buy:
Extremely affordable
Small form factor
No external power connector needed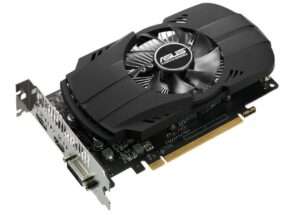 ---
The first card on our list is the Nvidia GeForce GTX 1050 Ti, a low-budget chip that can easily stream videos at higher resolution. You can easily stream your favorite TV shows and movies with this video card at 4K quality. It's a great improvement over the normal GTX 1050, which isn't that much powerful in handling 4K streams.
Apart from being a cost-effective option, the GTX 1050 Ti is a low-power consumer as well. It doesn't need an external power connector from your PSU. So, there is no need to upgrade your power supply if you go for this graphics card. A 300W PSU can easily handle this chip without any hassle.
If you really don't bother about the gaming performance, and your sole intention is to stream content at 4K, then GTX 1050 Ti might be the one you should go with. This card comes with 4GB of GDDR5 memory and a boost clock speed of 1392 MHz for faster encoding.
Furthermore, the GTX 1050 Ti has a low profile dimension which means this card can easily fit in the smallest of PC cases. Moreover, there's an x1 HDMI and x1 DVI port on this card for displaying content at a higher resolution.
All in all, the GTX 1050 Ti is the most budget-friendly graphics card for streaming on Netflix and Twitch. For beginners, it's the best option to start their online streaming career right away.

ZOTAC Gaming GeForce GTX 1660 – Best Value GPU for 4K Video Streams Online
CUDA Cores: 1408 | Video Memory: 6GB GDDR5 | Boost Clock: 1785 MHz | Max Resolution: 7680 x 4320 | Bus-Width: 192-bit | Memory Clock: 8 Gbps | Video Output: 3 x DisplayPort 1.4, 1 x HDMI 2.0b | PSU Needed: 400W
Reasons to Consider
4K and HDR Ready
G-Sync Compatible
Gaming & streaming
Compact Dimensions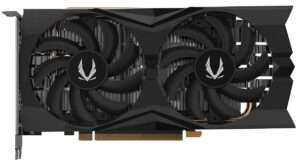 ---
The Nvidia GTX 1660 holds the power of Nvidia's Turing Architecture for incredible performance in gaming and streaming. The GTX 1660 would be a great deal for those who want to stream gameplay at a higher resolution.
This graphics card comes with 6GB of GDDR5 memory and an amazing boost clock speed of 1785 MHz. To be honest, this is a clock speed that you would find in high-end GPUs from Nvidia. And it's a lower TDP GPU that doesn't need a high-end power supply to install in your computer.
So, is it possible for you to game and stream at the same time with GTX 1660? Well, we managed to play some AAA games on this GPU at 1080p (without streaming). Most of the time, the average frame rates were around 80 to 90fps.
As soon as we went live, the frame rate went down to 55 to 60 fps. However, when you switch the quality to 4K, you have to sacrifice for lower frame rates. You can avoid the GTX 1660 from bottlenecking if you have a high-end streaming CPU on your PC.
The GTX 1660 is armored with Turing NVENC, the same encoder that Nvidia uses in most of the RTX 2000 Series GPUs. So, you can rely on the power of GTX 1660 for live broadcasting your movies or gameplay.
Nvidia RTX 2070 Super – A Powerful GPU for Live 4K Broadcast
Key Specs:
CUDA Cores: 2560 | Video Memory: 8GB GDDR6 | Boost Clock: 1770 MHz | Max Resolution: 7680 x 4320 | Bus-Width: 256-bit | Memory Clock: 14 Gbps | Video Output: 1x HDMI, 3x DisplayPort, x1 USB Type-C | PSU Needed: 650W (6+8 Pin connector)
Reasons to Buy:
Latest Turing Architecture
Real-time tay-tracing
Multiple display support
Dedicated encoder for streaming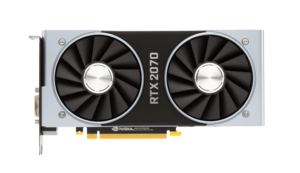 ---
The RTX 2070 is one of the most reliable mid-tier video cards for gaming and streaming your content at 4K resolution. The Founders Edition RTX 2070 is made by Nvidia themselves, so the silicon quality of this chip is way better than the ones used in MSI or Asus.
Where other chips in the RTX series are way out of the reach of many, the RTX 2070 Founders Edition is still an affordable choice for many users who want to taste what it feels like playing games with ray-tracing and DLSS turned on.
It's a highly efficient GPU for playing games at 4K quality and streaming them online on Twitch, YouTube, and other social media platforms. The RTX 2070 Super Founders Edition is equipped with a Turing NVENC encoder to take care of streaming workloads.
If it's just about streaming your recorded videos at 4K quality, then you would be highly favored by this chip. However, gaming and streaming might result in average frame rate loss, but it won't affect the overall performance of your game or stream. You can expect the average fps to fall around 68fps in most games while streaming.
If we compare the RTX 2070 with other GPUs in the RTX 2000 Series, then you'll find it more energy-efficient and steady. Well, that's another part of the story that it needs you to have at least 650W PSU with x1 6-pin and x8-pin connector.
When there's no load on the GPU, it consumes very low power from the PSU. The fans on this GPU are silent even when it is under 80% workload.
To sum it all up, we highly recommend you go with this video card if your intention is to stream gameplay at a higher resolution. Its RGB lighting and aesthetics make it look incredible inside a transparent PC case. Moreover, you can easily overclock this GPU if you want more performance out of it.
Lastly, a reliable graphics chip for 1080p and 1440 gameplay with a few average fps drop at 4K. Also, you get great aesthetics, silent fans, and a variety of I/O options.
ASUS RTX 2080 Super – A Graphics Card for Ultimate 4K Live Streaming
Key Specs:
CUDA Cores: 3072 | Video Memory: 8GB GDDR6 | Boost Clock: 1860 MHz | Max Resolution: 7680 x 4320 | Bus-Width: 256-bit | Memory Clock: 15.5 Gbps | Video Output: 3x DisplayPort 1. 4 and 1x HDMI 2. 0 ports | PSU Needed: 700W
Reasons to Buy:
Powerful ray-tracing & DLSS
Extreme performance in 4K streaming
Efficient cooling
Higher boost and memory clock speed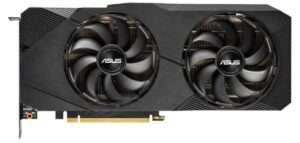 ---
Though the RTX 2080 Super shows some improvement over the normal RTX 2080, both of these chip uses the same Turing T104 silicon from Nvidia. The RTX 2080 Super comes with 8GB GDDR6 VRAM, 256-bit bus-width, and a boost clock speed of 1860 MHz for faster computing tasks.
Although the RTX 2080 Super is an expensive graphics card to get for your streaming PC, it shows no compromise in performance once you have it. The RTX 2080 Super shows 2x more performance as compared to the older cards in the RTX-20 series. The 2080 Super also come up as a great video card for Plex transcoding, Nas servers, and other workstation servers.
This video card is fully optimized for 4K gaming and streaming without losing your frame rates. There isn't much of a difference in the performance of an RTX 2070 Founders Edition and RTX 2080 Super. The thing is the RTX 2080 Super has few more CUDA cores and boost clock to squeeze more fps in gaming and streaming as compared to RTX 2070 Founders Edition.
Also, the RTX 2080 Super holds more memory bandwidth as compared to the RTX 2070 Founders Edition. Having more bandwidth makes this GPU a great deal for streaming your content at high-definition textures. When streaming videos at 4K, the RTX 2080 Super shows 15% more performance than the normal RTX 2080.
The RTX 2080 holds a robust heatsink at the top to keep the temperatures as minimal as possible. Even in some benchmark tests, the RTX 2080 Super showed thermal performance similar to a liquid-cooled graphics card.
Summing up, the RTX 2080 Super packs great value for 4K gaming and streaming. Ever since the launch of the RTX Series, the RTX 2080 has been a great contender for handling multiple tasks at the same time.
The only downside is it's an expensive card that does not fit inside the budget range of every streamer. However, if it's about dollars/frames per second, then the RTX 2080 is the chip that you need to have right now. If you need more performance, go for a 2080 Ti, but that would cost you more.
What Makes a Graphics Card Best in 4K Streaming
Here are some of the important factors to consider before picking a GPU for live streaming your videos:
Display Resolution
Make sure the video card that you choose natively supports the resolution that you intend to stream at. For example, you want to stream video at 4K HD resolution, in this case, you should consider a card that comes with a maximum resolution of 7680 x 4320.
VRAM
If you are just concerned with streaming movies or TV programs, then 4GB graphics could be enough to broadcast at 4K quality. However, the requirement for HD streaming is different when you are gaming and going live at the same time. In that case, it's better to opt for a chip with 6GB or 8GB of VRAM.
Video Output Ports
Modern-day GPUs come with different types of video output interfaces like VGA, HDMI, DisplayPort, etc. To stream at 4K quality, make sure your video card comes with at least one HDMI or DisplayPort.
Dedicated Hardware Encoder
A hardware encoder is a special type of hardware found in some graphics cards for superior streaming performance. Nvidia uses the famous Turing NVENC hardware encoder in its RTX chips for shifting load from your CPU to GPU. Therefore, it gives Nvidia chip a huge edge over AMD chips when it comes to streaming content online.
Processing all of the information in real-time for a CPU alone is very hard. And if you are using an entry-level CPU for streaming your content, things might get worse. To overcome this, you need to rely on a reliable GPU that comes with dedicated hardware encoding for faster streaming.
Final Lines & Recommendation
Winding up, these were some of the best graphics cards for streaming 4K HD video from your desktop. As far as our recommendation is concerned, we want you to choose between an RTX 2070 Founders Edition or RTX 2080 Super (if there are budget limitations).
The RTX 2070 Founders Edition lies on the sweet spot between price and performance. With this chip, you can easily stream your movies, TV shows, and games at 4K quality, but you have to sacrifice higher frame rates in this case.
However, with the RTX 2080 Super, you can get over 60fps even at 4K resolution while broadcasting your content. The choice is yours, either you can go way down for a GTX 1660 if it's just about streaming recorded videos at HD resolution or you can pay once for a powerful 4K streaming card like the RTX 2080 Super to play and stream in real-time.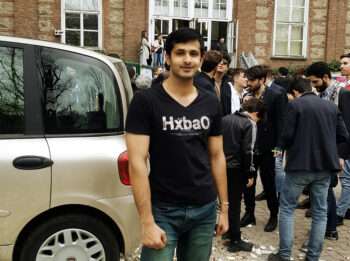 Hi, I'm the author and founder of this blog. I have more than 10 years of experience in the industry. Throughout my journey I've tested and reviewed hundreds of graphics card for custom PC builds. I believe my knowledge and experience will help you choose the card that really falls to your needs and budget.