Online streams are becoming more popular on social media platforms like YouTube, Twitch, Facebook, etc. Whether it's about streaming your videos or games, you will need a modern GPU to make your online streams faster. Also, a graphics card that is good at live streaming can let you stream videos at a higher resolution.
The need for a graphics card gets more when you are gaming and streaming at the same time. A GPU can take off a huge load from your CPU if you are streaming content at 1080p or higher resolutions.
And when it comes to streaming, you really don't need to throw piles of cash on the table to buy a GPU. A decent budget graphics can also let your stream videos at good quality. And in this guide, we will review some of the best budget graphics cards for live streaming.
Which GPU Brand is Best for Live Streaming?
As you know there are two main manufacturers of GPUs in the market, Nvidia and AMD. Both brands make the best graphics chips out there. Nvidia graphics cards however are expensive than the AMD. Nvidia GPUs are ideal for streaming videos at 4K whereas AMD GPUs are best for 1440p streams.
Also, the Nvidia graphics cards come with NVENC hardware encoding and RTX Voice for a seamless streaming experience especially if you have a lower-end PC.
The List of Best Budget Graphics Cards for Live Streaming
Here are some of our top considerations:
ZOTAC GAMING GeForce GTX 1650 – Best Overall Streaming GPU on Low Budget
Reasons to Buy
A great option for beginners who are low on budget. If you have made a new channel for streaming videos, we recommend you go with this graphics card. Zotac GTX 1650 comes with enough memory and clock speed to give you stable frame rates while streaming.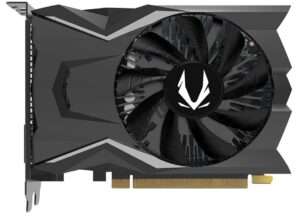 ---
Zotac GTX 1650 is cheaper yet powerful graphics for streaming videos, especially for beginners who are new to online streams. With this GPU, you can play games at 720p resolution and stream them at the same time.
Where Nvidia's mid-range and high-end GPUs are swinging with more video ram and features, this low-budget chip just holds 4GB of GDDR5 memory and a boost clock speed of 1620 MHz. However, these specs are good enough for a GPU that is meant for newbies who have just created a channel for streaming.
Moreover, it's a low-power consuming card with a TDP of 75W. Therefore, this GPU eliminates your need of buying a high-end power supply as well. Aso, lower TDP means you don't need any extra power connector to run this graphics card.
MSI GeForce GTX 1660 Super – Best GPU for 1080p Streaming/Gaming
Reasons to Buy
The GTX 1660 Super comes with 6GB of VRAM on a 192-bit interface that makes it ideal for 1080p streaming. A boost clock of 1830 MHz makes these graphics a perfect fit for online game streams.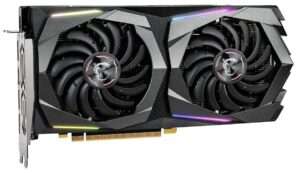 ---
If you are looking for graphics that excels in gaming and streaming while staying under budget, then GTX 1660 Super is the right fit for you. The Zotac GTX 1650 struggles in 1080p streaming due to less VRAM, however, MSI GTX 1660 Super gives you more edge in HD streaming, thanks to the NVENC encoder that takes off the load from the CPU and shifts it onto the GPU.
This GPU is backed by Nvidia's TU116 architecture that is still part of some good mid-range Nvidia GPUs. Also, this graphics card has support for connecting up to 3 monitors, something that is worth having if you are an online streamer.
The MSI GTX 1660 Super is one of the best entry-level gaming GPUs from Nvidia. If you play Fortnite and stream online on your YouTube channel, this might be the best card for you.
Playing games and streaming at the same time puts a load on your GPU, this might result in high temperatures. However, to maintain the temps, the MSI GTX 1660 uses MSI TWIN FROZR Thermal Design technology. So, you don't have to worry about your GPU blowing up in the middle of an online stream.
No doubt, it is one of the best budget graphics cards with great cooling and faster clock speed to stream your content online. If you really don't have the cash to buy an RTX Series card, you can at least rely on this one.
XFX RX 5700 XT – The Best Budget AMD Graphics Card for Streaming Content
Reasons to Buy
One of the best graphics cards from AMD when it comes to streaming your content on social media platforms. With 8GB of GDDR6 memory and boost clock speed up to 2025MHz, this is a decent budget GPU for HD streaming and gaming.
---
The XFX RX 5700 XT is the only graphics card on our list with powerful specs and features. This GPU packs excellent boost clock speed up to 2025 MHz, making it an ideal GPU for lag-free streaming. Also, this GPU holds 8GB of GDDR6 memory for playing games at higher settings.
This card is made for dealing with heavy loads, making it ideal for streaming and gaming. There are three powerful at one side to keep this GPU cooler most of the time.
If you need a GPU for streaming gameplay, then the RX 5700 XT packs a lot of power to do that. The only thing that it misses out on is the NVENC encode that Nvidia uses in most of its modern GPUs.
To overcome this, you have to pair a powerful CPU with this GPU to encode video in an online stream. Other than that, this is one of the best budget streaming GPUs that outperform the Nvidia RTX 2060 in gaming and streaming.
MSI GeForce RTX 2070 – Best Value for the Money GPU for Live Streaming
Reasons to Buy
The MSI RTX 2070 delivers the best value in streaming with 8GB of GDDR5 memory and clock speed up to 1620 MHz. Moreover, this GPU holds Nvidia's premium features like ray-tracing and DLSS that add enhance the performance of your games. If you are a hardcore gamer who wants to stream at 1080p or even 1440p, this chip is for you.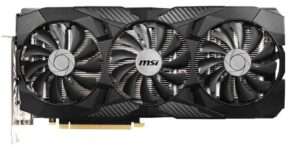 ---
The RTX 2070 is our most favorite mid-range graphics card that perfectly sits into the price to performance equation. And if you are a fan of Nvidia's RTX-Series, we highly recommend you start from RTX 2070 first. What other graphics cards in the RTX family hold at a premium price, the RTX 2070 holds the same features at an affordable price tag.
Now if you after a graphics card that can let you stream gaming videos, this is for you. At least, you can easily play some demanding AAA titles on this card at 1440p settings. And when it comes to showing the content online, then the MSI RTX 2070 holds Nvidia's NVENC encoder for faster and stable streaming.
Although this GPU can let you stream at 1440p, you might witness some minor lags and glitches in your stream. For the safe side, it is better to stick with 1080p resolution if you are gaming/streaming.
The MSI RTX 2070 comes with three TORX Fans for high-end cooling. Therefore, you can stream for endless hours without frying up your GPU. Moreover, you can connect up to 4 displays at the same time with this GPU. Multiple display support gives you more edge in online streaming if you are a hardcore gaming streamer.
If you really need a future-proof streaming GPU, at least for the next few years, then RTX 2070 is the best you can get. It has 8GB of VRAM, 1620 MHz clock speed, and Nvidia's latest Architecture to deliver an amazing performance in live streaming.
EVGA GeForce RTX 3080 Ti – A Powerful GPU for Twitch Streamers
Reasons to Buy
The EVGA RTX 3080 Ti is one of the most powerful graphics cards with 12GB of GDDR6 memory. It's is the second most powerful GPU from Nvidia after the RTX 3090. If you want to stream your videos on Twitch at 1080p quality, then EVGA RTX 3080 would be the right fit for you.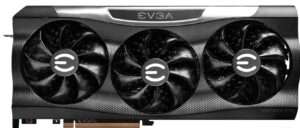 ---
With the EVGA RTX 3080 Ti, comes the power of faster and high-quality streaming. With 12GB of GDDR6 memory and a boost clock speed of 1800 MHz, this GPU is the ultimate solution for live streaming.
The RTX 3080 Ti also has a dedicated portion for NVENC encoder that makes online streaming even better by accepting the load from your CPU. The RTX 3080 Ti comes with hundreds of CUDA cores and next-generation hardware for seamless streaming.
This GPU is ideal for playing games at 4K resolution and streaming them on YouTube or Facebook. However, for Twitch you may have to turn down the settings at 1080p. The RTX 3080 Ti lets you witness the real power of ray-tracing and DLSS 2.0 in games.
The EVGA RTX 3080 Ti is a card meant for professional gamers and streamers. This GPU crushes everything that you throw at it. With this GPU you can stream your videos at a higher resolution without compromising on the quality. The only thing that might keep you away from this GPU is the higher price. If your budget allows you to go beyond $1500 to buy a powerful live-streaming GPU, then we highly recommend you to choose this one.
Frequently Asked Questions
Will a graphics card help in improving streaming performance?
Yes, a GPU can improve the performance of your online stream in many ways. For example, you want to stream your gameplay on your YouTube channel. A good graphics card can let you stream your gameplay without compromising on the graphics quality of your game. If you don't have a GPU, all the load would be shifted on your CPU, and you will experience glitches and lags.
Nvidia's RTX Series graphics cards come with encoding hardware to improve your streaming performance. These video encoders shift the load from the CPU to your GPU for a seamless streaming experience.
Do you need a GPU for streaming even if you don't play games?
You will only need a graphics card if you want to play demanding games and stream them at the same time. If you are not a gamer, then your builtin-graphics card along with CPU is good enough to stream your videos.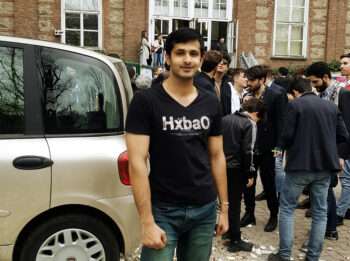 Hi, I'm the author and founder of this blog. I have more than 10 years of experience in the industry. Throughout my journey I've tested and reviewed hundreds of graphics card for custom PC builds. I believe my knowledge and experience will help you choose the card that really falls to your needs and budget.