Fortnite is no doubt one of the most popular games of all time. Also, it is one of those games that has tested the limits of many GPUs that promised to deliver the best gaming experience. To be honest, high-end GPUs from Nvidia, especially the ones in the RTX family tend to be the best for Fortnite. But not everyone can get their hands on those top-performing cards due to their premium price tag. So are there any cheaper graphics cards to consider when it comes to playing Fortnite?
Yes, there are some low-budget graphics cards to play Fornite at 1080p settings. Moreover, these GPUs really don't let you break your bank account to play Fortnite in its full glory. So, if you are a budget geek, these graphics cards are worth considering at this time of the year.
Video Card Requirements for Fortnite
Here are the official graphics card requirements of the game
Minimum requirements: Nvidia GTX 660 or AMD HD 7870
Reviews of the Best Cheap Graphics Cards for Fortnite
Here are some of our top considerations:
1. EVGA GeForce GTX 1060 SC Gaming | Overall Best Budget GPU for Fortnite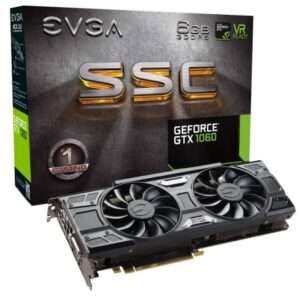 Main Specifications:
Clock Speed 1607 MHz
6GB GDDR5 Memory
DirectX 12
192-bit Memory Interface
1x DVD-D, 3 x DP, 1x HDMI 2.0 ports
Max Resolution 7680×4320
400W PSU Requirement
---
GeForce GTX 1060 SC, a GPU that sits on the sweet spot between price and performance. Although this graphics card is no match to Nvidia's RTX line-up, it delivers excellent performance when playing titles like Fortnite and PUBG. Thanks to the 6GB GDDR5 memory clocked at 1607 MHz, the GTX 1060 SC lets you surpass the threshold limit of 60fps without lowering your in-game settings.
We really liked its compact design and dimensions that make this GPU sits easily inside tight PC cases. Moreover, it uses less power as compared to other mid-range gaming cards in the market.
On top of the graphics card, there is a radial fan to dissipate the extra heat. Nvidia's ACX cooling technology makes use of optimized fan blades promoting more air inflow with less power consumption. On top of this, a double bear bearing system helps the fan move at full speed without making any noise.
Now let's move on to the performance of GTX 1060 SC while playing Fortnite on 1080p settings. We didn't overclock this GPU, and most of the time, fps were above average without any lags. We played Fortnite on a 1080p 144Hz monitor and got over 100 fps most of the time.
However, keep in mind that at the time of testing this GPU with Fortnite, we were using a Core i9 9900K at a stock clock speed of 3.6 GHz. So if you are using an older generation CPU with GTX 1060 SC, the average fps could be different for you.
Overall, it's a great mid-range chip that performs way better in games like Fortnite where there are no options for lags or glitches in multiplayer combat scenes.
2. XFX Radeon RX 580 GTS Black Edition | Most Affordable AMD GPU for Fortnite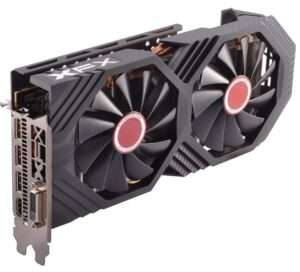 Main Specifications:
Overclocked at 1405 MHz
8GB GDDR5 Video Memory
256-bit Memory Interface
XFX Double Dissipation Cooling Technology
3xDP, 1xHDMI, 1xDVI Video Output
PCIe 3.0
7680 x 4320 Max Resolution
400W PSU Requirement
---
Undoubtedly, Radeon RX 580 GTS Black Edition remains the first choice of many budget gamers throughout the world. This GPU has given a tough time to Nvidia's most promised gaming cards like the GTX 1060 and GTX 1070 in many games. And the reason for that is its high-end specs and performance in AAA game titles.
Now where GDDR6 type graphics cards are raging the market, GPUs like RX 580 still hold someplace when it comes to playing famous games like Fortnite, PUBG, and Overwatch. First of all, it is because this video card is factory overclocked at 1405 MHz, good enough to deliver stable frame rates at 1080p resolution.
Radeon RX 580 GTS Black Edition is a phenomenal graphics card with 2,304 stream processors, 8GB of GDDR5 video memory, and a 256-bit memory interface. We at GPURepublic, are fans of 256-bit graphics cards due to their powerful gaming capabilities, and this card keeps up to our expectations in this case.
And if we head over to the cooling solution on this graphics card, it leaves us with no words at all. Like, this GPU is designed keeping in mind all the work that a gamer can take from it.
Furthermore, it features AMD's XFX double dissipation cooling technology which gives it a little edge over Nvidia's GTX 1660 SC. On top of that, two powerful fans improve thermal efficiency and make this GPU an ideal choice for overclockers.
Now let's talk about the Fortnite gameplay on this GPU. Just like the Nvidia GTX 1660 SC, we set the resolution of the game to FHD. The RX 580 GTS Black Edition showed impressive performance in Fortnite at 1080p resolution with frame rates over 60fps most of the time.
However, keep in mind that the RX 580 GTS draws more power as compared to the Nvidia GTX 1660 SC. So if you have made your mind to this graphics card, make sure you have a high-wattage PSU on other hand to avoid any issues.
All in all, this graphics card is a worthy investment for playing modern games without breaking your bank for high-end flagship cards. All you need is a good processor and enough ram that keeps up with the capabilities of this GPU.
3. Geforce GTX 1050 Ti | Cost Effective GPU for Fortnite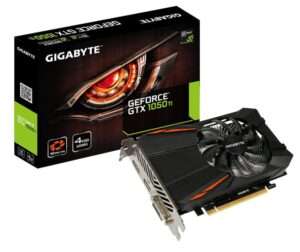 Main Specifications:
Boost Clock 1430 MHz
4GB GDDR5 Memory
128-bit Memory Interface
DirectX 12
300 PSU Recommended
8K Resolution Output
---
An old mate, GTX 1050 Ti is not a match to modern GPUs of today, but it can let you satisfy your craving for Fortnite without any problem. Now, this graphics card lies on the lower side of budget and specifications. If you really want to save some cash for other gaming peripherals, you can head straight away for this graphics card, and it won't let you down.
The GTX 1050 Ti has been crowned for handling many demanding AAA titles. The only thing that has made this GPU go so far is the 4GB GDDR5 memory and boost clock speed at 1430 MHz. You can even play games like Batman: Arkham Origins at max settings on this card. And playing Fortnite on this low-budget card wouldn't be a problem at all.
Furthermore, this graphics card is a low-power consumer. So there isn't any need to buy an expensive aftermarket power supply to power it up as this card really doesn't need any external power connector. We like this GTX 1050 Ti for its mid-range gaming nature, although it sits on the entry-level side of the GPU market.
Heading over to the gaming performance of GTX 1050 Ti in Fortnite. Surprisingly, this GPU didn't let us down even at max settings. However, the average frame rates while playing Fortnite were around 55-85 fps most of the time at high settings, which is less when compared with GTX 1660 SC and RX 580 GTS Black Edition. But for such a cheaper price and lower specs, at least we can neglect additional fps.
4. ZOTAC GeForce GT 1030 | Cheapest GPU to Run Fortnite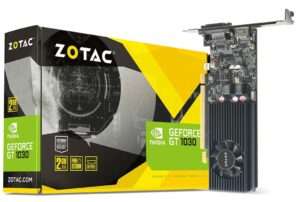 Main Specifications:
1227 MHz Base Clock
2GB DDR3 Video Memory
PCIe 3.0
64-bit Interface
1x VGA, 1xHDMI 2.0b
Low Profile Bracket
300W PSU Requirment
---
Here we go, the Zotac GeForce GT 1030, a low-profile graphics card meant for small form factor cases. On top of all, this video card is ideal for low-budget gamers who don't want to spend more than $150. It's more of a budget-friendly GPU that can run Fortnite on your PC at medium settings.
Favored by Nvidia's Pascal architecture, this low-profile graphics card delivers considerable performance in gaming. With 2GB of DDR3 memory and a 64-bit interface, the Zotac GeForce GT 1030 is ideal for 720p gaming, but for 1080p, lags and crashes would be your fate.
The good thing about this card is its low-profile dimensions. You can easily fit this GPU in tight PC cases. This GPU is a solid option for a PC that needs a low power and diminutive GPU. It uses less power and stays cool most of the time. The Zotac GeForce GT 1030 isn't designed for high fps gaming, but for light gaming, this might be an ideal pick.
We played Fortnite on this cheapest GPU and it performed as we expected, a kind of performance that you might expect from low-budget cards that fall under $150. Even at 720p settings, average frame rates were around 55 to 65. But the game was playable and lags were hardly noticeable. If you pair with GPU with a good CPU, it can deliver more than 70 fps for sure.
Performance Comparison Table
| | |
| --- | --- |
| Graphics Cards | Average Frame Rates in Fortnite (1080p) |
| EVGA GeForce GTX 1060 SC | 147fps |
| XFX Radeon RX 580 GTS Black Edition | 195fps |
| Geforce GTX 1050 Ti | 85fps |
| ZOTAC GeForce GT 1030 | 55fps |
Table showing average fps of each GPU in Fortnite
Game Settings When We Tested These GPUs
In-game settings also affect the performance of the GPU. Here are the settings that we made while testing Fortnite.
Post-Processing & Anti-Aliasing: Off
Shadows: Medium/Off (In case of Zotac GT 1030)
Render Distance: Epic
Resolution: 1080p
Display Resolution: 100%
Effects: Medium
V-Sync: Off
Motion Blurr: Off
Things to Know Before Buying Budget-Friendly Graphics Card for Fortnite
If you are a new gamer and don't know how to pick the best GPU for playing Fortnite, then here are some important guidelines to follow:
VRAM (Video Memory)
As we've previously discussed the minimum requirements to play Fortnite, all you need is a graphics card with a minimum of 2GB of VRAM. Keep in mind that this is the bare minimum for playing the game at the lowest settings. If you want to hit the 1080p settings in Fortnite, then it's better to go with a GPU that has at least 6GB of VRAM.
TDP
TDP stands for thermal design power and it is the maximum amount of power that a GPU can draw in watts. Some graphics cards come with lower TDP whereas other needs a high-end power supply to work properly. Before you pick a GPU, it's better to know about the TDP rating of that particular card.
Furthermore, it's better to have a reliable power supply in your computer to fuel your GPU. The number of watts that you need on your PSU depends upon the type of GPU that you've chosen. All the GPUs that we've listed here can easily run with a 550W power supply.
Dimensions
Some GPUs are bigger in size as compared to others swapping almost more than 2 slots width on a motherboard. Generally, GPUs with more than one fan are bulky and don't easily fit inside small form factor PC cases. So, make sure you have a spacious PC case if you are going with a bulky GPU.
Connectivity
If you want to play Fortnite at a higher resolution like 4K, then make sure the GPU that you choose has at least one HDMI slot. Also, modern monitors are giving up on old VGA adapters, so it's better to go with a GPU that supports an advanced display interface.
Both, Nvidia and AMD are making graphics cards with HDMI and DisplayPort connectivity options. If you want to enjoy Fortnite at 240 fps, then you'll need DisplayPort or an HDMI port to keep up with the pace of your 240Hz monitor.
Modern graphics cards from Nvidia and AMD come with technologies like G-Sync and FreeSync to deliver better performance with higher refresh rate monitors.
Benchmarks
Nowadays, looking for benchmarks is the best way to look out for the performance of a graphics card without buying it. Benchmarking gives you a general idea about how many frame rates you can expect in a particular game with respect to the graphics card that you choose.
But don't fall for the benchmark scores right away. There are some other factors that contribute to the benchmark score like CPU, RAM, etc.
Desktop Used to Test These GPUs
Processors: Core i9 9900K Clocked at 3.8 GHz
RAM: 16GB DDR4 Corsair 3200 MHz
Motherboard: ASUS Z390
Storage: Samsung EVO 1TB SSD
PSU: Cooler Master 750W
Monitor: Acer Nitro XZ342CK Pbmiiphx 144Hz
Before
Recommendation
So these were some of the best cheap graphics cards that can easily run Fortnite. As far as our recommendation is concerned, we've found RX580 GTS Black Edition to be more compatible with games like Fortnite & PUBG. The reason behind this is the 256-bit Interface and 8GB of GDDR5 memory for an affordable price tag. Anf if you really want to save money and don't care about fps, there isn't any better card than GTX 1050 Ti. This card can let you play Fortnite at higher settings if you have a high-end CPU and 8GB of ram.
FAQs
Can a GT 1030 low profile run Fornite?
Although the GT 1030 is an entry-level graphics card, it can handle Fortnite at low-medium settings. We managed to play Fortnite on GT 1030 at 1080p settings and got 55 fps on average. However, if you scale down the settings to 720p, you can expect over 60fps as well.
What GPU can run Fortnite at 60fps?
A graphics card that comes with at least 4GB DDR4 ram on a GDDR5 memory interface can let you play Fortnite at 60fps. From our list, the GTX 1050 Ti is the most wallet-friendly graphics card that hits up to 85fps at 1080p settings in Fortnite.
What graphics card can run Fortnite at 240fps?
To hit this much higher frame rate, it's better to opt for higher-end graphics cards in the Nvidia's RTX Series or AMD's RX 6000 Series. Also, you have to consider a higher refresh rate monitor to achieve this milestone. A 60Hz or 144Hz monitor can limit you down to 144fps even if you have a high-end graphics card like RTX 3080 or 3090.
Can you run Fortnite without a graphics card?
Although. integrated chips on a motherboard have become more powerful in recent years, still, a game like Fortnite is a bit difficult to play without a dedicated graphics card. Even if you manage to play Fortnite without a GPU, you cannot go over 720p settings. Even at the 720p settings, you will experience lags and delays in your gameplay.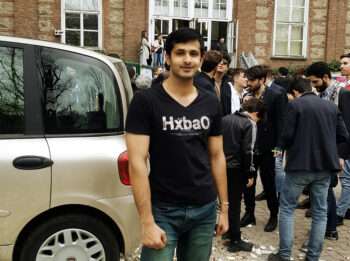 Hi, I'm the author and founder of this blog. I have more than 10 years of experience in the industry. Throughout my journey I've tested and reviewed hundreds of graphics card for custom PC builds. I believe my knowledge and experience will help you choose the card that really falls to your needs and budget.