GPU Republic is reader-supported. We follow a strict editorial process and put hours of research into testing, reviewing, analyzing & comparing the best products that we can find so you can make the most informed decisions. In the event you choose to buy something from one of the links on our site, we may make a commission at no extra cost to you. Whatever products we recommend, it's because we truly believe in them, not because of the small commission we may receive. Please don't buy any of these products unless you actually think that it would fit your needs.
Power consumption is the most deciding factor to consider whenever you buy a graphics card. Some modern-day GPUs require an additional 6-pin, 8-pin, or both (6+8-pin) power connectors to run properly. One of the best alternatives to this is to go with low TDP graphics cards. And when it comes to low power consumption, 75W TDP GPUs are considered an ideal choice.
With an energy-efficient GPU, you don't need a high-end power supply or 6/8-pin power connector. A 300W or 350W power supply would be enough to fuel these chips. But keep in mind one thing, low power consumption means less performance. You cannot expect a 75W TDP graphics card to perform like a 270W TDP chip. Yes, you can game on a low TDP GPU at 1080p resolution, but with few game titles.
Quick Shopping Tips
Make sure you keep in mind these things before buying a low TDP graphics card:
TDP
This is the most deciding factor to look for when choosing a low power consumption GPU. TDP stands for thermal design power and represents the maximum amount of heat that a GPU can use in Watts. This is a basic indicator that shows how much power a GPU might consume under full load. Make sure you opt for graphics cards that use less power and do not need an external power plug.
Core Frequency
The core clock frequency plays a great role in improving the performance of your graphics card. Some GPUs can be overclocked as well to hit higher frame rates in gaming. Make sure the base clock speed of your GPU is more than 1000 MHz.
Memory Size
More memory size means you can easily hit higher resolutions in games. Even graphics cards that use less power come up with higher VRAM for smooth performance in gaming. Also, higher VRAM gives you more edge in open-world games.
Quick Comparison of the 75 Watt TDP Graphics Cards
| | | | |
| --- | --- | --- | --- |
| GPU | Power Consumption | VRAM | Power Supply Requirement |
| ZOTAC Gaming GeForce GTX 1650 OC | 75W | 4GB GDDR5 | 300W |
| AMD Radeon RX 550 | 50W | 4GB GDDR5 | 350W |
| GeForce GT 1030 | 30W | 2GB GDDR5 | 280W |
| EVGA GT 710 | 19W | 2GB GDDR3 | 250W |
Comparison Table
List of the Best 75W TDP Graphics Cards
Here are the top considerations:
ZOTAC GAMING GeForce GTX 1650 OC – The Fastest 75W TDP Graphics Card
Key Specs:
Power Consumption: 75W | Video Memory: 4GB GDDR5 | Boost Clock: 1815 MHz | Memory Interface: 128-bit | Memory Bandwidth: 128 Gbps | PSU Recommended: 300W
Reasons to Buy:
Price to performance ratio
Compact dimensions, easily fits in tight PC cases
Can play latest titles at 1080p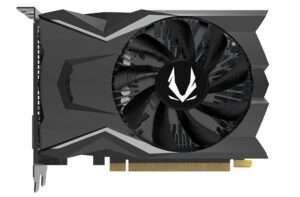 ---
The Zotac GTX 1650 holds the power of Nvidia's latest Turing architecture to deliver ideal performance in gaming. It's an entry-level card from Nvidia that lets you play famous titles like Fortnite, PUBG, Minecraft at medium-high resolution.
This graphics card consumes not more than 75W power even when it boosts a clock speed of 1815 MHz. Just to let you know these numbers of boost clock speed if found in mid-range and high-end graphics cards of today. So, if you are a fan of Esport games, then this is an ideal chip to play most Esports titles 1080p settings.
Right out of the box, you get your hands on 4GB GDDR5 memory built on a 128-bit interface. This much VRAM is enough to play most games at 1080p HD resolution. Also, 4GB of VRAM is the bare minimum for PC gaming as of today.
Apart from gaming, it's a wallet-friendly CPU for content creators who don't want to spend piles of cash on rendering their projects. If we compare the Zotac GTX 1650 OC with AMD RX 550, then GTX 1650 shows better performance than its AMD counterpart.
We managed to play a few games on this card at 1080p settings. Even under the full load, it consumes up to 72W power when gaming at a higher resolution. While playing Fortnite, PUBG, Battlefield V, and Forza Horizon 4, the frame rates were above 60fps most of the time at 1080p settings.
Overall, the Zotac GTX is a reliable graphics card that not only consumes less power but also comes at a lower price tag. On top of all, its factory is overclocked to deliver faster performance in gaming and content creation tasks.
AMD Radeon RX 550 – The Best AMD GPU with under 75W TDP
Key Specs:
Power Consumption: 50W | Video Memory: 4GB GDDR5 | Boost Clock: 1190 MHz | Memory Interface: 128-bit | Memory Bandwidth: 112 Gbps | PSU Recommended: 350W
Reasons to Buy:
Small form factor dimensions
Affordable price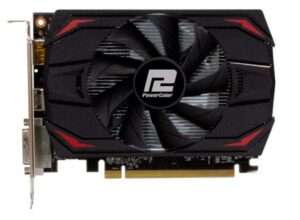 ---
Although the RX 550 is out of the sheets now, it still holds a spot whenever we talk about energy-efficient graphics cards. This version of RX 550 from Power Color has a maximum TDP of 50W. However, it packs some decent specs to keep the gaming juice flowing.
First of all, it is equipped with 4GB of GDDR5 memory. Also, this GPU can attain a clock speed up to 1190 MHz for improved performance. Keeping in mind the current requirements of modern games, this GPU can run most of them at low settings, if not at high.
It comes with x1 DVI, x1 HDMI, and x1 DisplayPort to stream your videos at 4K quality. But for gaming at 4K settings, this is a no-go option. Also, it comes with overclocking software as well to gain a few more fps in basic gaming.
It's a worth buying chip if you are upgrading from a GPU like the Nvidia GT 620. The RX 550 gives more bang for your buck when compared to its Nvidia equivalent. No doubt, this GPU shows up as an ideal choice for low-budget gaming rigs and where your PSU doesn't allow beefy graphics cards.
You can play most Esports games on this GPU at the lowest settings possible. Games like COD: Modern Warfare, Apex Legends, and Rainbow Six Seige can hit 60fps with RX 550 at 1080p low settings.
GeForce GT 1030 2GB GDDR5 – A GPU with 30W Power Consumption
Key Specs:
Power Consumption: 30W | Video Memory: 2GB GDDR5 | Boost Clock: 1468 MHz | Memory Interface: 128-bit | Memory Bandwidth: 48 Gbps | PSU Recommended: 280W
Reasons to Buy:
Consumes very low power from PSU
Low profile, ideal for small form factor builds
Super silent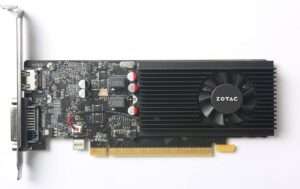 ---
Small factor builds come with a few limitations, one of which that is you cannot replace the low wattage power supply in them. The ultimate solution to this problem is buying a low-form-factor graphics card like the GeForce GT 1030 that is highly compatible with 240W PSUs.
The Zotac GT 1030 holds 2GB of GDDR5 memory on a 64-bit interface. It makes use of Nvidia's previous award-winning Pascal architecture to deliver decent performance in entry-level games. With lower-end specs on board, the GT 1030 consumers 30W power under peak load. Even if you have a 280W power supply in your system, it would be enough to run this graphics card.
Although its weak specs make it a no match for graphics cards like GTX 1050 ti or GTX 1650, it lets you play old titles at the lowest settings possible. Yes, you can game on GeForce GT 1030 chip, but don't expect it to perform like a 1080p capable graphics card.
Despite having entry-level specs, the GT 1030 lets you stream videos at 4K quality, thanks to DVI and HDMI video outputs. So if you want to upgrade from your integrated graphics to a dedicated GPU, this might be the right option to go with.
The Zotac GeForce GT 1030 is super silent and consumes less space on your motherboard. It's not perfect for playing AAA titles at higher frame rates, but for basic level gaming, the GT 1030 is absolutely worth it.
The GT 1030 is not the type of graphics card that is meant for hardcore gaming. But if you want to enjoy light games and do a bit of content creation work on your old PC, this is the right pick for you.
We managed to play GTA V on this graphics card at medium-high settings. The performance was not as good as we expected, but the game was playable.
EVGA GT 710 – Cheapest Single Profile GPU with Low Power Consumption
Key Specs:
Power Consumption: 19W | Video Memory: 2GB GDDR3 | Boost Clock: 954 MHz | Memory Interface: 64-bit | Memory Bandwidth: 14.4 Gbps | PSU Recommended: 250W
Reasons to Buy:
Max TDP of 19W
Cheaper
VGA, HDMI, and DVI-D port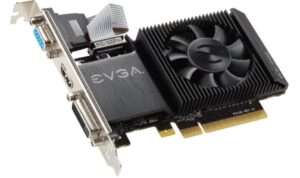 ---
If you have an old desktop with as low as a 180W power supply, then EVGA GT 710 is the right choice to have right now. This graphics card comes with a TDP (19W) lower than that of a GT 1030 GPU. If you need a cheaper upgrade over your integrated graphics card, the GT 710 stands as an ideal choice.
The GT 710 comes with 2GB of GDDR3 VRAM on a 64-bit interface. Now, there's no way you can play the AAA games on this card. Even if you move the game settings all the way to the lowest point, you will still struggle with lags and stuttering.
However, if it's about playing old titles like GTA San Andreas, Mafia 2, Crysis 1, Far Cry 2, then you can play almost every 10-year-old game on GT 710 at low-medium settings. The Nvidia GT 710 is definitely not your hardcore gaming GPU, but it gives you more ease with content creation workloads like editing projects in Photoshop, Corel Draw, etc.
Also, you can connect up to 3 monitors with this graphics card at the same time. This makes this GPU a great option for people who work at multiple display screens in their offices. Overall, the EVGA GT 710 gives the right value for the price you pay for it.
Moreover, it's fairly difficult to find graphics cards like these with a TDP lower than 20W. For just under $50, you get a GPU that can handle light gaming and content creation workload.
The Final Verdict
Considering all the specifications and performance of all the cards on our list, we've found the GTX 1650 to be the best graphics card with a 75W TDP rating. It not only consumes less power, but it also lets you play most games at 1080p settings.
However, if you don't have any interest in gaming, and all you need is a low power consumption graphics card, then go for either GT 1060 or GT 710. Both of these chips easily fit in small form factor PCs and consume 20W at peak load.
FAQs
Which GPU uses the least power?
Every year, new graphics cards are produced by Nvidia and AMD. Modern graphics cards use less power as compared to the previous models. So it's hard to tell which graphics card uses the least power. However, if we look at the list above, the EVGA GT 710 has a TDP of 19W, so this card is used almost very low power out of your PCIe x16 slot.
How many watts do GPU fans use?
A single GPU fan that can draw up to 2W of power. However, some high-quality GPU fans can draw up to 4W power under peak load. A 75W TDP graphics card with dual fans can draw anywhere between 4 to 7W power.
How much power does GTX 1650 use?
The GTX 1650 has a TDP of 75W.
Can PSU affect GPU performance?
Yes, if your PSU is less than what is needed to run a GPU, then it will negatively affect the performance of your graphics card. You may come up with frequent system crashes or BSOD screens if your PSU isn't sufficient enough to power your GPU. Therefore, it's better to upgrade your PSU or buy a GPU that uses less power.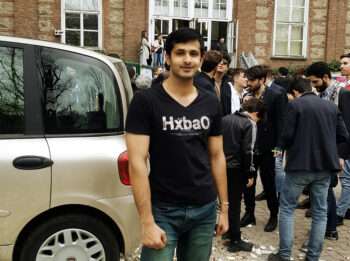 Hi, I'm the author and founder of this blog. I have more than 10 years of experience in the industry. Throughout my journey I've tested and reviewed hundreds of graphics card for custom PC builds. I believe my knowledge and experience will help you choose the card that really falls to your needs and budget.