Where the GPU drought had spiked the prices of most Nvidia GPUs in the market, there are some decent budget graphics cards from Nvidia worth buying at the moment. In the last two months, the inflated prices of GPUs have gone through a decline. And we believe that it won't take long for our favorite RTX-Series GPUs to fall back to their normal price.
At the time of writing this guide, we have managed to test some Nvidia graphics cards that offer the best value for the money. And if you are on a limited budget and confused to go between Nvidia or AMD, our vote will go for Nvidia. No doubt, high-end features like ray-tracing and DLSS 2.0 have made Nvidia sit back at the throne again.
Our best budget guide includes Nvidia GPUs from both GTX and RTX series. In this way, it would be easier for you to decide which graphics card falls under your budget and needs.
The List of the Best Budget Nvidia Graphics Cards
Here are some of the best Nvidia graphics to consider if you have a specific budget in mind.
GeForce RTX 3070 | The Overall Best Budget Nvidia GPU
Specifications:
GPU Cores: 5888
Memory: 8GB GDDR6
Boost Clock: 1,860 MHz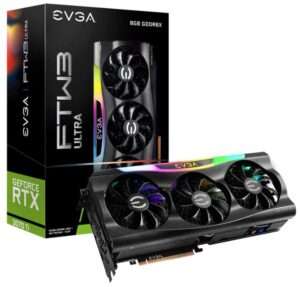 ---
If you really want a taste of Nvidia's flagship GPUs like the RTX 3080, then it wouldn't be a bad choice to go for the RTX 3070. Not only does the Nvidia RTX 3070 costs less but shows superior performance in gaming due to its ray-tracing and DLSS capabilities.
If you want to play games at 1080p or 1440p, this might be an ideal GPU to have right now. Playing AAA titles at 4K is possible with RTX 3070 but you will suffer from low frame rates, probably less than 60fps. Although this GPU comes with DLSS to fix lower frame rates, turning on DLSS & ray-tracing at the same time won't less you pass over 50 fps in most games.
The 8GB of VRAM on this GPU looks decent, but not future-proof. Where AMD is planning to equip its upcoming Navi 21 chips with 16GB of VRAM, having 8GB of GDDR6 memory on an Nvidia flagship GPU doesn't make any sense. Still, 8GB GDDR6 memory is more than enough to handle the demanding AAA present right now in the market.
If you need a faster Nvidia GPU at the lowest possible price, the RTX 3070 perfectly fits that equation. It comes with a boost clock speed up to 1860 MHz, ray-tracing, and DLSS to let you play games at 1440p resolution. And if this GPU is not out of stock, it's the perfect time to grab it.
GeForce RTX 3060 12GB | A Low Budget Yet Powerful Nvidia GPU
Specifications:
GPU Cores: 3840
Memory: 12GB GDDR6
Boost Clock: 1,777 MHz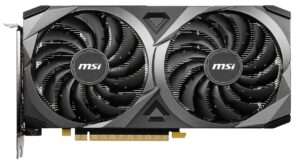 ---
The Nvidia RTX 3060 packs double the amount of VRAM when compared with the RTX 3070. But at the same time, there are some performance cuts made by Nvidia in this GPU. Although this GPU has more video memory and costs less, its downside is the 192-bit Interface. However, it shows performance similar to the RTX 3070 and RTX 2070.
If you love more video ram in a GPU, the RTX 3060 fulfills your desire with its 12GB GDDR6 memory. There are some benchmarks where this wallet-friendly GPU from Nvidia comes close to an RTX 3060 Ti. But if you can spend a little more cash, we suggest you go with an RTX 3060 Ti GPU.
If you remove ray-tracing and DLSS ability out of this GPU, then its performance would be similar to AMD's mid-high range GPUs like 5700 XT. And if we keep in mind the 3840 computing cores, then it's easily understandable why Nvidia has priced this GPU in the budget line.
Overall, the RTX 3060 packs more value when it comes to playing games at 1440p or editing videos at 4K resolution. It's one of the best-rated mainstream graphics cards from Nvidia with plenty of VRAM. Also, this is one of those GPUs that have less demand in mining, so there are more chances of availability in stock.
MSI GTX 1660 Super | Low Budget 1080p Nvidia Graphics Card
Specifications:
GPU Cores: 1408
Memory: 6GB GDDR6
Boost Clock: 1,785 MHz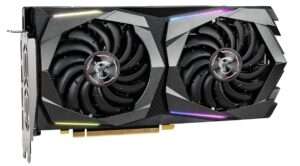 ---
If we move down into the low budget range of Nvidia, then the GTX 1660 Super stands out when it comes to 1080p tasks. The GTX 1660 Super that cost a few more bucks performs 10% faster than the original GTX 1660. This is one of those Nvidia GPUs that was priced under $250 before the great GPU shortage.
At the moment, this GPU costs over $500 which isn't a good deal for people on a super tight budget. And if you can hold back for a few more months, you might see the initial RTX series GPUs fall around this price range. But if you are eager to throw this much cash on the table, the GTX 1660 Super won't let you down at all.
This GPU gives you the same level of performance as a GTX 1070. On top of all, the Turing NVENC feature makes this graphics card a great deal for video streaming. It's one of the most energy-efficient GPUs with a TDP rating of 125W. So if you are building a low-budget gaming PC, going after this graphics card would keep you away from buying an expensive PSU.
If your intention is to buy an affordable Nvidia graphics card for 1080p tasks, the GTX 1660 Super might be your final bet.
ASUS GeForce GTX 1050 Ti | The Most Affordable Nvidia GPU
Specifications:
GPU Cores: 768
Memory: 4GB DDR5
Boost Clock: 1,290 MHz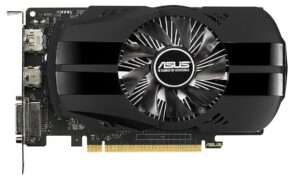 ---
The realm for the most affordable GPU often ends on older hardware. And whenever we dig down into the entry-level line-up from Nvidia, we come face to face with the GTX 1050 Ti. This one on our list is backed by ASUS with a boost clock speed of 1,290 MHz and 4GB DDR5 memory. The GTX 1050 Ti costs a bit more than the normal 1050 Ti but delivers 20% better performance overall.
Now we won't dig into the technical details of this graphics card, but it's worth talking about some general specs at this point. This graphics card comes with enough VRAM and clock speed to let you play games at 720p or even 1080p in some cases.
However, you cannot expect to play the most demanding titles at 1440pp or 4K settings. Especially, if we talk about the AAA titles of today, then those would be out of the reach on this GPU. Playing GTA V and other well-optimized PC games wouldn't be a problem at all, even at 1080p.
The Next deciding factor would be your CPU, if you have a high-end gaming CPU, then this graphics card can let you handle games at 1080p without any hassle. Keeping in mind the 128-bit Interface and 768 CUDA cores, we recommend this GPU for entry-level gaming PCs.
It's one of the best graphics cards from Nvidia that sits well under the tight budget range of every gamer. This low-budget Nvidia GPU will suffice for light game titles like Fortnite, CS-GO, and Lol. At last, it's a low-power consuming GPU, and it doesn't need any external power connector or high-end power supply unit to run.
How We Tested These Graphics Cards
In order to test the performance of these graphics cards, we opt for the best PC gaming rig. Obviously, to avoid any bottleneck we went for a Core i9 9900 CPU clocked at 3.6 GHz, Corsair 16GB 3200 MHz DDR4 Ram, Samsung 1TB SSD, and ASUS Z390 Motherboard.
We played some of the famous PC titles like Red Dead Redemption 2, GTA V, Resident Evil: Village, PUBG, Fortnite, and Overwatch on these Nvidia GPUs. One by one we scaled the resolution on each graphics card from 720p to 4K and recorded the average fps.
To play demanding games like RDR2, you need to go for a decent mid-range GPU like GTX 3060 or GTX 1660 Super. However, for scaling the resolution up to 4K, you need a more powerful GPU like RTX 3070 or 3080.
Recommendation
Finally, these were some of the most reliable Nvidia GPUs on budget. So, if we had to pick from one of these, then it was GTX 1660 Super. Not only the GTX 1660 Super is affordable but it also delivers excellent performance in 1080p gaming. If you have a high-end CPU, then it's better to stick to GTX 1660 to save money without compromising on performance.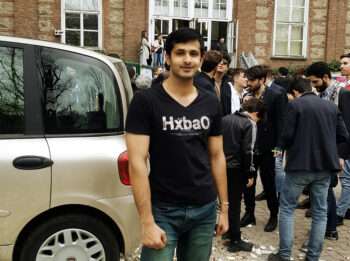 Hi, I'm the author and founder of this blog. I have more than 10 years of experience in the industry. Throughout my journey I've tested and reviewed hundreds of graphics card for custom PC builds. I believe my knowledge and experience will help you choose the card that really falls to your needs and budget.