Finally, there's a piece of good news from Germany where the prices of our top favorite Nvidia graphics cards are going down. Yes, the RTX 30-Series graphics cards that were out of the budget range are now cheaper. An article published by 3DCenter revealed that the prices of Nvidia's flagship cards are falling faster than the AMD's RX 6000 Series GPUs.
It is obvious that if the prices of higher-end cards have dipped towards MSRP, then we shall see the prices of mid-range to low-range graphics cards go down as well. From the start of August 2021, the prices of Nvidia GPUs have started to fall. And if we see the graph provided by 3DCenter, it is clear that the German market has gone through a huge downward trend in prices.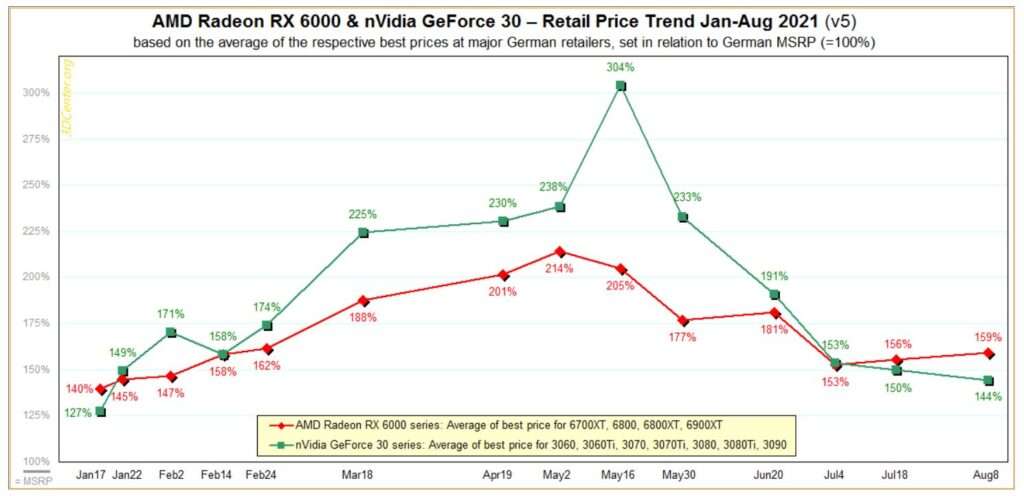 As you can see the prices of AMD RX 6000 Series and Nvidia's RTX 30-Series intersect each other in July 2021. And from that point, the RTX 30-Series continue down to the MSRP value whereas the RX 6000 series are getting more expensive.
Comparison of Prices from May to August
Where Nvidia GPUs were sold above 300% of their MSRP value in May 2021, the low demand for crypto mining has triggered the prices to go down. And now in August 2021, most high-end Nvidia GPUs are being sold at 150% of their MSRP value. So in just three months, the inflated prices have fallen down to half as more stock becomes available.
There isn't a solid clue behind the rising prices of AMD's RX 6000 series GPUs. But if we compare the prices of AMD GPUs in May with the current prices in August, they are still affordable now. Back in May 2021, the RX 6000 GPUs were sold over 200% of their MSRP value. And now in August, this percentage is around 160%.
What to Expect in Coming Months
Based on the data provided by 3DCenter, lower demand for mining GPUs, and our own experience, we could say that the prices of Nvidia will continue to fall for the new few months. And that would be the right time to get your hands on high-end and mid-range graphics cards.
AMD may continue to make their RX 6000 GPUs more expensive or they will stick with the current prices. Affordable prices of RTX 30-Series graphics cards mean that volume is improving day by day. Sooner or later, an average PC gamer could easily buy a high-end GPU without getting a loan.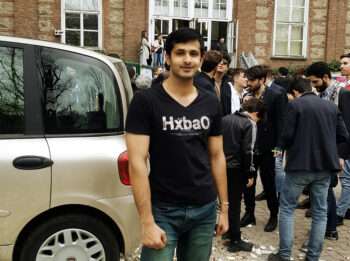 Hi, I'm the author and founder of this blog. I have more than 10 years of experience in the industry. Throughout my journey I've tested and reviewed hundreds of graphics card for custom PC builds. I believe my knowledge and experience will help you choose the card that really falls to your needs and budget.