The RTX 2060 is the doorway to Nvidia's next-generation chips packed with ray-tracing and DLSS. At the time this GPU stepped into the market, Nvidia was having a tough time facing AMD cards that were powerful and cheaper at that time. Not only AMD but also graphics cards from Nvidia's Pascal architecture, the GTX 1070 and GTX 1080 were also ruling the market at that time.
As soon as RTX 2060 hit the market, it changed the way the games were meant to be played. The Founder Edition of this card was affordable and it showed amazing performance in AAA titles of that time. But it's been a long time and we now have more powerful options as compared to the RTX 2060. So, is it still worth going after an RTX 2060 this year? Let's find out
The RTX 2060: An Overview
RTX 2060 is an entry-level graphics card in the RTX 2000 Series built on Turing 12nm architecture. The RTX 2060 is architecturally very similar to high-end graphics cards in the RTX 2000 family. In general, the RTX 2060 includes two Graphics Processing Clusters, and each of them holds six additional Texture Processing Clusters.
Furthermore, the card only has 1920 CUDA cores, 240 Tensor Cores, and 30 RT cores. Right out of the box, the RTX 2060 comes with a base clock speed of 1365 MHz. Also, the Founder Edition of RTX 2060 has a boost clock speed up to 1680 MHz. Within the Turing architecture, you'll find cheaper graphics cards like GTX 1660 and 1660 Super that come with more base and boost clock speed than the RTX 2060.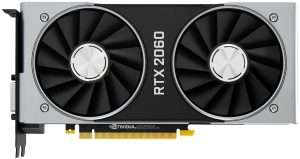 Many critics have pointed out that Nvidia's RTX 2060 is more expensive than the graphics cards it has replaced. Even with the lowest clock speeds, it was marketed by Nvidia solely on the basis of ray-tracing and DLSS.
Moving on, we are welcomed by the 6GB GDDR6 video memory built on a 192-bit interface. Although this much video memory would be enough to play most games at 1080p ultra settings, for 1440p or 4K gameplay, this may run out.
However, one feature that'll surely please you is the 336 GB/s memory bandwidth. Higher memory bandwidth makes this graphics card a reliable choice for photo and video editing. When compared to older generation graphics cards, the RTX 2060 gives you plenty of bandwidth in a go.
Further on, this graphics card has a maximum TDP of 160W and needs an x1 8-pin power connector as well. So, you'll need a 550W or higher wattage power supply to run this card. To some, it might look like a power-hungry graphics card, but it still is one of the lowest power consumers in the RTX family.
The RTX 2060's AMD equivalent, the RX 5700 XT consumes up to 225W from your PSU. Comparing these numbers, you'll find the RTX 2060 to be one of the energy-efficient graphics cards on the market.
Overall, the "RTX 2060 looks somewhat like a less powerful version of the RTX 2070". The Founder Edition of the RTX 2060 has similar footprints to that of an RTX 2070 graphics card. You'll find two axial fans on this graphics card even if you go with third-party manufacturers like ASUS, GIGABYTE, MSI, etc.
The RTX 2060 comes with the backplate covers which come in contact with the most thermally active components on the board, resulting in better heat transfer.
Finally, there's no SLI support on the RTX 2060. It looks like Nvidia has also figured out that SLI is no more needed by end consumers at all. Previously, the SLI was aggressively practised by hardcore gamers to get better results in games. But things have changed since then, game developers are no more interested in designing games that can benefit from multiple graphics cards at a single time.
Also, Nvidia had announced way back in 2021 that they would not support SLI profiles anymore.
Connectivity Options
We'll start from the 8-pin power connector, you'll find it on the back of the RTX 2060. One thing is for sure, there won't be any installation issues with other cables hanging inside your PC case.

In terms of I/Os, you'll find the advanced video options on this graphics card. It's more likely that you'll be playing games on higher refresh rate gaming monitor these days. So, the RTX 2060 offers you the most in-demand video output options in a single package.
There are two DisplayPort 1.4 ports, one HDMI 2.0b port, and one DVI-DL port. In addition to these, there's one USB Type-C port as a tradition to be found in most RTX 20-Series cards.
Testing the Performance of Nvidia RTX 2060
Like always, there are two ways to test a graphics card, either by benchmarking or by throwing heavy games on it. The real performance of a GPU can only be measured by playing heavy games at different resolutions or by passing a complex content creation workload through it.
GPU benchmarking software can be manipulated by developers to deliver expected results with certain graphics cards, which makes the data less reliable. Moreover, GPU benchmarking application can only give you an estimated performance you'll expect from your graphics card. So, we always recommend playing games to test how much juice a graphics card packs inside it.
Our testing system is built around the Intel Core i9 9900K (stock speed 3.6 GHz), MSI Z390 Motherboard, 32GB Corsair 3200 MHz RAM, Samsung EVO 1TB Storage, Cooler Master Hyper 212 CPU Cooler, and Cooler Master 750W Gold PSU.
To run our benchmark test, we opted for famous titles like the GTA V, Shadow of the Tomb Raider, Far Cry 5, Battlefield V, and The Witcher 3. For all these games, we opted for 1080p resolution as it's the highly preferred resolution by PC gamers.
| | | |
| --- | --- | --- |
| Game | Resolution | Avg Frame Rates |
| Far Cry V | 1080p | 85fps |
| GTA V | 1080p | 90fps |
| Shadow of the Tomb Raider | 1080p | 65fps |
| The Witcher 3 | 1080p | 85fps |
| Battlefield V | 1080p | 80fps |
Avg Frame Rates to Expect from RTX 2060 Graphics Card When Playing Different Games
Far Cry V
We started with our favourite game, the Far Cry 5. At 1080p ultra-high settings, the RTX 2060 was able to deliver an average of 85fps in Far Cry 5. But in the benchmarks carried out by Tomshardware, the GTX 1070 Ti outperformed the RTX 2060 by delivering a bit more frame rates in Far Cry 5 at 1080p preset.
There could be several reasons for this, but the more sensible one is the extra 2GB of VRAM on GTX 1070 Ti. 8GB is still considered to be the bare minimum for playing games at 1080p settings. But at least RTX 2060's 6GB of video memory can let you play most games at 1080p 60fps.
GTA V
At 1920×1080 resolution, the RTX 2060 was able to throw more than 90fps in GTA V on average. Now, the GTA V is one of those games that are still playable by some entry-level graphics card at decent frame rates. The RTX 2060, however, give you a bit more boost in frame rates as compared to cheaper cards.
However, we've found the GTX 1070 and GTX 1070 Ti delivering higher frame rates in GTA V than the RTX 2080 at 1080p quality. But as soon as you switch the settings to higher resolution, let's say 1440p, the RTX 2060 knocks out the GTX 1070 and 1070 Ti.
So, gaming on RTX 2060 at 1440p makes more sense in open-world games like the GTA V.
Shadow of the Tomb Raider
Shadow of the Tomb Raider is one of those games that test the limits of even powerful graphics cards at higher resolution. It's because it not only demands power from your GPU but your CPU as well. We opted for 1080p resolution to see how Nvidia RTX 2060 would react to the Shadow of the Tomb Raider.
On average, the RTX 2060 was able to deliver around 65fps on average with this game. The AMD's RX Vega 4 was able to deliver better frame rates than the RTX 2060. Maybe, the AMD cards are more optimized for the Shadow of the Tomb Raider.
Don't think about playing Shadow of the Tomb Raider at 1440p with this card. It would be playable but you won't be getting more than 45 to 50fps on average.
The Witcher 3
The Nvidia RTX 2060 delivers a nice punch of performance in the Witcher 3 at 1080p settings. It beats the graphics cards in its competition, the GTX 1070 Ti and RX 5700 XT. The RTX 2060 delivers above the 85fps frame rates in Witcher 3 on average.
Even at the 1440p resolution, the RTX 2060 easily surpasses the threshold of 60fps without any problem. So, it seems like the RTX 2060 is still capable of playing less intensive game titles at 1440p settings, if not all.
Battlefield V
First-person shooter games are graphically intensive, especially where there are a lot of explosions and objects showing up on the screen. And this is when it's hard to find out if a graphics card would keep up to our expectations or not.
The RTX 2060, however, is a game-changer when it comes to playing FPS games like Battlefield V on 1080 resolution. It is able to deliver more than 80fps at 1080p ultra settings in Battlefield V. However, the AMD's RX Vega 64 and 56 still outperform the RTX 2060 at this point.
At 1440p settings, switching from DirectX 11 to Direct 12 gives us a slight edge in gaming performance. The RTX 2060 scores above 65fps in Battlefield V at 1440p settings, however, it still sits below the Radeon RX Vega 64.
Conclusion – Is it Worth Buying Nvidia RTX 2060 This Year?
The Nvidia RTX 2060 is a solid 1080p performer in the market. It's still an affordable graphics card to get in the RTX 20-Series right now. With the prices of GPU started falling back to the MSRP level, try to get your hands on RTX 2060 if you can. It's almost 3 years old now, but it still proves to be a good contender in 1080p gaming.
Just don't go for the RTX 2060 if you are expecting ray-tracing performance out of it. With fewer RT cores, you cannot expect this video card to be a game-changer, especially when there is better option prevailing in the market like RTX 3080 and 3090. However, if you just want to experience what ray-tracing feels like, then RTX 2060 would be the cheapest doorway to it.
There's tough competition these days as we have more powerful and affordable graphics cards available on the market. At the moment, Nvidia is about to introduce its RTX 4000 Series GPUs, and this would definitely lower the prices of RTX 3000 Series chips. Entry-level cards in the RTX 3000 Series are built on Ampere architecture, pack more RT Cores and perform way better than RTX 2060 GPU.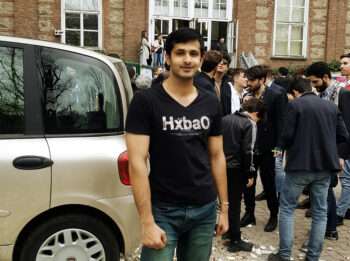 Hi, I'm the author and founder of this blog. I have more than 10 years of experience in the industry. Throughout my journey I've tested and reviewed hundreds of graphics card for custom PC builds. I believe my knowledge and experience will help you choose the card that really falls to your needs and budget.