GPU Republic is reader-supported. We follow a strict editorial process and put hours of research into testing, reviewing, analyzing & comparing the best products that we can find so you can make the most informed decisions. In the event you choose to buy something from one of the links on our site, we may make a commission at no extra cost to you. Whatever products we recommend, it's because we truly believe in them, not because of the small commission we may receive. Please don't buy any of these products unless you actually think that it would fit your needs.
Where Adobe is still relying on the CPU part of rendering videos, some part of it does allow you to involve your graphics card as well. Adobe has already mentioned the list of supported video cards for Adobe Premiere and Adobe After Effects to improve your rendering performance. Therefore, going for an expensive graphics card isn't going to make much of a difference.
Picking a graphics card for Adobe-based video editing applications depends upon the GPU-accelerated workload. If you are depending more on the CPU side of video editing, then it's better to stick with a low-budget GPU to get your job done. On other hand, if your video projects are purely graphical effects, then go for a high-end video card.
The Nvidia RTX 3000 Series video cards show ideal performance with Adobe Premiere Pro, Adobe After Effects, etc. Every Adobe-based video editing application works smoothly with the mid and high-range chips from Nvidia. Also, modern GPUs from Nvidia are backed with NVENC, a feature that shifts load from the CPU and shifts it to the GPU for faster rendering and export time.
Moreover, Nvidia cards are more reliable as compared to ones from AMD when it comes to editing video in After Effects. From both the hardware and driver perspective, Nvidia GPUs show up as the first choice of most video editors. Until Adobe shows a green flag for AMD chips, it's better to stick with Nvidia for faster performance.
Before We Start
A high-end graphics card swaps more space in your computer. Therefore, you have to make sure there's plenty enough space inside your PC case to install your new card
Some aftermarket video cards need an external 6 or 8-pin power connector from your power supply. Therefore, make sure you have a high-quality power supply in your computer to run your new card.
List of the Best Graphics Cards for Adobe Premiere and After Effects
Here are some of the top picks to consider:
NVIDIA GeForce RTX 3060 Ti Founders Edition – Best Overall Video Card for Adobe Premiere
Key Specs:
Cuda Cores: 4864 | Video Memory: 8GB GDDR6 | Boost Clock: 1665 MHz | Memory Bus: 256-bit | Memory Clock: 14 Gbps | PSU Required: 550W Video Output: 1x HDMI and 3x DisplayPort
Reasons to Buy:
Great deal for 4K video editing
Faster rendering performance
Ray-tracing
Silent operation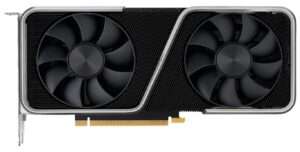 ---
The RTX 3060 Ti shows great improvement over the RTX 2080 Super in video editing. Now this GPU has enough Cuda cores and memory clock speed for faster video rendering. If you are a YouTube content creator who often creates videos at 4K quality, this chip is for you.
We created a few 4K video clips in Adobe After Effects for a YouTube channel. It took around 8.5 minutes to export the clip to our desktop. The RTX 3060 Ti Founders Edition cuts the export time down to 3% when compared to the RTX 2000 Series cards.
It's a great deal for content creators who put a lot of GPU-accelerated work into their videos. As you know that Adobe After Effects is all about adding high-end visual effects to your videos, this can be easily done with the RTX 3060 Ti.
The two powerful fans on the side work silently to cool down the card under a heavy workload. Especially, when you are pushing to higher resolutions, there tends to be more load on your GPU which raises the overall temperature of the chip. However, with the RTX 3060 Ti, you really don't need to worry about your card being fried up.
All in all, the 3060 Ti Founders Edition is a great improvement over the previous chips in its family. It lets you render your videos in Adobe Premiere or After Effects at 4K quality. And with the power of ray-tracing, you can add more life-like effects to your videos.
The only thing that might keep some people away from this GPU is the higher price. But this inflated price is the effect of the great GPU shortage that happened the last year. Hopefully, the prices of RTX Series GPUs will decline back towards their MSRP level this year around Christmas. And that that would be the perfect time to grab RTX 3060 Ti Founders Edition.
GeForce RTX 3090 Founders Edition – Highly Recommended GPU for Adobe-Based Video Editing Applications
Key Specs:
Cuda Cores: 10,496 | Video Memory: 24GB GDDR6 | Boost Clock: 1695 MHz | Memory Bus: 384-bit | Memory Clock: 19.5 Gbps | PSU Required: 850W Video Output: 1x HDMI and 3x DisplayPort
Reasons to Buy:
Excellent Price to Performance Ratio
6K Video Editing
Added support for AV1 decode
Ray-tracing & DLSS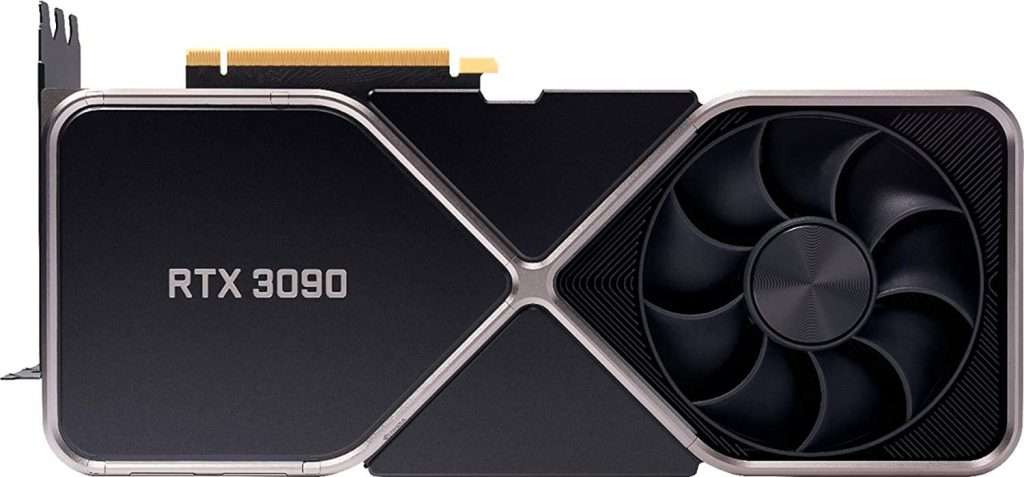 ---
If you're looking for a high-quality card, this is your baby. With this video card, you can easily edit videos at 6K quality on Adobe After Effect or Premiere Pro.
We compared the performance of the RTX 3090 with the RTX 2080 Ti in video editing and the 3090 really performed better.
This graphics card packs more Cuda cores as compared to the RTX 3060 Ti for faster computing. There's a slight boost in the clock speed as well, other than that everything on this video card is similar to that of an RTX 3060 Ti FE. Even if you look at the design of both cards, it would be hard to distinguish them on the basis of just design. However, the RTX 3090 FE takes lead over the RTX 3060 Ti with its more cores and clock speed.
Also, the RTX 3090 FE is more energy-efficient than cards in the RTX 3000 family. Though it needs over 600W of PSU to run, it hardly uses any extra power if you are browsing the internet or dealing with light tasks. The fans on this video card stay idle if there isn't a sufficient amount of workload on the chip. This also makes it one of the most silent graphics cards to install on your video editing PC.
PowerColor AMD Radeon RX 6800 XT – A High End Video Card for Adobe After Effects
Key Specs:
Stream Processors: 4608 | Video Memory: 16GB GDDR6 | Boost Clock: 2250 MHz | Memory Bus: 256-bit | Memory Clock: 16 Gbps | PSU Required: 700W Video Output: 1x HDMI, x1 USB Type-C, and 2x DisplayPort
Reasons to Buy:
Faster & cheaper than the most RTX 3000 cards
Higher boost clock speed and memory
Factory overclocked
8K video editing
Improved rendering performance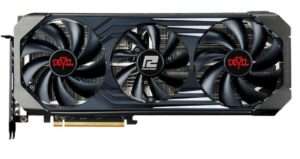 ---
The only AMD graphics card that can give a tough time to the RTX 2000 & 3000 chips is the RX 6800 XT. Packed with 16GB of GDDR6 memory and a clock speed of over 2000 MHz right out of the box, this video card is a beast when it comes to rendering videos faster in Adobe.
The RX 6800 XT shows over 40% performance gains over the previous Radeon Vega and RX 5000 cards as reported by the Pugetsystems. In terms of video export time, this graphics card beats the RTX 2080 Ti and the RTX 2070. However, it trails behind the RTX 3070 & RTX 3080 when editing videos on Adobe Premiere Pro workstations.
RX 6800 XT comes with 3 powerful fans for excellent heat dissipation. Even under a heavy workload, it is hard to listen to the fans spinning at full speed. Still, if you are working on more GPU-accelerated workloads and need faster H.264 video exports, then Nvidia continues to be a reliable option.
The only edge you may get with the RX 6800 XT is editing videos at 8K as it holds 16GB GDDR6 memory. By paying less, you can get an RTX 3080 10GB video card that also is capable of creating content at 8K quality.
EVGA RTX 3080 – Most Powerful Video Editing Card for Adobe Users
Cuda Cores: 8704 | Video Memory: 10GB GDDR6 | Boost Clock: 1785 MHz | Memory Bus: 320-bit | Memory Clock: 19 Gbps | PSU Required: 700W Video Output: 2x HDMI and 3x DisplayPort
Reasons to Buy:
Extreme performance
High-end ray-tracing and DLSS
Super silent operation
Short video export time
8K video editing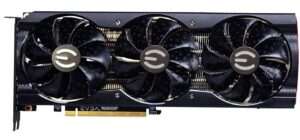 ---
If you are an average video editor, you won't feel a lot of difference between the performance of an RTX 3080 and RTX 3070 FE. But if you are a professional video editor who relies on GPU-accelerated effects, then you would notice improvement gains in an RTX 3080 as compared to other cards in the RTX family.
The RTX 3080 is so far the fastest GPU after RTX 3090 we've ever tested with Adobe Premiere Pro and After Effects. It holds Nvidia's latest features like ray-tracing and DLSS 2.0 for next-gen performance. The RTX 3080 shows 10 to 20% performance gains over the RTX 3070 Ti and RTX 3060 while exporting files in Premiere Pro.
This packs twice the amount of CUDA cores than other entry-level GPUs in the RTX family. Even the AMD RX 6800 XT holds more VRAM and clock speed, it struggles to override the power of RTX 3080 in video editing. Also, this is an affordable GPU for professional video editors who cannot afford a high-end GPU like the RTX 3090.
Obviously, this card needs you to have a high-end 700W power supply on your workstation. The tremendous amount of power generates more heat, so to take care of that you will find triple iCX3 Cooling fans on this card. The RTX 3080 is 15 Degrees cooler than the previous generation Nvidia cards under high workload.
If you want to make your Adobe Premiere workstation future-proof for video editing, then we highly suggest you go with RTX 3080.
Gigabyte GeForce GTX 1660 – A Budget-Friendly Option for Adobe Premiere Workstations
Key Specs:
Cuda Cores: 1408 | Video Memory: 6GB GDDR5 | Boost Clock: 1830 MHz | Memory Bus: 192-bit | Memory Clock: 8 Gbps | PSU Required: 350W Video Output: 1x HDMI and 3x DisplayPort
Reasons to Buy:
Low cost
Lower power consumption
Ideal for those learning video editing in Adobe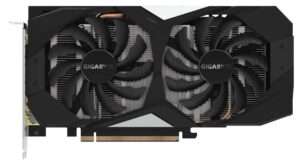 ---
You really don't need to put a hole in your wallet to edit videos on Premiere Pro or After Effects. The GTX 1660 is a mid-range chip to improve your video editing skills on Adobe applications. If you really don't care about the video export times then GTX 1660 is the most budget-friendly option to have on your PC.
With 6GB GDDR5 of VRAM and a boost clock speed of 1805 MHz, the GTX 1660 can easily let you render videos at 1440p in Adobe Premiere Pro. Unlike the cards in the RTX-Series that need more power to deliver the most, the GTX 1660 consumes less power without compromising on the performance.
It's a low TDP card which means it doesn't need a high-rated power supply to run properly. You can add up to 4 monitors with this graphics card in your creator studio. There's very little difference in the price of GTX 1660 and 1660 Super.
If you can push your budget a little higher, we would recommend you to go with GTX 1660 Super for shorter rendering times in Adobe-based photo and video editing programs. Both the GTX 1660 and 1660 Super video cards are recommended by Adobe for flawless video editing on Premiere Pro.
Video Card Requirement for Premiere Pro & After Effects
| | | |
| --- | --- | --- |
| | Minimum | Recommended |
| GPU | 2GB VRAM | 4GB VRAM or Higher |
| Monitor Resolution | 1280 x 800 | 1920 x 1080 or Higher |
As mentioned by Adobe
Benchmark Score in Adobe Premiere Pro (Video Export Score)
By looking at the benchmark scores in the graph below, it is clear that the RTX 3080 sits at the top of RTX 3090 in the video export score. There's a minor difference in the performance of both of these cards. So, if it's just about choosing the best video card for Adobe Premiere Pro or After Effects, then it's worth going for the RTX 3080 from the list. You can edit videos at 4K and even 8K with this card while staying under an affordable budget range.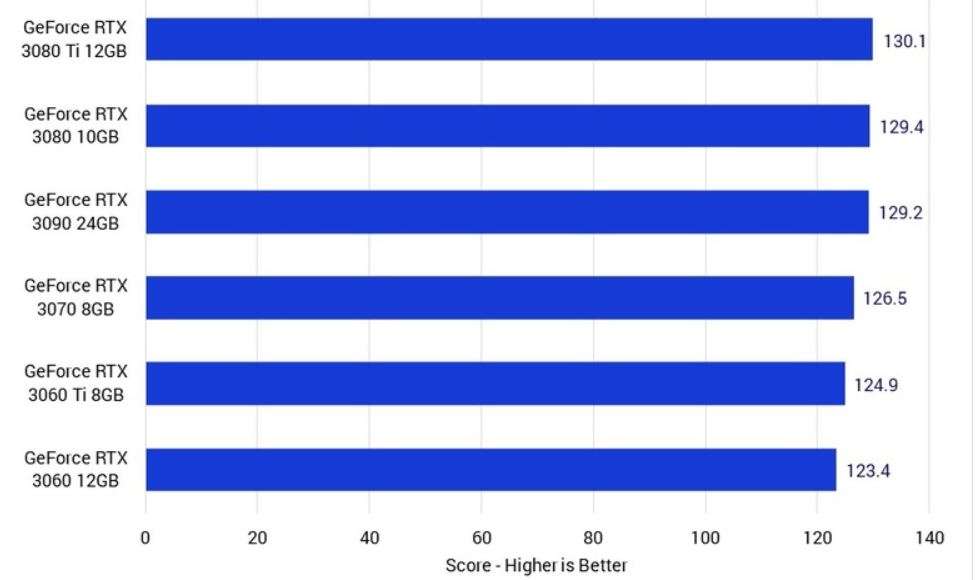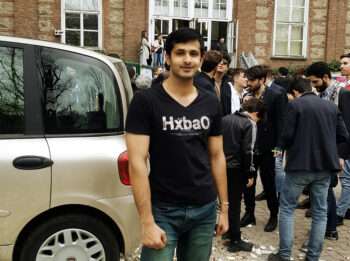 Hi, I'm the author and founder of this blog. I have more than 10 years of experience in the industry. Throughout my journey I've tested and reviewed hundreds of graphics card for custom PC builds. I believe my knowledge and experience will help you choose the card that really falls to your needs and budget.