GPUs as compared to CPUs have a lot of power to deal with large chunks of data. Also, graphics cards are great at handling repetitive processes and manipulation. This is why graphics cards are more involved in mining cryptocurrencies as compared to CPUs.
In crypto mining, a GPU solves complex mathematical problems by hashing the set of data with different values over and over again. Once the problem is solved, the miner is rewarded in the form of blocks. Every graphics card has a unique hash rate to solve complex mathematical problems.
Now there are a lot of graphics cards in the market that is considered ideal for mining cryptocurrencies. So, we have curated a list of the top-ranking GPUs for mining crypto along with the reasons to buy them.
List of the Top-Ranking Graphics Card For Mining Any Cryptocurrency
Here are some of most of the effective GPUs to consider:
MSI GeForce RTX 2070 – The Most Effective GPU for Miners
Reasons to Consider
An ideal GPU for mining cryptocurrencies like Monero, dogecoin, Ethereum, etc. The RTX 2070 comes with twin fans for efficient cooling. It's an RTX Series GPU with a higher hash rate and more CUDA cores for faster computing.
Specifications
8GB GDDR6 Video Memory
1620 MHz Memory Clock Speed
256-Bit Memory Interface
44MH/s Expected Hash Rate
448.0 GB/s Memory Bandwidth
225W Power Consumption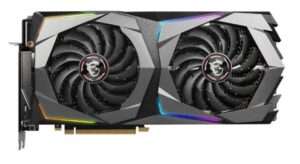 ---
If you are into Ethereum mining then you already know that mining ETH needs a lot of memory bandwidth. And this is where the RTX 20 Series GPUs serve the best. With a Hash Rate of 44MH/s, the RTX 2070 is the second cheapest card after the RTX 2060.
The MSI RTX 2070 comes with a core clock speed of 1620 MHz and 448.0 GB/s memory bandwidth for faster mining. The Zero Frozr technology and dual fans work effortlessly to lower the temperature of the chip throughout the mining process.
If you are into ETH mining, then the RTX 2070 may earn you over $80 per month using the Ethash algorithm. Even though the power consumption of this graphics card at peak load cannot be considered optimal, the higher hash rate can cover your mining expenses without any problem.
Nvidia GTX 1660 TI/SUPER – Best Value GPU for Low Budget Mining Rigs
Reasons to Consider
The Nvidia GTX 1660 TI and Super both are decent choices to set up in a budget-friendly mining build. Even on a lower price point, the GTX 1660 packs a higher clock speed and a modest Hash Rate of 25 MH/s, enough to mine famous meme coins.
Specifications
6GB GDDR6 Video Memory
Memory Clock Speed 1750 MHz
192-Bit Interface
25 MH/s Expected Hash Rate
336.0 GB/s Memory Bandwidth
129W Power Consumption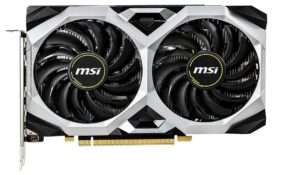 ---
The older GTX 1600 Series GPUs sit on the second spot on our list. You can go between GTX 1660 Ti or Super and expect the same similar performance in mining. It is because both of them can let you touch up to 25 MH/s despite one of them having slightly higher specs than the other.
The GTX 1660 Ti and Super both are the least expensive GPUs to consider for crypto mining. Also, the GTX 1600 series cards consume less power to save your mining expenses.
For example, if you are planning to mine Ethereum at a hash rate of 25 MH/s, the GTX 1600 cards would only consume around 75 watts of power.
You can earn over $2 daily if you use GTX 1600 graphics cards in your mining rig. The prices of GTX 1600 series cards are fluctuating constantly on Amazon & eBay. It's worth buying five or six GTX 1600 GPUs when the prices are at the lowest.
EVGA GeForce RTX 3080 Ti – A Powerful GPU for Bitcoin & Ethereum Mining
Reasons to Consider
The RTX 3080 Ti is just as fast as the RTX 3090. Even at a higher price tag, it packs great value in cryptocurrency mining. It's the most preferable GPU for mining bitcoin and Ethereum with a hash rate of 57 MH/s.
Specifications
10GB GDDR6X Video Memory
1188 MHz Memory Clock Speed
320-Bit Interface
85 MH/s Expected Memory Interface
760.3 GB/s Memory Bandwidth
260W Power Consumption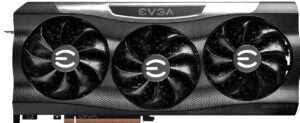 ---
First of all, it's hard to find an RTX 3080 Ti, and if you manage to find one, you can easily break the 50 MH/s in mining. No doubt, the Ampere Architecture graphics cards hold more power when it comes to mining famous cryptocurrencies like Bitcoin & Ethereum.
Some benchmarks over the internet revealed that The RTX 3080 Ti even manages to touch 75 MH/s in Dagger Hashimoto Alogarithm. With the RTX 3080, Ti comes the power to overclock up to 1710 MHz. And if you manage to reach that speed, you can scale your crypto mining operation over 90 MH/s.
If we compare that with RTX 2070 and GTX 1660 Ti, the RTX 3080 Ti packs double the amount of power in crypto mining. However, even if you don't overclock this GPU, it still shows great performance at 1410 MHz base clock speed. And this is because it has a higher memory bandwidth of 760.3 GB/s, which is a great factor to consider if you are an Ethereum miner.
The EVGA RTX 3080 Ti comes with three powerful fans for ideal cooling. Even if you overclock the GPU, you can hardly hear any noise. Thanks to the 9 iCX3 thermal sensors and fans for keeping the chip cool and silent even at peak loads.
The only thing that you need to keep in mind is the power. The RTX 3080 Ti consumes more power if you don't overclock it. So make sure you have an efficient power supply to meet the power needs of this GPU.
Keeping in view the expected 85 MH/s hash rate, you can expect the RTX 3080 Ti to earn over $150 using the Ethash algorithm. Yes, it could be more if you go after smaller meme coins that require a lower hash rate.
XFX Radeon RX 580 GTS XXX Edition – Most Reliable AMD GPU to Mine Crypto
Reasons to Consider
The RTX 580 GTs XXX Edition is one of the best Polaris Architecture AMD cards for mining cryptocurrency. Also, it's one of the wallet-friendly graphics cards with a 28 MH/s hash rate and dual fans for great cooling.
Specifications
8GB GDDR5 Video Memory
2000 MHz Memory Clock Speed
256-bit Interface
27 MH/s Expected Hash Rate
256.0 GB/s Memory Bandwidth
185W Power Consumption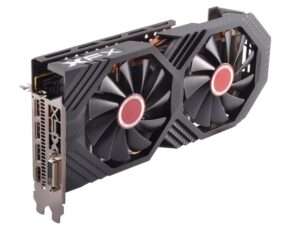 ---
Nearly all the GPUs in the Polaris Architecture of AMD having an 8GB of GDDR5 memory yield similar performance in mining. There isn't a huge difference if you go for a normal RX 580 or an RX 580 GTS XXX Edition. The only that might have a little bit of influence would be the memory clock speed. If your RX 580 comes overclocked, it might boost the MH/s of your GPU.
The RX 580 GTS XXX Edition comes with an excellent memory clock speed of 2000 MHz. Now, this is a great factor to consider if you looking to achieve higher MH/s in a GPU without breaking your bank account.
With an expected Hash Rate of up to 27 MH/s, the RX 580 GTS XXX Edition lets you make a daily income of $3. Just make sure you have a good power supply and do not have a 4GB version of RX 580.
Nvidia RTX 2070 SUPER – The Best a Miner Can Get
Reasons to Consider
The RTX 2070 delivers exceptional value and is ranked among the list of top graphics cards in the world for cryptocurrency mining. It's one of the cost-effective graphics cards to solve the complex equations of the crypto world.
Specifications
8GB GDDR6 Video Memory
1750 MHz Memory Clock Speed
256-Bit Interface
37 MH/s Expected Hash Rate
448.0 GB/s Memory Bandwidth
250W Power Consumption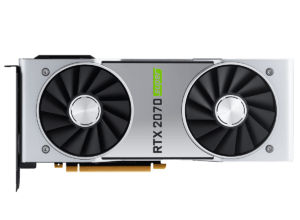 ---
The Nvidia RTX 2070 Super shows a bit more improved performance over the RTX 2070. If we compare the specs of both GPUs side by side, then the only difference is in the memory clock speed and power consumption. The RTX 2070 Super shows a slight improvement in speed while consuming around 250W of power.
Also, there isn't a huge difference in the prices of RTX 2070 Super and the normal RTX 2070. Spending a few more dollars will buy you a GPU that can mine at 37 MH/s, a little bit more than that of a normal RTX 2070.
Using the Ethash algorithm, you can earn around $90 a month if you are into Ethereum mining.
NVIDIA GeForce RTX 3090 – Ultimate Choice for GPU Mining
Reasons to Consider
No doubt, the RTX 3090 is one of the fastest mining GPUs in the industry right now. It's one of the top-ranking Nvidia Ampere GPUs that has no parallel in reaching the higher hash rates. Yes, it's about breaking over 100 MH/s.
Specifications
1219 MHz Memory Clock Speed
24GB GDDR6X Video Memory
384-Bit Interface
103 MH/s Expected Hash Rate
936 Gbps Memory Bandwidth
350W Power Consumption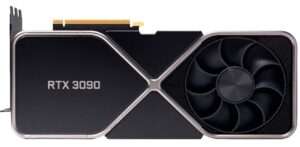 ---
No matter if you are mining Litecoin or Bitcoin, you can expect high returns if you have an RTX 3090 installed in your mining rig. This beast has no parallel, even the most advanced AMD cards are a not match to Nvidia's flagship GPU, the RTX 3090.
The shortage of RTX 3090 has significantly proved its importance in the world of cryptocurrency mining. Also, the inflated prices have kept this GPU out of the range of right budget miners. And still, it's way out of the reach of many miners due to its limited availability in the stock.
Technically, it's a graphics card meant for delivering ideal performance in gaming. However, the higher hash rate (103 MH/s) has made this graphics card stick at the top of the GPU mining checklist.
The RTX 3090 is no doubt a powerful graphics card with 24GB GDDRX memory and a high memory bandwidth of 936.2 GB/s. It holds around 10,496 CUDA cores to solve the most complex equations in a shorter time.
This graphics card manages to make over $200 per month using the Ethash algorithm. But it consumes a lot of power which might increase your power expense. Unless you have a budget to add multiple RTX 3090 graphics cards in your mining rig, we suggest you stay away from it if you are a low-budget miner.
Top Ranking Graphics Cards Benchmarked & Break-Even Table
We have tested these GPUs with a Core i9 9900K, MSI Z490 Motherboard, 32GB DDR4 (Clocked at 3600 MHz), and Thermaltake 850W PSU.
Moreover, we have chosen the graphics cards that consume less power and go for higher hash rates. In Europe, the costs for electricity are around 0.07 cents per kWh which are relatively less than that of the United States. The table below shows the break-even period (time to recover the actual cost) of each graphics card on the list.
| | | | | |
| --- | --- | --- | --- | --- |
| Graphics Card Used in Mining | Avg Performance in Mining | Mining Power | Daily Earning (in $) | Time to Break-Even (in Days) |
| GeForce RTX 2070 | 40 | 125 | $2 | 290 |
| GTX 1660 Ti / Super | 29 | 74 | $1.71 | 259 |
| RTX 3080 Ti | 61 | 271 | $3 | 610 |
| Radeon RX 580 GTS XXX Edition | 35 | 135 | $1.60 | 250 |
| RTX 2070 Super | 42 | 133 | $2.20 | 280 |
| GeForce RTX 3090 | 114 | 290 | $6.40 | 390 |
Important Factors to Consider When Buying Crypto Mining GPUs
Before making any purchase, here are crucial facts to look for:
Hash Rate
You might refer to this as the ability of a graphics card to solve a complex problem. It also determines how much time a graphics card can take to solve a specific equation. Graphics cars with higher hash rates can solve the problems quickly as compared to the GPUs with lower hash rates.
Bus Interface
For crypto mining, it's important to go for a GPU that has 256-bit bus width. Graphics cards with more bus width take less time to compute.
Video Memory
Make sure you choose a graphics card that has more video memory. Especially, if you are into Ethereum mining, we highly recommend you to go for 8GB graphics cards. For mining, smaller cryptocurrencies like Cardano, Monero, Zcash, and Dodge, a 4GB GPU could be enough.
Power-Consumption
Obviously, you don't want to end up buying a graphics card that costs you more expenses at the end of the day. Nvidia GPUs are expensive, but they are energy-efficient as compared to AMD GPUs. The AMD cards on other hand as less expensive, but they draw more power. So for mining, AMD isn't the right unless you are low on budget.
Not every GPU out there is designed for crypto mining. Some older graphics cards consume a lot of power, costing more expenses than profit. So, it is important to keep in mind the TDP rating of a graphics card and the cost of power (kWh) in your area.
Bottom Line & Verdict
So, we hope you have made your mind to choose from the list of top-ranking graphics cards for cryptocurrency mining. Now comes the hard part, and that is to pick the right one from the rest.
To be honest, you should go for the graphics card that you think falls under your budget and needs. We know that the RTX 3090 packs enormous power in mining, but that doesn't mean that you should spend all your money buying that power-hungry GPU. You have to keep in mind several factors before choosing any one of these cards.
Let's say if we had to choose from this list, then it would be RTX 2070 Super or an RTX 3080 Ti. The RTX 2070 Super lies on a sweet spot between price and performance. This GPU doesn't need too much power to run and is perfect for mining Ethereum, Zcash, Monero, Cardano, and many famous cryptocurrencies.
At the end of the month, you are left with a decent earning figure after subtracting the cost of energy. The RTX 3080 Ti however is an expensive choice but consumes less power as compared to RTX 3090. And when it comes to hash rates, this GPU somehow lets you close enough to what an RTX 3090 offers at a higher price.
The choice is all yours, let us know in the comments section if you have any good suggestions.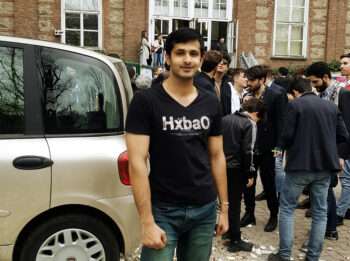 Hi, I'm the author and founder of this blog. I have more than 10 years of experience in the industry. Throughout my journey I've tested and reviewed hundreds of graphics card for custom PC builds. I believe my knowledge and experience will help you choose the card that really falls to your needs and budget.