The Nvidia RTX 3050 Ti will now be the mainstream GPU for most gaming laptops out there. Previously, this legacy was carried out by either the GTX 1660 or 1660 Ti. By introducing the RTX 3050 Ti laptop graphics card, Nvidia looks more concerned about budget gamers who want to taste ray-tracing and DLSS. The RTX 3050 Ti is less powerful than other RTX 3000 Series GPUs, but it's more affordable as well.
Furthermore, the laptops that are packed with RTX 3050 or 3050 Ti are priced well under $1000. Many people are confused about whether is it worth buying a laptop with RTX 3050 Ti or not. So, we will compare the performance of RTX 3050 Ti with other affordable chips in the market to give you a better idea.
But before we get into details, here's my honest advice to you. If you are low on cash and need a laptop with a recent-generation graphics card like RTX 3050 Ti that can give you a taste of ray-tracing and DLSS in less demanding games, then it's worth your money.
However, if you are a professional gamer, then you should not expect the RTX 3050 Ti to perform like other RTX 3000 Series graphics cards in modern game titles. To me, an RTX 3060 performs way better than an RTX 3050 Ti in most games that I've played.
Now the Detailed Part!!!
Specs of the RTX 3050 Ti
The laptop version of RTX 3050 Ti is based on a GA107 chip and has 2560 CUDA cores. There are 20 Ray-Tracing and 80 Tensor Cores on this GPU. With few Ray-Tracing cores, you cannot expect this GPU to be as great in many games, however, there are enough Tensor cores to let you take advantage of DLSS in some games.
With a 4GB GDDR6 memory on a 128-bit interface, the RTX 3050 Ti looks a bit outdated when compared with other members of its family that pack more VRAM. Even the entry-level chip in the RTX 3000 family, the RTX 3060 has more VRAM than this laptop-based graphics card.
The RTX 3050 Ti comes with a base clock speed of 1463 MHz and a boost clock speed of 1695 MHz (80W Power Consumption).
Testing the Performance of the RTX 3050 Ti in Gaming
We bought HP Victus 16 that comes with RTX 3050 Ti, Core i5-11400H CPU, and 32GB DDR4 Ram. Although this is a budget-oriented laptop, it's good enough for us to test the performance of RTX 3050 ti in modern games.
1080p Settings
To see how much juice an RTX 3050 Ti has got, we played a few games at 1080p settings (Ray-Tracing off). We took our start from Resident Evil: Village maxed out at 1080p. In such a demanding game, the average frame rates were around 45-55 most of the time. But as soon as you turn on the ray-tracing, the average fps drop below 35.
But if you need want to play most modern games at Max settings at 1080p, and you don't care about ray-tracing, then RTX 3050 Ti gives you the most bang for your buck.
With the laptop version of RTX 3050 Ti, you cannot expect a high-end performance in gaming. Till the desktop version of this GPU arrives, we cannot if this GPU would be the right fit for low-budget gaming PCs.
In most games, the RTX 3050 Ti performs way better than the RTX 2060 (laptop-version). For example, while playing Borderlands 2 at High Settings, the RTX 3050 Ti lets you hit 15% more frame rates than the RTX 2060.
In Red Dead Redemption 2, the RTX 3050 Ti is a bit faster than the older GTX 1660 Ti chip. However, the Nvidia RTX 3050 Ti performs still less than that of an RTX 3060 in RDR2 at 1080p settings.
Verdict in Gaming
Compared to a GTX 1660 Ti-based laptop, we can say that there is a slight gain in performance especially when you are playing demanding titles like Resident Evil: Village or Metro Exodus. For 1080p gaming, this is one of the best graphics cards that you get for the money. But for 1440p gaming, it's a no-go GPU. This might be due to the fact that it has less VRAM (4GB) which isn't sufficient enough to handle higher resolution.
However, the reason people are going after RTX 3050 Ti is because of ray-tracing and DLSS. With ray-tracing on, you will suffer from lower frame rates in most advanced game titles. So, if you are buying this GPU for just the sake of enhancing your game visuals through ray-tracing, it's a no-go GPU.
The VRAM limitation of RTX 3050 Ti makes it a disastrous choice for 1440p gaming or even 1080p Ultra-High settings in some games. Even the older GTX 1660 Ti with 6GB of VRAM performs way better than this GPU in high-resolution gaming.
All in all, the RTX 3050 Ti is a decent card for gaming at 1080p resolution with the in-game settings not too high. But as you scale up the resolution to 1440p, the frame rates fall below 60 fps in most game titles. So, it's not the type of card that you can expect to game at 1440p or 4K. But on other hand, the RTX 3050 Ti comes with second-generation ray-tracing and DLSS 2.0 making it a great deal for gaming geeks.
DLSS 2.0 is an amazing feature when it comes to upscaling the frame rates in demanding PC games. And in our opinion, this is the only reason we would suggest going with the RTX 3050 Ti instead of any other entry-level card. After all, it's the performance that matters the most when you are playing demanding titles, not the reflections and shadows.
Also Read About: Is it Worth Buying an RTX Series GPU?
Is the RTX 3050 Ti good for video editing?
Most of the graphics cards in the Nvidia Ampere Series use NVENC video encoders for H.264 and H.265 format. This is an advanced feature that takes off the load from your CPU and shifts it to a dedicated part of your GPU for video encoding. This overall process makes video editing or streaming much faster as compared to older generation graphics cards.
The RTX 3050 Ti is also blessed with all the features that make a GPU great in the video editing process. Therefore you can rely on an RTX 3050 Ti-based laptop to retouch your video projects or create animations.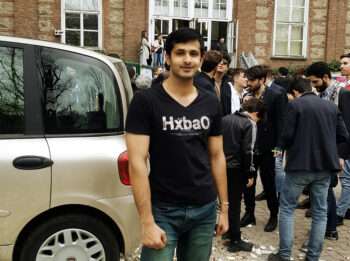 Hi, I'm the author and founder of this blog. I have more than 10 years of experience in the industry. Throughout my journey I've tested and reviewed hundreds of graphics card for custom PC builds. I believe my knowledge and experience will help you choose the card that really falls to your needs and budget.