Have you ever thought about some of the worst graphics cards that ever existed? Well, in this article we would be going through some of these cards. But before we start, it's important to know that all of this information is based on our own personal experience with these chips and the data we got from different people who have already tested these products. And in case, if you have any of these graphics cards, and if that's working fine for you, then there's no need to throw them away.
Before we dive into the list, let's keep one thing out of the way, the older generation Intel integrated graphics chipset. No, we are not talking about the Intel UHD 600 Series here, not for this time.
List of the Worst GPUs
Here are some of the graphics cards that don't even give you should stay away from if you have that hard-earned cash with ya.
1- Nvidia Titan X – Don't Fall for the Name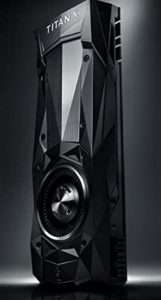 By the way, there are two Titans thrown on the market by Nvidia, the GTX Titan X, and the Pascal Titan X. Here we are just talking about the "Pascal" version.
First of all, everything that is being named "Titan" doesn't mean to be a high-performer at all. With this graphics card, you get 12GB DDR5 VRAM, which most people think would make this graphics card powerful in any task.
Well, a higher amount of VRAM on this graphics card can let you play games at 1440p resolution. However, you can play games at higher resolution by spending less amount of money. The price point at which Nvidia Titan X comes is not fair enough at all, not in the year 2022 we might say.
By spending over $1000, you can get a graphics card that is way more powerful in gaming and is packed with premium features like ray-tracing and DLSS 2.0.
So spending over $1000 bucks to buy just a Titan X "Pascal" for the sake of 12GB DDR5 VRAM won't be a wise decision at all. We've found GTX 1660 Super and GTX 1080 Ti way better in gaming as compared to Titan X. Again, don't fall for the claims made by Nvidia for this graphics card.
2- AMD 5450 – Worst Entry-Level GPU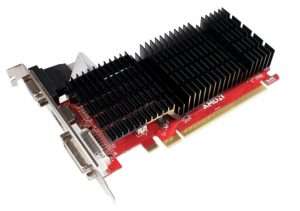 Although the AMD HD 5450 is the most energy-efficient graphics card to have on your computer, you cannot expect it to be a good performer at all. By performance we mean not the right choice for gaming or HD video streaming.
And the reason behind the poor performance of HD 5450 is the outdated 1 GB GDDR3 video memory, lower base clock speed, etc. Most people do prefer buying this card as it is cheaper and shows up as an ideal upgrade to get rid of an integrated chipset.
But if your expectations are higher from this graphics card, then you are wrong. It's not the type of GPU that can let you play games at 1080p settings and let you watch movies at 4K quality on Netflix.
In the past, this is one of the worst graphics cards that we've ever tested on our low-budget PC. Surprisingly we were able to play some 15 years old titles on HD 5450 at 720p settings.
Yes, the performance of this GPU was better than the older integrated chipsets from Intel. However, if you compare the performance of this GPU with Intel's UHD Graphics Series, then we've found the UHD to be better at handling GPU-intensive tasks than HD 5450.
By throwing a bit more cash on the table, you can get a better-performing graphics card like the Nvidia GT 1030 or GTX 1050.
3- AMD R9 285 – Not a True Performer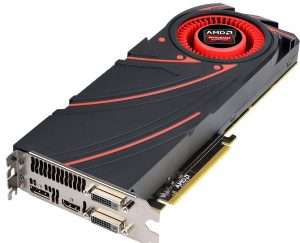 Another AMD product that we have pulled out for you is on the list. Although the current generation AMD cards show somewhat better improvement when compared to Nvidia chips, it looks like the "Red Team" didn't push enough juice in their R9-Series GPUs to take out the "Green Team".
Although this is now an approximately 8 years old graphics card, many people still go for it due to its reduced price. The R9-285 was enough to play famous titles of its time, however, its 2GB VRAM is still questionable if you are buying this card in the year 2022.
With a lower VRAM, it limits you to play most games at 720p settings. On the other hand, the Nvidia GTX 970 which was released in the same year and month delivers 20% more performance than the R9 285.
So, if you are a hardcore gamer, it's not the type of card for you at all. But at the same time, if you just need a graphics card to edit photos and watch movies at a higher resolution, then you can have it. However, for us, it's not the right card to have on your PC even if you get it for a fair price at eBay or Amazon.
4- Nvidia GeForce 210 – The Slowest GPU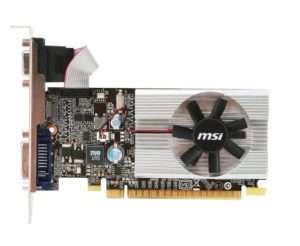 We know that it's not worthy to compare the older GeForce Series cards with the latest gen-entry level cards from Nvidia. But most people do fall for the lower price and this is what Nvidia GeForce 210 offers to ya.
Well, we won't be comparing this card with the newest generation entry-level GPUs, as it's a not match at all. However, it's worth talking about the slow performance of this GPU with respect to modern games and graphical applications of today.
Most people do fall for this lower-end card to play games like CS: GO or PUBG. Just if you are going after a cheaper card doesn't mean that it would be capable of playing PUBG, Fornite, or CS: GO
We tested CS: GO on Nvidia GeForce 210 at the lowest settings (640×480). And even with these lowest graphical settings, we were unable to climb over 20fps. So, stay away from this card if you are thinking to buy it for playing FPS games.
Obviously, the slower performance could be due to the fact that this GPU has just 1GB of DDR3 memory and not enough base clock speed. However, the most influential reason behind this could be pairing it with a current-gen CPU. Pairing an outdated graphics card with the current generation CPU could result in lower performance (bottlenecking).
Conclusion
Hopefully, you now have enough knowledge about the worst graphics cards that you end up buying in the market. Keep in mind that this is our own experience with these GPUs. You may find different opinions based on experiences that people had with these graphics cards. There are more GPUs that we might add later on this list, maybe we would start from the RTX 3050 Ti, should we?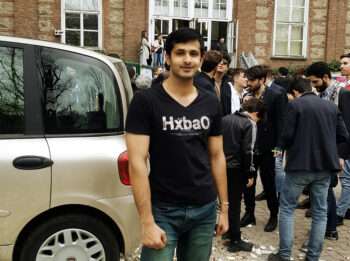 Hi, I'm the author and founder of this blog. I have more than 10 years of experience in the industry. Throughout my journey I've tested and reviewed hundreds of graphics card for custom PC builds. I believe my knowledge and experience will help you choose the card that really falls to your needs and budget.