With declining prices of graphics cards all over the globe, everyone wants to buy the best GPU for their gaming machine. And there are two marketplaces where you may end up, eBay or Amazon. Amazon is one of those marketplaces where there are fewer chances of getting scammed.
But I think Mauricio Takeda from Brazil was out of luck that day, as he ordered the powerful RTX 3090 Ti from Amazon. As soon as the package arrived, he thought of making an unboxing video. But to his surprise, as soon as he opened the box, he was lost in the "sand of times".
Mauricio said that the GPU box was heavier and he knew that there was something wrong with it. So, he asked his wife to make a video while he unbox the graphics card. As soon as he opened the box, he went into shock as the box was filled with dunes of sand instead of the RTX 3090 Ti.
Moreover, Mauricio said that he bought the graphics card from Amazon for 14,500 RBL = 2,637 USD. Furthermore, he revealed that the graphics card was sold under the name PALIT GeForce RTX 3090 Ti GameRock on Amazon Brazil.
Keep in mind that this graphics card was sold by Amazon on Prime Days sale. Mauricio also contacted Amazon Customer Support regarding this issue, but there was no response at all.
Finally, Mauricio filed a lawsuit in the Small Claims Court against Amazon. Since then, Amazon is taking strict actions to find a possible solution.
Another Story, RTX 3070 Instead of RTX 3090
And this is not the only case, Patrick J Kennedy of Servethehome was also a target of a similar scam. He ordered an EVGA RTX 3090 from Amazon but was surprised by the RTX 3070 he opened the box.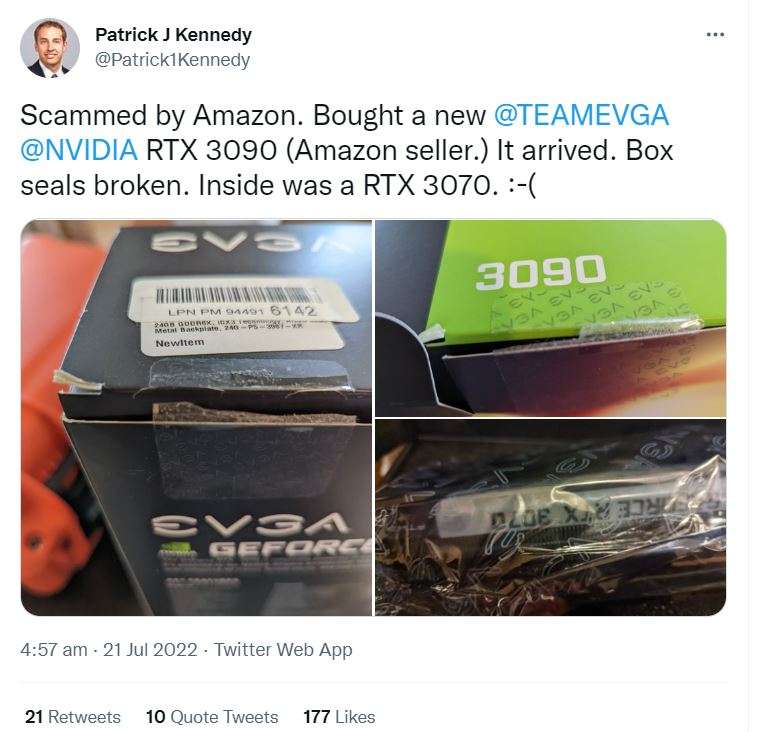 Patrick J Kennedy also said that he ordered the EVGA RTX 3090 FTW3 Ultra Edition during the Amazon Prime Day sale. He said that when the package arrived, the seal was broken and there was an LPN PM sticker, a sticker that Amazon uses when a product is usually returned.
Upon complete unboxing, Patrick was shocked by RTX 3070 graphics card relaxing in an RTX 3090 box.
Now, higher-end cards from the EVGA RTX 3000 Series use a similar kind of cooling and design setup. And maybe the person who was responsible was receiving the returned RTX 3070 ended up putting that card in an RTX 3090 box.
Fortunately, Partick spoke to Amazon and explained the matter in detail. Finally, the card was sent back to Amazon and the refund was processed.
Spare some time to check out some of the trusted vendors on Amazon if you are looking for the best RTX 3090 cards.
Final Lines
Amazon is a place where you can buy a product and return it if you have any issues. Every day, thousands of products are packed or returned at Amazon distribution centres across the globe. And there are possibilities of mismatching or mislabelling on the product box. The distribution centre staff should pay more attention to products that are returned by the customer.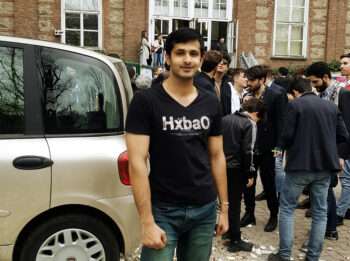 Hi, I'm the author and founder of this blog. I have more than 10 years of experience in the industry. Throughout my journey I've tested and reviewed hundreds of graphics card for custom PC builds. I believe my knowledge and experience will help you choose the card that really falls to your needs and budget.