The Intel Iris XE is one of the most decent integrated graphics chips we've seen so far from Intel. The Iris XE chips have been part of many mid-range to high-end notebooks since last year. Though Intel claims the Iris Xe to be efficient in any task you throw on it, however, we all know that by throwing everything they mean only retouching your photos and videos, not hardcore gaming.
Yes, the Intel Iris Xe is good for editing your videos at higher resolution and retouching your photos in any photo editing software. Intel's Deep Learning Boost-powered AI engine makes content creation on Intel Iris Xe highly efficient as compared to previous generation chipsets.
Specs of Intel Iris Xe
| | |
| --- | --- |
| Architecture | Gen. 12 Xe |
| Pipelines (EUs) | 96 units |
| Core Speed | 1650 (Boost) MHz |
| Memory Bus Width | 128-bit |
| Memory Speed | 4266 MHz |
| Memory Type | LPDDR4x |
| API | OpenGL 4.6/DirectX 12.1 |
| Max VRAM | 4GB |
| Shared Memory | No |
| TDP | 25W |
Table showing general specifications of Intel Iris Xe Max Integrated Graphics
Intel Iris Chipset As Compared to Intel UHD Chipset
With the arrival of the Intel Iris chipset, we've seen Intel showing significant improvement in performance as compared to previous UHD family chips. Like there hasn't been a single time that any chip in the UHD 600 family has gone above the overall benchmark score of 950 in 3D Mark. However, with Intel Iris Xe, this score goes over 5000 in 3DMark's Fire Strike benchmark. Have a look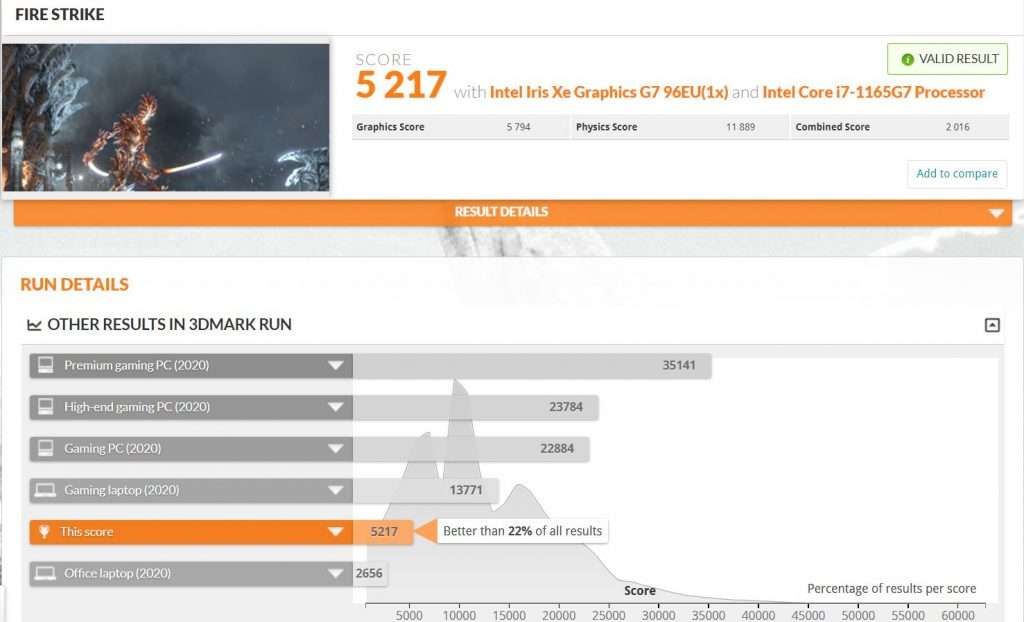 But it's not only the Intel UHD family that Intel Iris outperforms, the truth is, the Green Team's Nvidia MX330 is a no match to Intel Iris Xe. The Intel Iris Xe shows 16% better performance in 1080p video editing as compared to MX330.
What Makes Intel Iris Xe Powerful Enough for Content Creation?
First of all, there are more Shaders or Execution Units (EUs) present on Intel Iris chips as compared to previous generations. The 10th generation only had 64 EUs whereas the 11th generation (Intel Iris) has 96 EUs. So going all the way up 96 EUs makes the Intel Iris Xe chip chew any content creation workload thrown over it.
So, the more Shader programs run at a single time, the faster each frame is completed. Therefore, more frames are pushed within a second resulting in smoother visual performance.
Having more EUs makes Intel Iris Xe ideal for content creation (photo & video editing, graphics designing). Also, added support DP4A helps in video upscaling and background removal.
Moving on, the extra shading hardware on Xe's is then multiplied with higher clock rates, this helps the graphics processor to do more work in each cycle.
This gives content creators, especially the video editors to create large video files at 4K resolution and export them in a shorter period of time. And behind all this faster encoding and decoding performance lies Intel's low-power AI Matrix Engine.
The powerful specs of Intel Iris Xe make it the right candidate for editing photos or video in professional applications like Adobe Photoshop, Adobe Premiere Pro, Sony Vega, etc. So, if you are looking for a laptop for the sake of content creation, look for the one that comes with Intel Iris Xe integrated graphics, and it will do your job.
Intel Iris Xe in Photo & Video Editing
No matter whatever laptop or notebook you are using, as long as it is powered by an Intel 11th-gen CPU along with Intel Iris Xe, you will experience a smooth photo and video editing performance.
Let's start with photo editing in Adobe Photoshop. As for retouching, your photo and adding effects to them doesn't use too much of a resource, you won't be having any issues at all with Intel Iris Xe.
Everything goes smooth as soon as you apply different filters, masks, and layers to your photos.
However, the video editing side of the story on Intel Iris Xe is totally different. For light video editing up to 720p, the Intel Iris Xe looks fine.
But as you render videos at higher resolution let's say 4K, the video exporting time increases in the same fashion. The 4K video export time in Adobe Premiere Pro on a laptop with Intel Iris Xe integrated graphics was around 6:54 minutes. However, if you edit the same video on a laptop with Nvidia GTX 1660 Super, then the 4K video export time falls down to 5:10 minutes.
So, in 4K video editing, the Intel Iris takes more than a minute as compared to a dedicated graphics card in order to export a file. But this difference isn't too much to mention here. In the previous generations of Intel integrated chips, this video export time was more than 10 to 15 minutes than what we have today on Intel Iris Xe chips.
Should You Buy a Laptop with Intel Iris Xe Graphics for the Sake of Content Creation?
Definitely Yes, any laptop that comes with Intel Iris Xe graphics and 11th-Gen Intel Core CPU would deliver smooth performance in editing your videos and photos in professional applications. Keep in mind that it's not alone the Intel Iris Xe that's making content creation faster, but there's a huge role played by 11th Gen CPUs that deliver the ideal single-core performance needed in content-creation tasks.
Final Lines
For video and photo editing, the Intel Iris Xe saves you a lot of money that you may end up spending on dedicated graphics cards. The Intel Iris Xe puts Intel back in the game with Nvidia and AMD, if not above them. Now it looks like that Intel has put a lot of effort into improving their integrated chips, and it's not far that we see Intel chips smashing some of the lower-mid range graphics cards from Nvidia and AMD.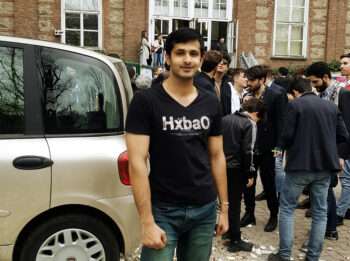 Hi, I'm the author and founder of this blog. I have more than 10 years of experience in the industry. Throughout my journey I've tested and reviewed hundreds of graphics card for custom PC builds. I believe my knowledge and experience will help you choose the card that really falls to your needs and budget.