GPU Republic is reader-supported. We follow a strict editorial process and put hours of research into testing, reviewing, analyzing & comparing the best products that we can find so you can make the most informed decisions. In the event you choose to buy something from one of the links on our site, we may make a commission at no extra cost to you. Whatever products we recommend, it's because we truly believe in them, not because of the small commission we may receive. Please don't buy any of these products unless you actually think that it would fit your needs.
The RX 6700 XT and RTX 3070, both belong to the upper class of the GPU market. Both of these chips are packed with tons of performance juice when it comes to any type of workload. But which one of these cards gives you the most bang for your buck? 
Well, this is what we'll find out by comparing the performance, price, power consumption, and other features of these cards. It's been almost 2 years since Green Team dropped the RTX 3070 on the market. Its competitor, the RX 6700 XT was launched the following year in March 2021. At the time of their launch, both of these cards were priced around $500. 
However, due to the great GPU shortage and the increase in demand for crypto mining, there was a huge surge in GPU prices, but now things have cooled down. There's a surplus supply of graphics cards in the stock and it very well might be the right time to get your hands on one of these chips. 
Before we dig down and talk about the performance and other things, it's worth having a look at the specs that both of these GPUs bring to the table. 
RX 6700 XT vs RTX 3070 – An In-Depth Comparison
| | | |
| --- | --- | --- |
| | Nvidia RTX 3070 | AMD RX 6700 XT |
| Architecture | Ampere | RDNA 2.0 |
| Video Memory | 8GB GDDR6 | 12GB GDDR6 |
| Base Clock Speed | 1500 MHz | 2321 MHz |
| Boost Clock Speed | 1725 MHz | 2581 MHz |
| Memory Bus  | 256-bit | 192-bit |
| Memory Bandwidth | 448.0 GB/s | 384.0 GB/s |
| Shading Units | 5888 | 2560 |
| DirectX  | 12 | 12 |
| RT Cores | 46 | 40 |
| TFLOPS | 20.31 | 13.21 |
| TDP | 220W | 230W |
| Recommended PSU | 550W | 550W |
| Video Outputs | x1 HDMI 2.1 and x3 DisplayPort 1.4a | x1 HDMI 2.1 and x3 DisplayPort 1.4a |
| Estimated Price | Around $550 | Around $450 |
Performance 
There are plenty of methods through which you can determine the performance of a graphics card. You can play games, and render videos, or you can run several benchmarking tools to find out how powerful a graphics card is. 
We start the performance test by playing games at different resolutions. 1080p 60fps is the bare minimum that every gamer expects these days. But in this comparison battle, we expect something more than 1080p from RX 6700 and RTX 3070.
4K is the upcoming bare minimum that everyone would expect from a high-end graphics card. So, we'll test our GPUs if they are capable of delivering smooth fps at 4K settings. 
But we'll start from the most recommended resolution, 1080p. 
At 1080p Settings: 
We haven't opted for high-end features like DLSS 2.0 or ray-tracing when playing games on these cards. At 1080p ultra settings, both the RX 6700 XT and RTX 3070 produce close scores, but in some famous titles like Far Cry 5, Metro Exodus, Watch Dogs Legion, RDR2, and Shadows of the Tomb Raider, the RTX 3070 delivers 2 to 3% better performance compared to the RX 6700 XT.
Games that utilize DirectX 12 are highly favored by RTX 3070. If you look at the graph above, it's clear that games like Metro Exodus and Watch Dogs Legion are highly adopted by Green Team's 3070. We all know that Shadow of the Tomb Raider is meant to be played on Nvidia, remember the logo that shows up at the start of the game? In our tests, we've found that the Shadow of the Tomb Raider shows the same level of performance as the RX 6700 XT. 
Overall, both the RX 6700 XT and RTX 3070 easily achieve the 1080p 60fps in most GPU-intensive games that we've played. 
At 1440p Settings:
When we move up to 1440p resolution, things get a bit complicated for both of these GPUs. 
Nvidia RTX 3070 still manages to deliver a bit more fps in some games, but RX 6700 XT restricts you below 60fps in many titles at 1440p resolution. 
Although the RX 6700 XT has more VRAM as compared to the RTX 3070, it suffers to deliver the amount of fps that a 12GB graphics card should. 
Through our research, we found that it's due to the lower memory bandwidth (384 GB/s) that RX 6700 XT comes with. 
The Nvidia RTX 3070 has more bandwidth (448 GB/s) which enables it to deliver 4% extra perfor
mance at 1440p settings in some titles. 
Another reason that the RX 6700 XT falls behind the RTX 3070 at 1440p is because of fewer RT cores. 
In games that utilize Nvidia's premium features like ray-tracing and DLSS 2.0, the RTX 3070 takes the lead.
Without ray-tracing and DLSS enabled, there isn't much difference in the performance of RX 6700 XT and RTX 3070. 
In Dirt 5, both of these chips manage to deliver closer frame rates. Similarly, in Shadow of the Tomb Raider, the RTX 3070 hits over 60fps at 1440p settings, but RX 6700 XT manages to move around 50 to 52fps. 
So, in games that are designed to make use of RT and DLSS, you'll get 3 times better performance with RTX 3070. 
We are not a fan of ray-tracing as many games still don't support this feature, but we do like DLSS as it gives you an extra performance boost in frame rates without compromising on your image quality.
Who is the Winner in Gaming Performance?
From the results we've seen, it's clear that the Nvidia RTX 3070 beats the RX 6700 XT at 1080p and 1440p settings. However, the AMD RX 6700 XT packs more video memory and clock speed as compared to the RTX 3070, but it struggles to deliver more FPS at 1440p settings. 
The RTX 3070 at this point takes advantage of its premium features like ray-tracing and DLSS to boost more fps, but if we put both of these cards side by side, it's a narrow win for Green Team. 
At 1080p settings, both of these GPUs manage to deliver the same level of performance, but as we scale the resolution up to 1440p settings, the RX 6700 XT struggles to deliver more fps due to less memory bandwidth.
The RTX 3070 at this point is the winner as it throws more frame rates on your screen at 1080p and 1440p settings; it's a great catch for gamers who want to have a solid gaming experience. 
Features
Again, putting the RTX 3070 and RX 6700 XT on the desk will leave you in confusion. Both of these cards offer advanced video outputs to connect multiple higher refresh rate monitors at the same time. Both cards have one HDMI 2.1 and three DisplayPort 1.2 ports. Also, there's G-Sync on Nvidia RTX 3070 and Free-Sync on RX 6700 XT for tear-free gaming on higher refresh rate screens. 
As both of these technologies tend to provide the same kind of visual experience, there's more support for G-Sync than there is for Free-Sync.
You can easily connect a G-Sync-compatible device with the Free-Sync platform. However, the Free-Sync compatible devices show incompatibility for G-Sync-ready devices, which explains why end-consumers often gravitate towards devices that are highly compatible with more than one platform. For this reason there's more demand for G-Sync compatible displays in the market. 
If we compare the RX 6700 XT with RTX 3070 based on their specs, then one could declare the RX 6700 XT as the winner based on its higher VRAM, but things are far different in reality when we put both of these GPUs to test. The RX 6700 XT packs more base, boost, and game clock speed to be the winning card at this point, but you cannot declare a card winner based on the specs listed by the manufacturer. 
Most AAA games that are available at the time don't eat more than 8GB of video memory, so this is the difference where the extra 4GB of VRAM on RX 6700 XT goes to waste. This is the point where the RTX 3070 takes the lead over the RX 6700 XT. Although it has less video memory, it has more bandwidth and this enables the RTX 3070 to deliver more frame rates at the end of the day. 
After all, it's the FPS that affects the smoothness of gameplay, not the video memory.  This allows the more bandwidth that the Green Team RTX 3070 holds to boost up the average frame rates at higher resolution.
It's worth mentioning at this point the number of shading units. The RTX 3070 is packed with 5,888 CUDA cores which results in faster execution of the workload. The RX 6700 XT on other hand only has 2,560 shading units, which is half the amount on the RTX 3070. The extra amount of cores that RTX 3070 has on its end will result in better gaming and content creation performance. The more shading units a graphics card has, the faster it will render the graphical workload. 
Who Wins On Gaming Performance?
Based on what we get right out of the box, the RTX 3070 again wins the race. The features that come with Green Team's RTX 3070 offer plenty of value as compared to Red Team's RX 6700 XT. 
If you step away from the higher clock speed and VRAM that RX 6700 XT brings, you'll find it one step down from the RTX 3070 in every feature. 
Power Consumption & Efficiency 
For a very long time, Nvidia chips have had a great advantage over AMD chips when it comes to power draw. But things have changed a lot from the moment Nvidia introduced the Ampere architecture. 
GPUs in the Ampere line-up are cramped with more RT and CUDA Cores which brings in more performance but at a high cost. The RTX 3070 is backed with Nvidia's Ampere architecture, which means it would consume more power to bring higher-end features to your desk. 
Nvidia, with its Ampere architecture, has opted for Samsung's 8N 8nm process which is a cut down from Samsung's 10nm process. AMD, however, is using the same old TSMC's 7nm process for crafting its RDNA 2 chips, which is still 1nm less than what Nvidia has to offer. We don't want to go into the technical details at this point. If we look back at what both GPUs offer right-of-the-box, then it would be easier for us to stand the power and efficiency ratings. 
The RX 6700 XT has a maximum TDP of 230W whereas the RTX 3070 has a TDP of 220W. There's a slight difference in power draw at this point, but the RTX 3070 still consumes less energy out of your PSU.
With RX 6700 XT offering higher boost clock speeds than the RTX 3070 with a very narrow difference in the TDP, one could say that AMD's RX 6700 XT is still a power-efficient card. However, what matters at the end of the day is the performance, and RTX 3070 still throws more performance on your screen. 
Who Wins On Power Consumption? 
There isn't much difference in the power consumption of both chips. But it looks like Nvidia's Ampere architecture promises more performance while consuming slightly less power as compared to RDNA 2 cards. 
It's difficult to pick the winner at this point as both cards consume the same wattage out of your PSU. There isn't a huge difference between the RTX 3070 or RX 6700 XT on power and efficiency. 
Price Comparison
Thankfully, there's plenty of supply of stock available in the market if you look for RX 6700 XT or RTX 3070. The great GPU shortage is over now, and your favorite GPUs are back in stock. We have been scrolling the GPU market for a very long time, and it looks like this is the right time of the year to get cheaper GPU deals on Newegg, Amazon, and eBay. 
After a very long time, the most powerful card, the RTX 3090 is being sold below its MSRP price of $1,000. And surely, this will also impact the prices of other GPUs on your wish list. The prices of GPUs have seen a downtrend from the first quarter of 2022. Nvidia cards are still 20% more expensive than AMD cards on Amazon and eBay. 
Just like its sibling, the RTX 3070 Ti, it's harder to find RTX 3070 for its launch price. The card was launched for $500 at the time of its launch, but now it's being sold for between $550 to $700 by different retailers. Also, there's a roughly $100 price difference between the RTX 3070 and RTX 3070 Ti. Most RTX 3070s from different manufacturers are being sold between $550 to $700 on Newegg. 
The RX 6700 XT was launched for $480 two years back and it still revolved around the same price tag on Amazon. But surprisingly, PowerColor is selling RX 6700 XT for $450, which is $30 less than its launch price. 
There's a huge demand for RX 6700 XT as compared to other Navi chips like the RX 6800 XT and RX 6900 XT, but due to the drop in prices, consumers are reaching for RTX 3070 as well due to its flagship features like ray-tracing and DLSS. 
Lastly, look for the company that brings you these cards at a cheaper price. After all, affordability is one of the primary concerns of many gamers and content creators when buying a graphics card. 
Who Wins On Price?
Although RX 6700 XT is cheaper to get as compared to RTX 3070, it delivers less performance as well. But in terms of price-to-performance ratio, the RTX 3070 remains at the top. 
If you are limited to 1080p gaming without putting a cap on your frame rates, then the cheaper RX 6700 XT would be a great deal to go with. It comes with massive 12GB video memory which will make your gaming machine future-proof for the games that'll surpass the 8GB VRAM limit. 
For a lower price, you'll get a card that has more VRAM and clock speed. This will surely put you on the front end of professional content creation workloads. 
The RTX 3070, however, despite being a bit more expensive, brings a lot of performance with it. By paying an extra $150 as compared to the RX 6700 XT, you'll get a card that is capable of ray-tracing and has DLSS to boost your frame rates. 
The Verdict – Which One to Go With
The Nvidia RTX 3070 and AMD Radeon RX 6700 XT bring high-end performance to your machine and both of these chips score remarkably well in 1080p gaming at ultra-high settings. Also, there isn't much difference in the power consumption and price point at which they come. 
But in the bigger picture, the RTX 3070 wins the battle from RX 6700 XT and the capabilities that let it take over the Red Team's upper-class GPU are ray-tracing, DLSS, extra CUDA cores, and higher memory bandwidth. 
No matter which one of these cards you choose, you'll get a decent performance whether it's gaming or content creation, but one would deliver a slightly better performance than the other. 
For now, the RTX 3070 takes the crown back home, but it remains to be seen for how long. The RTX 40-Series and AMD's RX 7000 Series are right around the corner. Maybe AMD brings something more exciting this time to claim the crown.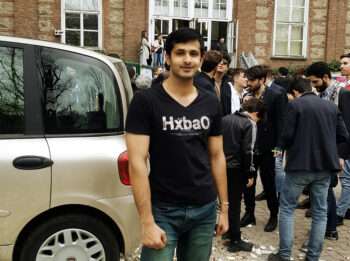 Hi, I'm the author and founder of this blog. I have more than 10 years of experience in the industry. Throughout my journey I've tested and reviewed hundreds of graphics card for custom PC builds. I believe my knowledge and experience will help you choose the card that really falls to your needs and budget.