GPU Republic is reader-supported. We follow a strict editorial process and put hours of research into testing, reviewing, analyzing & comparing the best products that we can find so you can make the most informed decisions. In the event you choose to buy something from one of the links on our site, we may make a commission at no extra cost to you. Whatever products we recommend, it's because we truly believe in them, not because of the small commission we may receive. Please don't buy any of these products unless you actually think that it would fit your needs.
Although 2022 has seen a drop in the prices of most graphics cards down to the MSRP level, some GPUs still cost a fortune, when it comes to extreme graphical performance, you still have to throw a lot of cash to buy the most expensive GPU available on the market. 
Whether it's about gaming or content creation, investing more money can buy you a graphics card that's capable of handling any type of workload and higher performance always comes at a higher cost. The demand and supply game is over now, and there's a surplus supply of GPUs in stock, but some graphics cards are just as expensive as they were before the great GPU shortage. 
Some of these chips belong to the Founders Edition line-up whereas others are sold by third-party GPU manufacturers. Professional content creators and hardcore gamers still go after these GPUs to build their dream machines and rigs.
Where there's a race to the bottom between Nvidia and AMD to offer lower prices, these graphics cards come up with a higher price tag even several years after their launch. In some cases, the entire line-up of GPUs is out of the reach of end-users. For example, the graphics cards in Nvidia's Titan Series can cost more than a high-end gaming PC. 
Make sure you read on ahead to see what our final verdict is on the best, most expensive graphics card and which ones aren't worth the cost.
List of the Most Expensive Graphics Cards from Nvidia & AMD
| | | | |
| --- | --- | --- | --- |
| Graphics Card | Price | Video Memory | CUDA Cores |
| Nvidia GTX Titan Z | $3,000 | 12GB GDDR5 | 5,760 |
| Nvidia Quadro M6000 | $2,700 | 12GB GDDR5 | 3,072 |
| Nvidia GeForce RTX 2080 Ti | $2,400 | 11GB GDDR6 | 4,352 |
| Nvidia RTX 3090 | $1,200 | 24GB GDDR6X | 10,496 |
| AMD Radeon R9 295X2 | $800 | 8GB GDDR5 | 2,816 x2 (Stream Cores) |
Here's are the cards we researched:
Nvidia GTX Titan Z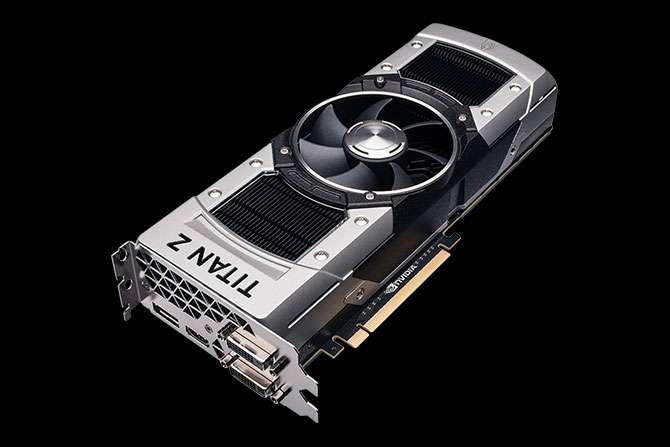 Estimated Price: $3,000
Video Memory: 12GB GDDR5
CUDA Cores: 5,760
Memory Interface: 384-bit
Base Clock: 705 MHz
Boost Clock: 876
Nvidia's GTX Titan Z is one of the most expensive desktop GPUs on the market. There's not much demand for this card right now, but if you do find one, it will cost you around $3,000. 
Although Nvidia claimed the Titan Z to be the fastest card on the planet, it wasn't. The base and boot clock speed on this card is way lower than many entry-level cards from Nvidia and AMD today. 
However, its higher number of CUDA Cores and 12GB of video memory made it a great deal for content creators. Titan Z is still used in many high-end workstations today. 
But is Titan Z worth buying in 2022 when we have affordable and powerful GPUs on the market? No, it is not in our opinion. Most reviewers believe that Nvidia has overpriced this card by naming it "Titan".
A Linus Tech Tips forum user has reported this card to be a downgraded version of GTX 760 Ti. 
Although there are a lot of VRAM and CUDA Cores packed on Titan Z, it's not one we'd highly recommend, especially for gamers. If you want to spend piles of cash just buying graphics, it's better to spend more on one that gives the most value for your money. 
There are many reasons this card would be a risky investment when compared with current generation cards. By spending $3,000, you'll get outdated video ports and a lower clock speed. 
The Titan Z was launched by Nvidia to take on AMD's R9 295X2, but it wasn't able to do so. The AMD R9 295X2 was half the price of GTX Titan Z and performed only 16% better in games and on content creation workloads. 
Performance and price tag on Titan Z are not correlated to each other, so we will take a pass on this card. To us, it's the worst graphics card to have on your computer if you are primarily using it for gaming. However, in terms of design, it's a masterpiece, with a real premium-looking feel to it. 
Who The Nvidia GTX Titan Z Is Good For:
Although Nvidia claims it is the best card for gaming, we don't think so. The Titan Z is more suited for content creation workloads like 4K photo and video editing, 3D modeling, etc. 
Nvidia Quadro M6000 
Estimated Price: $2700
Video Memory: 12GB GDDR5
CUDA Cores: 3072
Memory Interface: 384-bits
Base Clock: 988 MHz
Boost Clock: 1114 MHz
The Nvidia Quadro M6000 is the second most expensive chip on our list. This chip costs around $2,700, which costs slightly less than the GTX Titan Z. It comes with 12GB of GDDR5 memory, the same amount we had on the GTX Titan Z. Also, there are 3,072 CUDA Cores for faster graphical computing. 
The Quadro M6000 shows up as an ideal deal for serious content creators. It's one of the best Nvidia cards made for the high-end workstation market. Upon first glance, the Quadro M6000 looks like the updated version of the Nvidia Quadro K6000, but in reality, both are backed by different architectures. 
The Nvidia Quadro M6000 is built on Maxwell architecture which has been a game-changer architecture for Nvidia since its launch. This graphics card at the time of its launch was over $5,000, but it has seen a reduction in price over the past few years.  
Also, due to the arrival of RTX 3000 Series cards that are better in both gaming and workstation-based tasks, there's a lower demand today for Quadro Series chips. But the Quadro line-up itself has some of the most ultra-expensive GPUs for end-consumers.
Who The Nvidia Quadro M6000 Is Good For:
Depending upon the specs and price of this card, the Nvidia Quadro M6000 is meant for workstation-based tasks like 3D modeling, rendering, 4K or 8K video editing, and AI data analysis programs. 
This GPU has four DisplayPort 1.2 video ports for adding multiple monitors at a single time. Businesses that need multiple display screens for carrying out their projects would benefit from this chip. 
Nvidia GeForce RTX 2080 Ti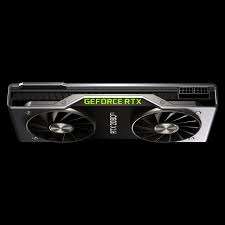 Estimated Price: $2,400
Video Memory: 11GB GDDR6
CUDA Cores: 4,352
Memory Interface: 352-bits
Base Clock: 1,350 MHz
Boost Clock: 1,545 MHz
If there's any enthusiast-based graphics card that delivers you the best value for your money, then it's the Nvidia RTX 2080 Ti. 
We have seen a rise and fall in the prices of many flagship cards like the RTX 3080 and the RTX 3090, but even the RTX 2080 Ti is still out of reach for many users. If you want to spend your hard-earned money to buy this graphics card, it'll cost you over $2,400 from reputed brands like GIGABYTE.
According to TechRadar, the RT 2080 Ti is one of the most powerful graphics cards on which you can get higher fps at 4K settings besides the RTX 3090. The RTX 2080 Ti comes with 11GB GDDR6 memory clocked at 1,350 MHz. Also, there are 4,352 CUDA cores to grind out any heavy graphical workload within a matter of seconds. 
When it comes to 4K gaming and professional editing workloads, the performance of the RTX 2080 Ti is close to Nvidia's flagship chip, the RTX 3090. Although the video memory on RTX 2080 Ti is almost half that we have on the RTX 3090 (24GB GDDR6X), the RTX 2080 Ti still delivers a similar kind of performance. 
The same level of performance might be because most games and apps do not consume more than the stated amount of VRAM that they are designed for. All in all, the RTX 2080 Ti is a high-end graphics card that can tackle any type of workload that you'll throw on it. It delivers solid 4K performance whether it's for gaming or content creation. The RTX 2080 Ti comes with the 2nd generation ray-tracing and DLSS 2.0 to add more life to your games and 3D projects. 
Who The RTX 2080 Ti Is Good For:
The RTX 2080 Ti is meant for hardcore gamers who want to break the 4K 60fps barrier. You can also use this card for 4K or 8K video editing as well. 
Keep in mind that it's a bulky graphics card, so you'll need to invest in a spacious PC case and a better power supply to run it.It's a crazy-expensive card, so only go with it if you want to hit 4K resolution. If you are planning to game at 1080p or 1440p resolution, then there are other more affordable options available on the market. 
Nvidia RTX 3090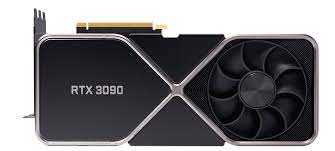 Estimated Price: $1,000-$1,200 (Depends upon third-party seller)
Video Memory: 24GB GDDR6X
CUDA Cores: 10496
Memory Interface: 384-bits
Base Clock: 1,395 MHz
Boost Clock: 1,695 MHz
The Nvidia RTX 3090 is the most powerful graphics card on the planet at the time of writing this article. Last year, when there was a huge shortage of graphics cards in the market, the RTX 3090 was sold for over $1,500 by some third-party manufacturers. However with the decrease in prices and abundant supply of silicon in the market, you can now get RTX 3090 for between $1,000 to $1,200 from different brands like ASUS, EVGA, MSI, and GIGABYTE. 
The RTX 3090 is a beast when it comes to graphical performance. The 3090 and 3090 Ti both are the only cards that are capable of playing games at 8K HDR settings, but this is a card that we can call a doorway to 8K gaming. It's not great in 8K gaming, but it'll let you hit the 8K 30fps goal in some games. It's not perfect in 8K, but it won't make your games look like a slideshow at 8K resolution. 
This chip packs great value for 4K gaming and serious content creators and the massive 24GB VRAM on this card makes your machine future-proof for the next few years. 
Nvidia RTX 3090 is built on Nvidia's latest Ampere architecture, with a total of 10,496 CUDA Cores, 328 Tensor Cores, and 82 RT Cores. Also, the chip has a massive memory bandwidth of 936 GB/s. Overall, this card can chew any complex type of workload you'll throw on it.
The RTX 3090 is expensive, but the fastest graphics card available today and it will hold this title until we hear some news from Nvidia regarding the launch of RTX 4000 Series cards. 
Who The RTX 3090 Is Good For:
If a major portion of your workload flows around high-end 3D rendering, 8K video editing, or graphics designing, then this card would be your dream come true. 
With RTX 3090 you can max out any AAA game at 4K settings without compromising on your frame rates. The games that are even released in 2022 run like a breeze on this card. That said, keep in mind that it's an expensive card compared to similar types of cards like RTX 3080 or AMD RX 6900 XT. 
This graphics card is extremely powerful and won't give you the best value if you are playing games under 4K settings. Again, it's meant for a solid 4K gaming experience, and playing games under 4K resolution on this card will waste your money. If RTX 3090 is too heavy on your budget, then it's worth paying a look at RTX 3080 Ti which is on par with RTX 3090 in 4K gaming performance, but is cheaper. 
AMD Radeon R9 295X2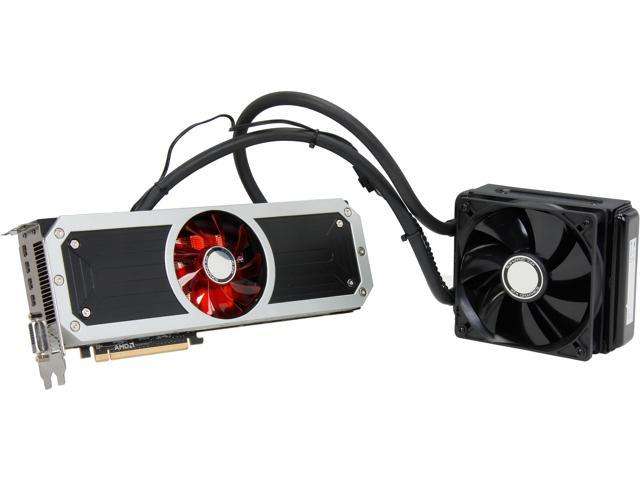 Estimated Price: $800 
Video Memory: 8GB GDDR5
Shading Units: 2,816 x2
Memory Interface: 512-bits x2
GPU Clock: 1,018 MHz
At the time of its launch, the AMD Radeon R9 295X2 cost around $1,500, but due to its higher price tag, AMD was able to sell just a few units of this GPU. That's when the Red Team thought of reducing the price to $1,000. However, Nvidia at that time was selling better chips under the $1,000 price point. 
Eventually, AMD had to shave an additional $200 off the price to sell this card at the $800 price tag, but even this didn't work great because consumers were more interested in Nvidia chips due to their power efficiency and better performance. 
The R9 295X2 comes with 8GB of GDDR5 memory and two graphics processors to grind any complex graphical workload. It wouldn't be wrong to say that the AMD R9 295X2 was the Nvidia GTX Titan Killer. Even today it performs much better than many GTX Titan-based cards and delivers more than average fps in 4K titles. 
Additionally, the R9 295X2 is way cheaper than the GTX Titan Z, the most expensive card on our list of most expensive graphics cards. With dual graphics processors, this GPU is tuned to squeeze every watt of performance out of it. To handle the massive amount of heat that both of these chips would produce, there's a closed-loop cooler attached to this card. 
It's a power-hungry card and it will need you to have a high-wattage PSU in your system to fuel it & this will be an added hit to your wallet, but if you decide it's worth it, then go get after it. 
Who The R9 295X2 Is Good For:
The AMD Radeon R9 295X2 makes the most sense if you are looking to build a high-end 4K gaming machine without worrying too much about your budget. It's a powerful card and it has a great cooling design to it, this card could end up being a part of a high-end workstation. With so many other powerful and affordable chips on the market you may wonder if this is the card for you, but if you do decide to go this route, it's unlikely you'll be disappointed.
Verdict
These were some of the most expensive GPUs to buy right now and all of them can easily handle the toughest of graphical workloads like a breeze. If money was no concern, our choice for the best expensive GPU would be the Nvidia RTX 3090. 
There's no doubt, it's the fastest graphics card available to date. The RTX 3090 is an all-around killer graphics card and it justifies its higher price tag by delivering outstanding performance in gaming and professional workloads.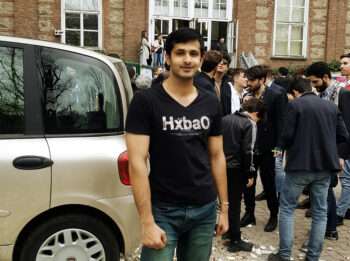 Hi, I'm the author and founder of this blog. I have more than 10 years of experience in the industry. Throughout my journey I've tested and reviewed hundreds of graphics card for custom PC builds. I believe my knowledge and experience will help you choose the card that really falls to your needs and budget.